Posted on
Wed, Jul 11, 2012 : 5:58 a.m.
4th Ward Ann Arbor City Council candidates differ on AATA's countywide expansion plans
By Ryan J. Stanton
Margie Teall says she's running for reelection to her 4th Ward seat on the Ann Arbor City Council to make sure the city stays on the path it's been on for the last decade.
"Ann Arbor is doing extremely well in just about every measure for a city of its size," she said at a Tuesday night debate hosted by the League of Women Voters in Ann Arbor.
"We have just experienced our best budget year since I've been in office," she said. "We are now hiring back in our safety services area to fill police and fire positions."
Ryan J. Stanton | AnnArbor.com
Teall is up against
Democratic challenger Jack Eaton
in the
Aug. 7 primary
. The winner advances to the November general election unopposed for now.
Eaton, a longtime neighborhood activist who ran against Teall two years ago, said he'd work on further restoring public safety staffing and keeping city fire stations open.
"Ward 4 residents tell me city hall needs to focus on sensible priorities: Safety, public services and infrastructure," he said. "I'm running because I believe Ward 4 residents deserve responsive leadership. I will answer your emails. I will return your phone calls, promptly."
The two candidates differed on the Ann Arbor Transportation Authority's plans to expand public transit services in Washtenaw County, a major decision facing the city.
Eaton argued the plan to layer a countywide transit millage on top of the transit millage Ann Arbor already pays will leave the city footing a disproportionate share of the bill.
"I believe that's not the best way to expand service because that will only fund commuter service to the out-county areas and that will encourage urban sprawl and not really provide actual regional transit," Eaton said.
Eaton said both Lansing and Grand Rapids have regional transit systems with a uniform millage across their entire service areas, offering "real transit," not just commuter service.
Teall said it's true that Ann Arbor residents would pay a larger share of the costs, but she noted the countywide plan must be approved by voters first. She said Ann Arbor would pay more, but also benefit more from a countywide expansion of the AATA.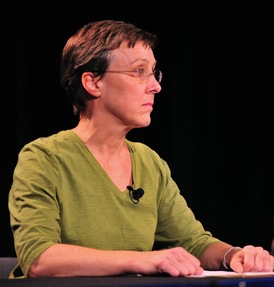 Ryan J. Stanton | AnnArbor.com
"It is a city-centered service," she said.
Teall, who has been on council since 2002, rattled off a list of her recent accomplishments. She said she led efforts to secure state and federal funds to rebuild the Stadium bridges, as well as a $1 million state grant to demolish the dilapidated Georgetown Mall.
She said she also has been working with 4th Ward residents on stormwater flooding issues in certain neighborhoods.
"I have worked and will continue to work to address serious stormwater and overland flooding problems, meeting with neighbors and staff to better understand this very complicated issue and to see what can be done to lessen the impact of these ever-increasing severe storm events without impacting the downstream neighborhoods," she said.
Eaton suggested the city hasn't acted quickly enough.
"We must develop a plan to address neighborhood flooding," he said. "That plan must be implemented in a prompt manner to protect homes and property."
Eaton expressed support for an Allen's Creek Greenway to address the stormwater problem, while also addressing other environmental issues and adding green space to the city.
Teall said she's supportive of the vision for a greenway and she's continuing to push for starting with anchor parks at 415 W. Washington and 721 N. Main.
Eaton said the city should offer additional protections to lands designated as parks, including Fuller Park where the city is talking about building a new Amtrak station.
"I believe the current discussion about repurposing Fuller Park is a dangerous precedent that threatens all of our parks," he said. "If the City Council is capable of changing the use of that park land, then no park in the whole city is safe from repurposing."
Ryan J. Stanton | AnnArbor.com
Teall argued the particular piece of property on which the city is looking to build a train station has been a surface parking lot since 1993. She said 24,000 people a day travel to the location because of the University of Michigan Hospital and it makes sense to consider transit there.
Eaton said he supports the vision for a central park on the so-called Library Lot atop the city's new underground parking garage downtown.
Teall said she's concerned it might over-tax the parks maintenance budget if the city created a large-scale downtown central park.
"The library has some deep concerns about doing that as well, and they are a major anchor downtown," she said. "Our downtown parks will require more policing."
Teall said a downtown park needs activity around it. She said she would prefer to see a potentially large-scale development that surrounds a nice plaza instead.
The two candidates differed on whether the city should switch to nonpartisan elections. Teall said it makes a lot of sense since one-party control means council races are decided in August primaries when far fewer people vote than in November elections.
Eaton expressed skepticism.
"I'm a partisan Democrat. I don't mind that we're a one-party town," he said. "But I wouldn't be opposed to putting it on the ballot."
Eaton said the city has an obligation to protect and preserve what is great about Ann Arbor. He said he'd strive to protect neighborhoods from "extreme development" and he'd fight for an ordinance to addresses the problem of long-term vacant buildings.
Ryan J. Stanton covers government and politics for AnnArbor.com. Reach him at ryanstanton@annarbor.com or 734-623-2529. You also can follow him on Twitter or subscribe to AnnArbor.com's email newsletters.