Posted on
Tue, Jan 17, 2012 : 5:57 a.m.
AATA jump-starting countywide expansion plan with Ann Arbor-Ypsilanti improvements
By Ryan J. Stanton
Upcoming transit improvements connecting Ann Arbor and Ypsilanti are the topic of another public rider forum planned for Thursday evening.
The Ann Arbor Transportation Authority is planning to double the number of weekday bus trips that operate on Route 4, primarily along Washtenaw Avenue, between the Blake Transit Center in downtown Ann Arbor and the Ypsilanti Transit Center.
Those improvements will be discussed in detail at the forum at 5:30 p.m., an hour prior to the AATA's regular board meeting.
The forum and the meeting both take place inside the downtown Ann Arbor District Library, 343 South Fifth Ave.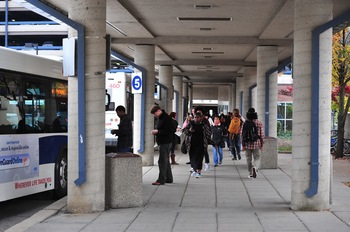 Ryan J. Stanton | AnnArbor.com
AATA officials issued a news release announcing the rider forum in which they said the agency is planning to "jump-start" the
countywide expansion of transit services
with the Ann Arbor-Ypsilanti transit improvements.
"Public transit plays a key role in our regional economy by moving people between where they live and where they work," AATA CEO Michael Ford said in a statement.
"A significant increase in weekday service between Ann Arbor and Ypsilanti, combined with an expansion of the Night Ride service area into downtown Ypsilanti, will better serve employees who need to get to their jobs and employers who need access to workers and customers."
The agency has laid out an aggressive agenda for the next year as it builds momentum for the countywide expansion and is running a deficit budget to do so.
In addition to the service improvements between Ann Arbor and Ypsilanti, the AATA is continuing with plans to launch shuttle service to Detroit Metropolitan Airport and to expand its vanpool program as components of the countywide transit plan. The airport shuttle service is expected to be up and running this spring, possibly April or May.
Ford told the Ann Arbor City Council last week recent discussions have indicated anything the AATA might be doing to expand transit services countywide "would be less than 1 mill" in terms of a countywide tax. Ann Arbor residents already pay 2 mills and Ypsilanti residents pay 1 mill, and those millages are expected to be transferred to the new countywide authority.
A financial task force assembled by AATA officials still is studying the issue and is expected to issue a report with funding recommendations in the coming weeks. The agency also is coming out with a refined five-year countywide service plan.
AATA officials said workers who use the AATA's buses to commute between Ann Arbor and Ypsilanti will benefit from a significant increase in not only frequency of service, but also late-night, door-to-door services when the service changes take effect Jan. 29.
The improvements are in response to input received over the course of the 18-month process to develop a countywide transportation plan, AATA officials said.
With the improvements, weekday riders will be able to use the bus later in the night and earlier in the morning, with Route 4 operating from 6:08 a.m. to 10:30 p.m. to Ann Arbor and 6:48 a.m. to 10:48 p.m. to Ypsilanti. Ridership on Route 4 has the highest ridership among all of AATA's routes, with more than 800,000 trips taken each year.
More than 3,000 trips occur on Route 4 on the average weekday.
"The expansion and improvement of these services to make them more reliable and convenient is an important step as we begin to implement the community's vision for countywide public transit," Ford said, noting it also is a critical element of Re-imagine Washtenaw, a collaborative regional planning effort to improve the corridor.
Also going into effect on Jan. 29 is a change in routing on two trips on the Route 2 bus service along Plymouth Road.
Ryan J. Stanton covers government and politics for AnnArbor.com. Reach him at ryanstanton@annarbor.com or 734-623-2529. You also can follow him on Twitter or subscribe to AnnArbor.com's email newsletters.