Posted on
Tue, Jun 5, 2012 : 5:59 a.m.
Ann Arbor accepts $2.8M federal grant for new train station but location not yet decided
By Ryan J. Stanton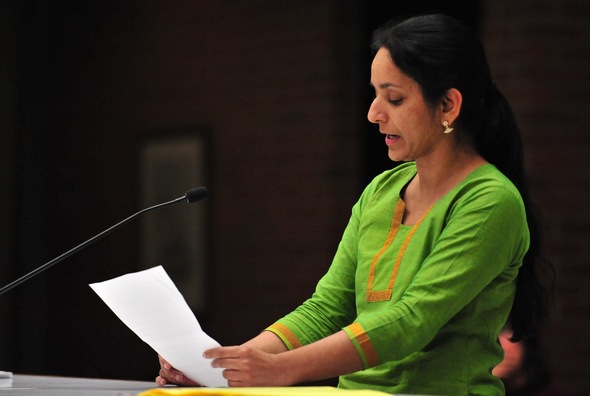 Ryan J. Stanton | AnnArbor.com
The city of
Ann Arbor
is moving ahead with a closer evaluation of its options for building a new Amtrak train station somewhere inside the city limits.
That includes consideration of redeveloping the current Amtrak station on Depot Street, as well as the possibility of building a new train station on Fuller Road.
The Ann Arbor City Council voted 9-2 Monday night to finally accept a $2.8 million federal high-speed rail grant that was awarded to the state more than a year ago.
It's now being made available to the city through a contract with the Michigan Department of Transportation.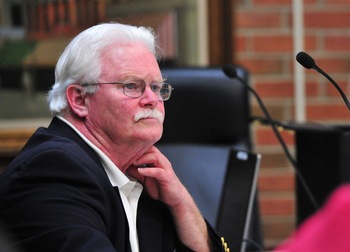 Ryan J. Stanton | AnnArbor.com
Following acceptance of the grant, the council voted 9-2 Monday night to approve a
$196,192 amendment
to the city's contract with
SmithGroup JJR
for more work related to conceptual planning and environmental documentation for the train station project.
Council Members Mike Anglin, D-5th Ward, and Jane Lumm, an Independent who represents the 2nd Ward, were the only dissenters in both votes.
"I'm just afraid that we're about to embark on something that's going to be a big boondoggle for our little town here," Anglin said. "I caution others that this could be a $60 million project that we're going to commit to down the road, and I don't think we have the money for that."
A local share of 20 percent — up to $701,600 — is required for the city's acceptance of the $2.8 million federal grant, said Eli Cooper, the city's transportation program manager.
Cooper said money the city already spent in previous planning, dating as far back as February 2009, will cover the entire match, so no new city funds are needed.
"At this time, the item before the council does not require additional investments to complete the work that's before us," he said.
The resolution approved by council states that completion of the grant-funded tasks will allow for future final design and construction of an improved intercity passenger rail station in Ann Arbor to improve the existing Amtrak service on the Detroit-to-Chicago corridor.
Cooper clarified that the city isn't locked into going forward with construction of a new train station by spending the planning grant.
In the new documents approved by council, the city's proposed Fuller Road Station project is now being called the Ann Arbor Rail Passenger Station project.
That's an acknowledgment that the location isn't fully decided yet, though Mayor John Hieftje and Cooper have seemed determined for the last few years to see a new train station built in front of the University of Michigan Hospital on Fuller Road.
At one point the university was going to build a 1,000-space parking garage as part of the first phase, but those plans changed. U-M is now building its parking elsewhere.
The city plans to have JJR take a close look at the feasibility of redeveloping the current Amtrak station versus building a new train station on Fuller Road. Cooper said the city will be talking with the federal government about what other sites, if any, should be evaluated further.
Cooper assured Lumm that the city will exhaustively evaluate the existing Amtrak station to prove it's viable or not viable.
Cooper said about $737,785 has been spent to date planning for a new train station. Anglin pointed out the city also spent about $1.2 million to relocate utility lines along Fuller Road.
"I don't know why we're in the railroad business," Anglin said at one point. "That kind of confuses me. I don't think we're qualified to build a train station, to build a railroad, or anything like that. And I don't like the idea of any of our money going in that direction."
The council authorized an original $541,717 agreement with JJR in August 2009 and later that year approved a $111,228 amendment.
The latest $196,192 amendment — fully funded with the federal rail grant — is for continued planning efforts that build on the previous work completed by JJR, including revisions to the conceptual plan and completion of required environmental documentation.
Once those efforts are finalized, Cooper said, the project can move forward into the preliminary engineering phase, which will be done under a separate contract.
A handful of residents, including City Council candidates Jack Eaton and Sumi Kailasapathy, as well as members of the Sierra Club, opposed the council's action Monday night.
They're against building a train station on the footprint of a parking lot in Fuller Park, and they also have concerns a solid business plan hasn't been presented yet.
"We should not be pouring tax dollars down the drain for a phantom transit plan," Kailasapathy said, urging council to hold off on taking action.
"I, for one, am a bit confused by it all because I thought we were having an intermodal station for a time. We talked about commuter rail," Anglin said. "Now we're talking about an Amtrak station. So for me this is very confusing and I would imagine it's pretty confusing to the public."
Other council members offered a more positive view of the fact that $2.8 million in federal grant money is coming to Ann Arbor to help plan a new train station.
"I'm excited about this going forward and it feels to me like we're on the verge of something that's pretty great for the city," said Council Member Sandi Smith, D-1st Ward.
"This is certainly the longest we've ever discussed accepting a grant, I think," Council Member Carsten Hohnke, D-5th Ward, remarked about an hour into the debate.
Multiple council members made reference to the city of Troy, whose conservative Republican leadership made national news last year for turning down $8.5 million in federal grant money that would have fully funded a long-planned transportation center there.
"We have to prepare for mass transportation to serve a lot of people and that's the way of the future," said Council Member Tony Derezinski, D-2nd Ward.
Council Member Sabra Briere, D-1st Ward, noted the current Amtrak station was built many years ago with a mix of state and local dollars and grew out of a citizen committee.
"It's my understanding that unless we receive additional dollars, we do not expect to build anything," she said of the vision for a new train station.
Hieftje stressed that the city's acceptance of the grant and proceeding with planning will in no way compromise the city's ability to pay for essential services like police and fire.
Briere asked whether it's the city's intent to provide any funding for operation and maintenance of a rail system. Cooper said the answer is no.
"It is in fact a difficult decision, I'm sure, for council members when confronted with dealing with the day-to-day issues of today versus making an investment in an asset that will serve the community for decades, if not centuries," Cooper said at one point.
Cooper said he's been in talks with MDOT and Amtrak and all agree that train stations are local issues to decide.
He said Ann Arbor was selected for the $2.8 million grant because its Amtrak station is the busiest in the state of Michigan and the second busiest on the Detroit-to-Chicago line.
He said the current station on Depot Street is not adequate to meet current demands, and that's even before taking into consideration anticipated growth.
He reminded council members the federal government has awarded nearly $500 million to Michigan to acquire and upgrade the tracks between Detroit and Chicago.
This past April, he added, there was another announcement of the Federal Railroad Administration and Amtrak purchasing bi-level passenger rail cars, increasing capacity.
"So the number of people who will be traveling along the line, and then theoretically in and out of the Ann Arbor station, will increase," he said, adding that Amtrak now estimates its ridership will roughly double over the next 25 years as more cars are added.
"It's well recognized that during certain times of the year now the current Amtrak station and all the parking around it is 100 percent consumed," he added.
Cooper also said Amtrak designs now require a 1,000-foot loading platform. He said the current platform is not nearly that size and the intent is to have 1,000-foot-long trains.
"That's the enormity of the type of infrastructure that a national high-speed rail system or higher-speed rail system requires," he said. "And that is the opportunity we have before us to allow Ann Arbor to position itself in order to continue to serve as a leading community that provides first-rate, world-class transportation in and out of our city."
Smith said she witnesses people coming and going from the current Amtrak station who have to lug suitcases up and down tall flights of stairs and across the Broadway bridge.
"They've got their 30-pound suitcases with them, and they go up a long flight of stairs, across the Broadway bridge, down another flight of stairs, to find their car in some parking lot without any lines on it, and they're all kind of parked every which way in some random fashion," she said. "And it's clear that we've outgrown the space that we have."
Ryan J. Stanton covers government and politics for AnnArbor.com. Reach him at ryanstanton@annarbor.com or 734-623-2529. You also can follow him on Twitter or subscribe to AnnArbor.com's email newsletters.