Posted on
Thu, Jul 25, 2013 : 5:58 a.m.
Grand vs. Kunselman: 3rd Ward race for Ann Arbor City Council heating up
By Ryan J. Stanton
Third Ward voters have a choice Aug. 6 between two Ann Arbor City Council candidates with opposing viewpoints on downtown and new development.
Julie Grand, chairwoman of the city's Park Advisory Commission, is trying to unseat Stephen Kunselman, who is seeking a fourth two-year term on council.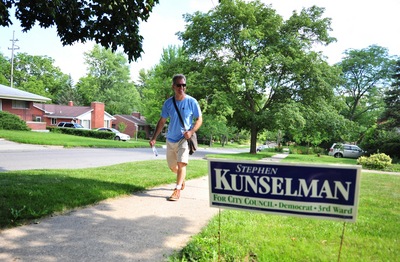 Ryan J. Stanton | AnnArbor.com
Grand, who lives near Burns Park, believes there's a symbiotic relationship between the downtown and outer neighborhoods whereby a vibrant downtown benefits the entire city.
She's a major supporter of the Downtown Development Authority, an organization Kunselman frequently criticizes.
"What I don't like seeing is the DDA being vilified for essentially being successful at their job," Grand said. "Their job is to bring development to the downtown, and the fact that they have more money coming in just means that they have been doing their job well."
Kunselman, who wants to rein in the DDA's growing budget and redistribute some of its wealth, thinks too much time and money is being wasted on downtown while neighborhoods suffer.
He points to the DDA's recent decision to spend $200,000 to develop a downtown streetscape plan as an example of misplaced priorities.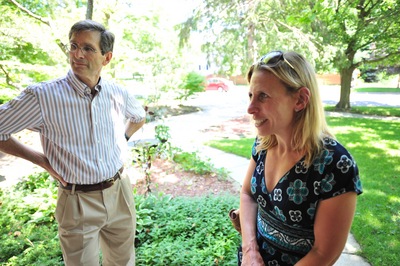 Ryan J. Stanton | AnnArbor.com
"For too long, politicians and their political appointees have been talking about building big buildings downtown and doing very little for our neighborhoods," said Kunselman, who lives near Packard and Platt.
"It's pretty apparent that our roads are in poor condition. It's apparent in the neighborhood I live in that the water mains have not been replaced probably since the '50s, and every winter we have water main breaks."
Kunselman added, "There has been too much deceptive politics going on in this community — too much misrepresentation — and we've seen that certainly with the DDA."
With the primary election quickly approaching, both candidates are working hard to get their messages out to voters. Grand and a team of volunteers have been sweeping through 3rd Ward neighborhoods for weeks, knowing it's going to be an uphill battle.
"Our philosophy all along — running against an incumbent, which we know is a tough thing to do — is to out-message and out-work," she said while knocking on doors on a recent afternoon. "So our plan is to hit every neighborhood in the ward at a minimum two times, and hopefully three times."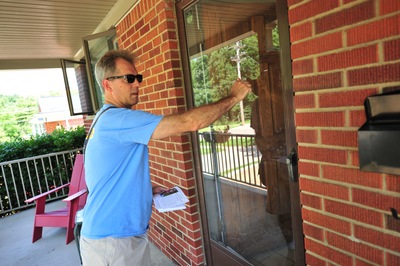 Ryan J. Stanton | AnnArbor.com
Kunselman can be seen many days riding his bicycle through the ward, delivering campaign materials door to door. He said he expects to win.
"The thing about this campaign — because it is more hotly contested — is it's pretty evident that my base of supporters are coming out in force," he said.
"I've raised more money than any other previous campaign at this point — I almost expect to break $5,000 this time — and I've got more signs out than I've had before at this point."
Kunselman won with 59 percent of the vote in the 2011 primary over challenger Ingrid Ault, one of Grand's political allies. Ault pulled 36 percent of the vote, while a second challenger, Marwan Issa, took 5 percent.
Grand is reminding voters that turnout is low in primaries, and Kunselman won by a mere six votes over incumbent Leigh Greden to return to council in 2009, so every vote counts.
Grand criticizes Kunselman when going door to door, telling voters her opponent communicates poorly and brings a combative style to council.
"He's been a really divisive force on council and I don't think that's a productive way to get things done," she told one resident. "My approach is really to listen to the community and also do the research, look at best practices, and make decisions that way."
Grand often asks voters if they've ever received a proactive communication from Kunselman. She said she's yet to receive a yes answer.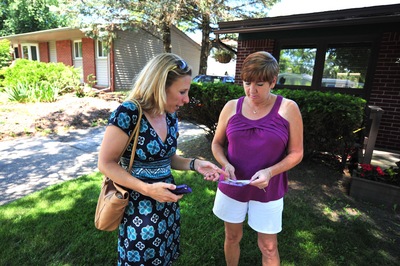 Ryan J. Stanton | AnnArbor.com
Kunselman said he's proud of his record and he believes he's representing constituents well. If they call or email with concerns, he said, he responds.
"I'm feeling really good because everybody has given me really good comments," he said. "They're appreciative of the fact that I'm focusing on public health, safety and welfare-type services and not spending my time downtown trying to speculate on how to build big buildings or play developer."
Kunselman pushed to get the city to set up a blight fund and demolish a number of abandoned houses and other dangerous buildings.
While campaigning near Allen Elementary School recently, he made sure to tell residents about his role in getting a blighted garage on Dorchester Road torn down. That made him instantly popular with neighbors who said the garage was an eyesore and had attracted turkey vultures.
Kunselman said more blighted houses on the southeast side of Ann Arbor need to come down and those kinds of issues, along with basic infrastructure improvements, are among his top priorities.
"Blight is an issue maybe not so much to the neighborhoods close to downtown — to the more wealthy neighborhoods — but it is certainly an issue out in east Ann Arbor," he said.
Grand said her top priorities include infrastructure improvements with specific attention to stormwater management, improving access to information about city services, and engaging the public in the development of city-owned properties in and around downtown.
That includes a string of public parking lots along William Street, as well as properties at 721 N. Main and 415 W. Washington where the city wants to develop greenway parks.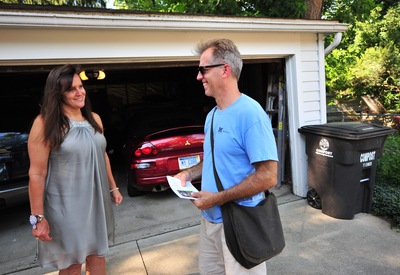 Ryan J. Stanton | AnnArbor.com
"By development, I don't just mean buildings, but the mix of buildings, open space, different kinds of uses — how we want to see our downtown," Grand said.
Grand said the city has an opportunity to lead by example when it comes to engaging the public to make sure what gets built on city property fits the community's vision.
"If the city takes the lead and creates development that most people are excited about, then that can really change the attitudes toward density," she said. "And I think it's important to remember, too, there's a lot of the downtown that can't be touched in terms of development."
Though Kunselman has been critical of some development projects like the 413 E. Huron high-rise, he said he's in favor of downtown density.
"It hasn't turned out as we all expected, but I've voted for and supported a number of buildings downtown that I think have not caused the kind of controversies that some of the more recent buildings have," he said. "I'm proud of Zaragon and Zaragon West."
Kunselman said Ann Arbor has seen major changes with a number of new high-rises going up, but he doesn't think that will continue.
"We've got more buildings at one time under one cycle than ever before. I don't think that's going to be the rule for the future," he said. "Things are going to settle down."
He said he'd like to see development happen on the former YMCA property that the city owns at Fifth Avenue and William Street, but he thinks there should be limits.
"We could put deed restrictions on that property," he said, "and basically say to the developer, 'You know, we want to sell you this property, but it's going to be eight stories and it's going to have a minimum of 6,000 square feet of open space at the corner — it'll be a public plaza.' "
As for other city-owned properties — like the parking lot next to the downtown library — Kunselman said he doesn't see much happening anytime soon.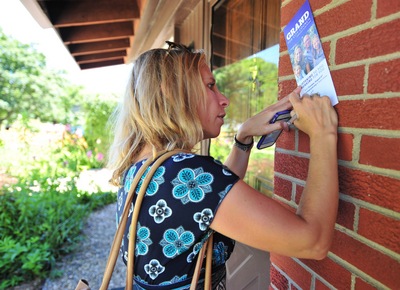 "I grew up in Ann Arbor and those city-owned lots have been there for a long time, and it takes eight votes to sell," he said. "And that's a lot of time and energy — and staff money and staff attention —focusing on something with very little result. We all have to face that fact."
As the University of Michigan has grown, Kunselman said, so has the number of students living around downtown — and "the townies got squeezed out to the edges."
"I think the bigger issue is ensuring we're all not just pushed out, and that's why I'm focused on neighborhoods," he said. "I mean, downtown is the wealthiest center of our community and yet the property values in east Ann Arbor went down 30 percent. We've got foreclosures in the outer ring."
Kunselman said the downtown is becoming more of an attraction for out-of-towners than local residents and it's not the same as it was in the '80s. Asked what he'd do to change that, he said those are forces beyond politics or politicians.
But he plans to continue pushing to redirect some of the DDA's increasing tax revenues back to the city, the county, the public library and Washtenaw Community College.
"They're going to have almost an increase of $1 million in the next two fiscal years. Some believe it'll actually be up to $4.8 million by the end of this fiscal year when these other buildings come online," he said of the DDA's tax capture. "My effort is to restrain that growth."
Kunselman said some of the extra money the city would collect could be used to hire more police officers. Both candidates said they want a more proactive police department.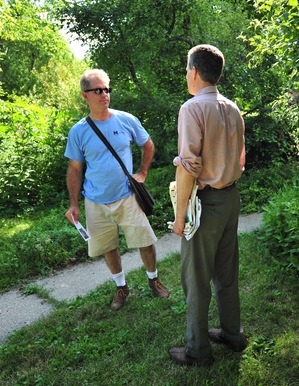 Ryan J. Stanton | AnnArbor.com
"It's just a matter of understanding where it's most valuable and making sure we're not adding police officers just to add police officers," Grand said.
Both candidates said they think the city's budget is in good shape and they're glad to see the city moving away from the controversial Percent for Art Program and talking about funding public art in a new way.
They also support the recent expansion of the city's transit authority to include Ypsilanti, though Kunselman has been skeptical of other major transit initiatives.
"We have to stop thinking and pushing Ann Arbor as some great metropolis — countywide transit, commuter rail," he said. "And you know this huge influx of employees — where are all these new employees? Because there's no new office buildings."
Kunselman also is critical of projects the DDA has taken on in the downtown.
"What we're seeing in downtown right now is more clutter in the streets," he said. "So it's not just the expansion of the patios, but it's the sidewalk signs, it's the wayfinding signs, it's the bike racks. Now they want to do bike sharing. And it's always the flavor of the day."
Though Grand embraces the work the DDA is doing downtown, she said she'd like to see improved services throughout the 3rd Ward and wants to address people's everyday problems.
"Right now the Bryant Community Center only serves people in the Bryant neighborhood," she noted. "But there are other neighborhoods with similar populations that are adjacent to Bryant and they can't actually use that community center, so I'd like to see some of those services expanded."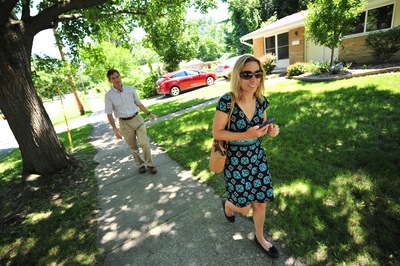 Ryan J. Stanton | AnnArbor.com
Grand said she has enjoyed her six years on PAC and thinks the experience she's gained working on parks issues would make her an effective council member.
"I've enjoyed the problem solving we do," she said. "We do some terrific community engagement on parks. And just working for parks, you get to have a direct impact on the quality of life for residents, which has been energizing, so I want to do more by serving on council."
Kunselman, U-M's energy conservation liaison, points to his background as an environmental planner and township administrator with degrees in urban planning and landscape architecture. He thinks that makes him effective on council.
"I'm a little bit of an atypical candidate because I've worked in local government, whereas obviously the others have not," he said. "I know the limits of local government."
Ryan J. Stanton covers government and politics for AnnArbor.com. Reach him at ryanstanton@annarbor.com or 734-623-2529. You also can follow him on Twitter or subscribe to AnnArbor.com's email newsletters.