Posted on
Fri, Feb 3, 2012 : 5:57 a.m.
Ann Arbor elementaries operating at 86 percent capacity
By Danielle Arndt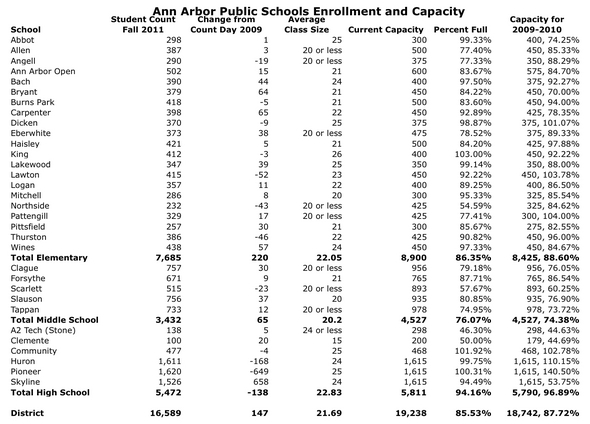 Count data and building capacities provided by Ann Arbor Public Schools.
Percentages and average class sizes computed by AnnArbor.com based on information obtained from AAPS.
Editor's Note: This story has been updated to include the elementary capacity chart provided by the district from which data in the story was computed. It also has been updated to include additional observations from the district about average class sizes. More class size data from the district may be forthcoming.
During the 2009-2010 school year, three of Ann Arbor's elementary schools were over capacity. Now, despite an increase in enrollment in grades K-5, only one elementary is over capacity.
How is that possible?
Ann Arbor Public Schools has worked to create more classroom space at its elementaries in recent years in an effort to address overcrowding as well as to help reduce the district's operating budget.
School officials once again are conducting a review of buildings and their efficiencies as the 2012-2013 budget discussion looms. AAPS is facing at least a $14 million deficit and is looking for places to cut.
Similar studies were completed two years ago when officials were trying to determine whether closing schools would help slash nearly $20 million from Ann Arbor's general fund.
Additionally, a new state law is now requiring districts to provide full-day kindergarten to receive all of their per-pupil funding allotment. Ann Arbor is evaluating each elementary, in particular, to determine whether all-day kindergarten is doable in terms of capacity.
AnnArbor.com recently obtained documents from the district on enrollment and compiled a capacity chart by building. A complete analysis under way by the district will be provided to the Board of Education in the coming months, said district spokeswoman Liz Margolis.
Elementaries attract growth
Ann Arbor experienced a district-wide increase in enrollment during the past two years, tallying 147 new students.
The increase can be attributed to growth at the elementary level. In total, the district's 21 elementaries saw 220 new students since 2009. Over the same period, the middle schools gained 65 and the high schools lost 138 students.
Bryant, Carpenter and Wines saw the most growth, adding 64, 65 and 57 students, respectively, to their overall populations.
With the increase, Carpenter went from being 78 percent full to nearly 93 percent full. However, a significant factor in this percent discrepancy is Carpenter's increased capacity. The school went from having a capacity of 425 students in 2009 to a capacity of 450 students in 2011.
Executive Director of Physical Properties Randy Trent said the district uses a state formula to determine capacity. For elementary schools, the formula is 25 students multiplied by the number of rooms, excluding those rooms used for special education, early childhood education, computer labs, media centers, art or music classes, staff break rooms, health or social services and other non-classroom spaces. Middle and high school capacities are configured slightly differently but also use a formula, Trent said.
He added that how each building uses non-classroom space essentially determines its capacity.
Bryant and Wines remained at the same capacity throughout the past two years, 450 students, but Bryant jumped from about 70 percent to 84 percent full, while Wines jumped from 84 percent to 97 percent full, data shows.
In total, since 2009, Ann Arbor increased capacity by 475 students across its elementaries. If all of the elementary classrooms were full today, the district could accommodate 8,900 elementary pupils, as opposed to 8,425 two years ago. Currently, the district has 7,685 elementary pupils enrolled and is running at about 86 percent capacity.
The capacity rates vary drastically from building to building, ranging from 54 percent at Northside to 103 percent at King, data shows.
King was operating at 92 percent in 2009. And although its population remained constant, decreasing its student capacity by 50 students — or increasing the number of non-classrooms — pushed the building over capacity.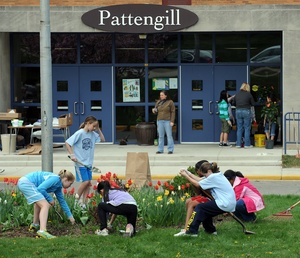 AnnArbor.com file photo
King also has the highest average class size in the district.
AAPS would like it to be made clear that the average class sizes for kindergarten and first grade are smaller than the average sizes for upper elementary grades. Additionally, the district noted some classes at the middle and high schools, such as certain electives, may have fewer students in them than others. The district also noted the averages for core classes at the high schools are closer to 30.
"It's a fact the community knows well," Margolis said. "We have had to increase class sizes as a result of funding reductions. It's not something we like to have to do — at all. But we are working very hard to fix some of these numbers."
Northside dropped from a rate of about 85 percent in 2009 to 54 percent in 2011. Northside did increase its capacity by 100 students; however, it also experienced a drop in enrollment, which likely contributed to a declining capacity rate.
Lawton lost the greatest number of students, 52, but its decrease in enrollment helped to relieve overcrowding at the school. Its capacity stayed the same, causing its rate to fall from nearly 104 percent in 2009 to 92 percent full in 2011, data shows.
Pattengill, which also had a capacity rate above 100 percent, condensed its reserved rooms to add classrooms and increased its capacity by 125 students. Pattengill's capacity rate subsequently dropped to 77 percent full.
From Count Day 2010 to Count Day 2011, the district lost the greatest number of pupils in kindergarten and first grade. Population increases took place in grades second, third and fifth, according to documents prepared by the district.
Scarlett's struggles
Scarlett was the only middle school to experience declining enrollment during the past two years. It saw a net loss of 23 students, dropping from a rate of about 60 percent to 57 percent full.
Margolis said the struggling economy has had a significant impact on the east side of town, and Scarlett's enrollment numbers also have suffered.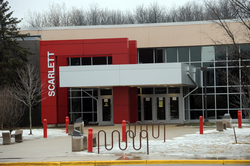 "The (Scarlett) neighborhood has some of our most transient families. It appears to be the nature of that area," she said, adding
when Pfizer closed five years ago
, Scarlett lost 200-plus students.
There also is some speculation about the potential balanced calendar concept at Scarlett scaring away parents and children. Margolis said it is likely a few families left because of that and AAPS' in-district transfer option does allow for it.
"There was a very vocal group of parents opposed (to the balance calendar) when it was first proposed," she said. "But, first of all, we don't have a balanced calendar at Scarlett and there is no definite date when that would happen. … So it's a bit of a premature decision (to switch) based on that."
More than half (37 students) of Ann Arbor's growth of 65 students at the middle schools is at Slauson. Slauson is operating with a capacity rate of nearly 81 percent. However, Forsythe is the most full at about 88 percent.
Skyline finally full
2011 was a milestone year for Skyline High School. It added its fourth new freshmen class. It now has students enrolled in all four grades and is operating at about 94 percent capacity since opening in fall 2008.
The school has, according to data, helped with overcrowding in the other three primary high schools, Community, Huron and Pioneer.
Two years ago, when Skyline had just freshmen and sophomores, Community was operating at about 103 percent capacity, Huron at 110 percent and Pioneer at 140 percent. These three now sit at or just less than 100 percent.
Ann Arbor Technological High School (formerly Stone High School) and the Roberto Clemente Student Development Center still sit at or just less than 50 percent capacity, similar to two years ago.
The capacity challenge is not elementary
Margolis said the capacity at each elementary building could change from year to year depending on each building's individual needs that particular school year.
It boils down to looking at the number of reserved rooms at the elementaries and determining whether they are being best utilized or whether the school needs additional classrooms to accommodate enrollment, she said.
Jane Landefeld, director of student accounting and administrative support, said, for example, perhaps Abbot typically has two rooms for special education but there are fewer students with this need next year. Then the district would transform one of these rooms into a classroom, she said.
Margolis added the same is true for physical therapy needs, art and music rooms — the list goes on.
Other programs have been forced to consolidate into fewer rooms and some grades have been combined at various elementary schools to help the district balance its budget, she said.
Trent added the process can become complicated and there is no right answer to making the capacity work at each building.
Superintendent Patricia Green will make her budget presentation to the AAPS Board of Education this month. Until then, it is unknown what changes to classrooms, if any, will take place next year, Margolis said.
Note: Read the AAPS capacity data.
Staff reporter Danielle Arndt covers K-12 education for AnnArbor.com. Follow her on Twitter @DanielleArndt or email her at daniellearndt@annarbor.com.