Posted on
Thu, Oct 25, 2012 : 6:05 a.m.
One for the books: Voters will decide Nov. 6 whether to build new downtown Ann Arbor library
By Ryan J. Stanton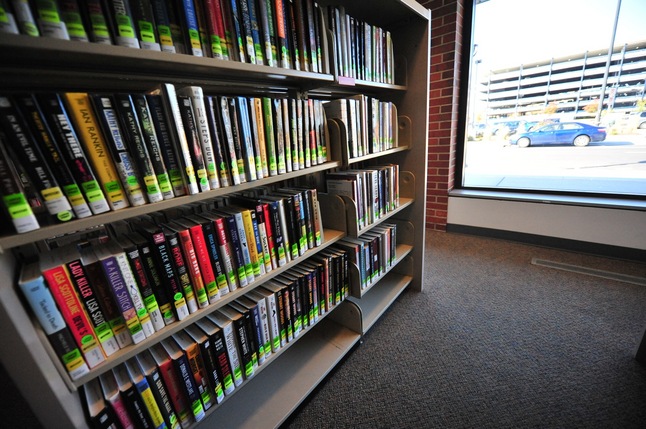 Ryan J. Stanton | AnnArbor.com
Ann Arbor District Library
Director
Josie Parker
believes public libraries will be as critical to communities 20 years from now as they are today.
As technology advances and the world becomes increasingly digital, Parker said, she's convinced the library will remain a destination place.
"We still will be those centers of learning and community engagement that we are now, but we will be doing it in a different format," she said.
Hoping to cement the public library's future in downtown Ann Arbor, the AADL is asking voters on Nov. 6 to approve a $65 million bond proposal for construction of a new downtown library.
The estimated millage to pay off the bond is 0.56 mills. The tax would last for 30 years and cost the owner of a home with a $100,000 taxable value about $56 a year.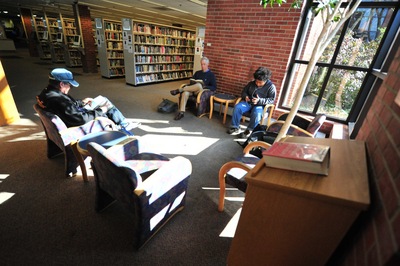 Ryan J. Stanton | AnnArbor.com
Three committees — one called
Protect Our Libraries
, another called
Save the Ann Arbor Library
, and another called
LOL=Love Our Library
— have formed in opposition to the proposal.
"I'm very troubled when I hear Library Board members say it will be great for downtown Ann Arbor," said Kathy Griswold, treasurer for Protect Our Libraries. "I don't believe it's the responsibility of this group to provide a cool new library for our cool downtown."
Griswold argues the project is too expensive while providing only a marginal benefit to taxpayers. Meanwhile, Doug Jewett, who started the Save the Ann Arbor Library committee, argues demolishing the current building would be a devastating loss for the community.
Supporters of the proposal argue the building at the corner of Fifth Avenue and William Street, which traces back to the 1950s, is past its prime and should be demolished to make way for a new one.
"That library is obsolete," said Ellie Serras, chairwoman of the Our New Downtown Library campaign committee.
"It's just like having a car that's 50 years old," Serras said. "It might run, but you're just throwing money into it."
If the bond proposal passes, library leaders plan to spend the next year soliciting public input and planning what the next library would look like. Once the designs are in place, construction could take about 18 to 27 months, said Library Board President Margaret Leary.
Parker said the intention is to keep the downtown library's collection available online for requests during construction, but most of it would not be physically browsable.
Library leaders hope to find space they can use as a temporary downtown branch. Parker said the AADL would use its other branch libraries and rented space to continue programming.
Debating the need
The AADL is made up of the 113,850-square-foot downtown library and four smaller branch libraries that range in size from 5,900 square feet to 16,500 square feet.
The downtown library opened in 1958. An expansion doubling its size was completed in the 1970s. A third addition was completed in 1991, again doubling its size.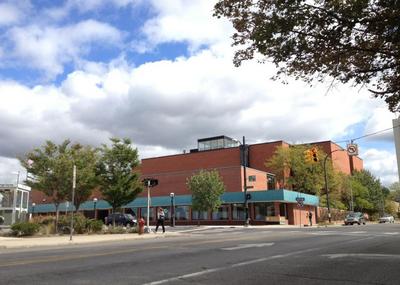 Ryan J. Stanton | AnnArbor.com
"Right now it's like the community is punishing the library staff for maintaining the building as well as they have," Serras said. "They've done such a good job of patching it together and keeping it running, but it's still very substandard."
A library facilities committee report found the building has inadequate capabilities for meeting patron needs for safe, quiet reading space and has outdated heating and air conditioning systems.
The report also found the facility lacks sufficient meeting space for community events and large presentations, needs capacity for additional infrastructure to meet growing computer use, and doesn't have enough space for children's programming and services that reflect the needs of contemporary families and students.
After reviewing renovation possibilities, the Library Board unanimously decided a new facility built on the site of the existing library would be the most cost-effective solution.
Leary said a complete renovation of the library to bring it up to modern-day standards would cost about 90 percent of what it would cost to have a completely brand-new library that is bigger.
No plans for what the new library might look like exist yet. The Library Board is asking the community to first decide if it is willing to invest $65 million before commissioning architectural designs.
Leary said library officials know from previous planning efforts they need a larger building — about 160,000 square feet. They're looking to add a 400-seat auditorium to comfortably accommodate the crowds the library's lectures, movies, discussions and performances bring to downtown, as well as an array of meeting spaces that can accommodate a wide range of other events.
Other features that library officials argue would be possible in a new building, but not possible in the current building:
A destination, multi-age, youth area that can simultaneously accommodate open play, story times, and other youth programming
A grand, quiet reading room
An accessible downtown location for AADL's Local History collections, specifically the collection from The Ann Arbor News
Individual and group study and work spaces throughout the building with adequate comfort, power, and acoustic privacy
A cafe that is open before and after the library hours
A Friends of the AADL shop in the lobby
A Media Production Lab that provides high-end computer production bays adjacent to larger, comfortable, public computing areas
An environmentally sound, comfortable, efficient structure accessible to all
Leary said the AADL knows from its experience building three branch libraries in recent years — and from reviewing similar projects — that it will cost about $334 per square foot.
At 160,000 square feet, that means it could cost more than $53 million for construction, with the rest of the money from the bond paying for pre-construction activities and relocation/moving expenses.
One of the arguments against the bond proposal made by the Protect Our Libraries committee is that it could cost $130 million with interest. Supporters of the bond argue that might be the case if interest rates go up to 5.25 percent, but they're expecting to lock in rates in the 2 to 3 percent range.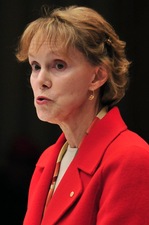 Griswold said her group is about 45 members strong right now and they don't see why the current library can't be maintained.
"I just think there is this underlying dislike for that building by the Library Board. It's not a bad building," she said. "They need to bring in more renovation and sustainability experts. I've talked to many construction people — I think the library is functional as it is."
Griswold notes the library district includes all of the city of Ann Arbor and parts of Ann Arbor, Lodi, Webster, Pittsfield, Superior, Salem and Scio townships. She said she wonders why taxpayers in surrounding townships should pay to support a new downtown library.
She said she'd rather see the money spent on building more branch libraries that are in walking distance from lower-income neighborhoods.
Ann Arbor resident Amy Seetoo, a former reference librarian at the University of Illinois, is supporting the Protect Our Libraries fight against the bond proposal.
"We could always use a new library, but this is just unnecessary and at the wrong time," she said. "You know, when everything is thriving, yes, I would like to have a new library."
The AADL prioritized rebuilding the downtown library about five years ago, but it placed the project on hold due to the poor economy.
Serras said a new downtown library is not a want but rather a need given the current condition of the building and the demands being placed on it.
"It's energy wasteful," she said. "It's three buildings that have been patched together and the heating and cooling are totally inefficient."
By the numbers
While the AADL invested in building three new branch libraries over the last decade, library circulation went up significantly. Systemwide circulation went from fewer than 1.5 million items checked out in 2000-01 to more than 5.2 million in 2005-06 to more than 9.2 million in 2008-09.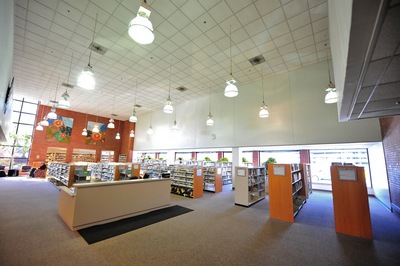 Ryan J. Stanton | AnnArbor.com
The numbers have dropped off since then with about 400,000 fewer items checked out in each of the last two years. Parker attributed that to changes in the library's internal processes for items placed on hold.
The downtown library saw four straight years of gains in circulation before hitting 1.2 million items checked out in 2009-10. It dropped to 1.12 million in 2010-11 and then to 1.03 million for 2011-12.
Fifth Avenue was closed for the construction of a new underground parking garage next to the downtown library for most of the time that circulation was down.
Fifth Avenue reopened in mid-June and new reports show circulation at the downtown library is picking back up. There were nearly 295,000 items checked out between July and September this year compared with about 256,000 during the same three months last year.
The number of annual visits to the downtown library grew steadily over the past decade, peaking at 649,231 in 2009-10. It then dropped to 590,362 in 2010-11 and to 576,043 in 2011-12.
But with Fifth Avenue reopened, there already have been more than 160,000 visitors to the downtown library in the first quarter of this fiscal year, an 11.2 percent increase from last year.
More than two-thirds of the 163,000-plus residents served by the AADL are current library card holders. With the AADL now offering a wide variety of movies and music albums, reports show nearly as many people go to the library for DVDs, CDs and Blu-Ray discs as they do books.
Systemwide, nearly 1.7 million visitors passed through the doors of the five libraries last year, and nearly 1,800 people attended more than 230 computer classes that were offered. The AADL put on nearly 1,700 programs that drew 42,905 adults and 37,641 children.
About 85,000 people used the downtown work stations last year, and more than 10,700 new library cards were issued.
Serras said having a functional downtown library is similar to having an anchor retail store downtown because of how many visitors it attracts.
"So in that way, it's a benefit to downtown," she said. "But it's so much bigger than that."
Ryan J. Stanton covers government and politics for AnnArbor.com. Reach him at ryanstanton@annarbor.com or 734-623-2529. You also can follow him on Twitter or subscribe to AnnArbor.com's email newsletters.