Posted on
Sun, Sep 4, 2011 : 5:59 a.m.
Ann Arbor officials taking hard look at city's public art program
By Ryan J. Stanton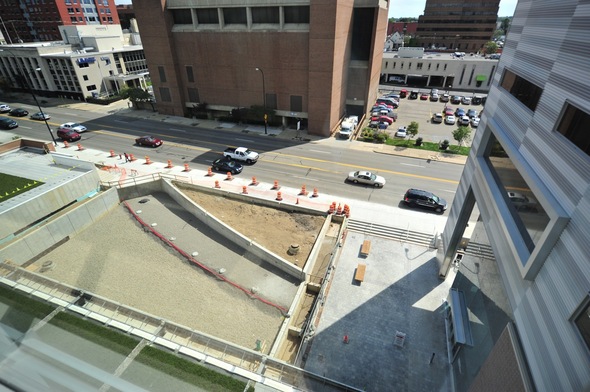 Ryan J. Stanton | Ann Arbor.com
Nearly four years since the launch of
Ann Arbor's Percent For Art Program
, more than $2.2 million in city funds have been channeled toward public art.
Only a portion of that money has been spent, while nearly $1.7 million remains set aside and waiting to be put toward future projects, according to records obtained by AnnArbor.com.
So, what's the city getting for its investment? Not enough, according to several members of the Ann Arbor City Council who are raising concerns about the program.
"I would be willing to consider eliminating it altogether," said Council Member Sabra Briere, D-1st Ward, one of four council members who fought unsuccessfully to reduce funding for public art in the last round of city budget cuts.
Ryan J. Stanton | AnnArbor.com
"We're four years into this and we have the sculpture at city hall and we have the two trees in West Park," Briere said, summing up the program's accomplishments to date. "It seems to me that at some point you have to say, 'Well, it was a nice experiment, but this isn't working.'"
The city's public art program has come under attack multiple times in recent years. Each time, a majority of council members have agreed public art is an important economic development tool and contributes to quality of life in Ann Arbor, and so funding has been maintained.
But even those on council who have defended public art in the past are starting to raise questions about the program's effectiveness.
For how much money has been dedicated, Mayor John Hieftje said recently he's concerned the city hasn't seen more results. He's calling for a thorough review of the program with hopes the city can strengthen it and see a profusion of new art.
Though many projects have been discussed, the Public Art Commission has delivered on just two art installations in four years: a $750,000 sculpture being installed in front of city hall (somewhere north of $400,000 has been spent so far), and a $15,000 installation in West Park that included two orange-colored tree sculptures.
"They seem to be focused on large-scale, permanent installations," Briere said. "If I were going to devise a public art program, I'd be looking for opportunities to create interactive art or temporary art that is a creation by the people of Ann Arbor."
City officials said a little more than $76,000 has been spent on administrative expenses for the program to date.
Tracing the money
Under an ordinance approved by the City Council in 2007, 1 percent of the budget for all city capital projects — up to $250,000 per project — is set aside for public art.
AnnArbor.com recently asked the city for records showing all source funds for the public art program over the last four years. Those records show $539,000 has come from the city's street millage, $40,000 from the parks millage, $907,000 from the city's sewer utility, $367,000 from the water utility, $60,000 from the stormwater utility, $38,000 from the solid waste fund and lesser amounts from the airport and energy funds.
Additionally, $250,000 is earmarked for public art as part of the Ann Arbor Municipal Center project budget. The city plans to put art in the lobby of the new police-courts building.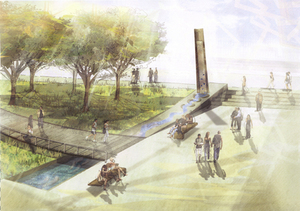 Courtesy of City of Ann Arbor
No general fund money — the part of the city's budget that funds police and fire protection — has been put toward public art, though city officials acknowledge that could happen if general fund dollars are invested in capital projects.
The city has a general fund budget that includes $79.1 million in spending this year. That's after trimming millions in costs, including 30 police and fire positions in the last two years. City officials face another multimillion-dollar shortfall in the general fund in the next year.
The city's spending on public art at a time when it's making deep cuts to public safety has angered some residents. But the mayor and other city officials argue the city's public art money legally can't be tapped to pay for general fund items like police and fire.
The city's money, they say, is separated into different "buckets," and one bucket can't be drained to fill another. Even if the art program were disbanded, they say, the monies would go back to the funds from which they came — parks, streets, utilities, not the general fund.
Total city spending across all funds is $314 million this year, and $334,660 — or 0.1 percent — of that is going to public art, records show.
Relatively speaking, that's a drop in the bucket and none of the source funds are hurting because of it, said Sue McCormick, the city's public services administrator.
"The ordinance is very specific that these percent for art monies aren't a free-for-all," she added. "They have to serve the purpose of the fund. And when I take a look at the budgetary impact, it is 1 percent of the capital investment, so it's a very small percentage."
Still, multiple council members told AnnArbor.com this week it's hard to stomach the amount of money being channeled to public art when the city is raising utility rates, streets are in need of repairs and funds like solid waste are showing deficits.
"These are significant issues," said Council Member Stephen Kunselman, D-3rd Ward. "There's way too much money that has been diverted from the rightful purposes."
Kunselman said he's not convinced the use of dedicated millage or utility funds for public art is legal and he's waiting for the city attorney to issue a written opinion on the matter.
City Attorney Stephen Postema said his office has reviewed the Percent For Art Program and he's not aware of anything illegal about what the city is doing. In fact, city officials point out many cities across the country have percent for art programs.
McCormick stressed because all public art projects must serve a purpose somehow related to the source funds, no money is truly being diverted from its rightful purpose. For example, that's the case with the sculpture soon to be installed in front of city hall, which is using utility funds.
The piece by German artist Herbert Dreiseitl is expected to start close to Huron Street and follow the west edge of a new rain garden toward the main entrance of city hall. The focal point of the piece is a standing bronze sculpture with blue glass pearls that light up in computerized variations as stormwater from the building circulates over the sculpture's surface.
As for the $500,000-plus in street millage dollars now in the public art fund, McCormick said the city is talking about a couple of different ideas for street-related art projects.
"I know the Public Art Commission has talked about doing something in conjunction with the Stadium bridges project," she said. "They also have looked at doing something with the entrances to the city, which are generally either right-of-way or median types of projects."
Kunselman, however, thinks voters are losing trust in the city with such large transfers to public art, and he thinks it'll be tough to get the city's street millage renewed in November now.
Evaluating the program
In light of his concerns about the public art program, Hieftje recently nominated Council Member Tony Derezinski to join the Public Art Commission. Derezinski, D-2nd Ward, has attended one meeting so far and is expected to report back to council what he finds.
"I think the Percent For Art Program is a very good one and it has a great purpose," said Derezinski, who has fought twice to protect funding for the program.
Derezinski said he's going to look for ways to improve the processes of the commission. He also wants to take a look at whether the city's pubic art ordinance is too restrictive and eventually have a thoughtful discussion about the program at the council table.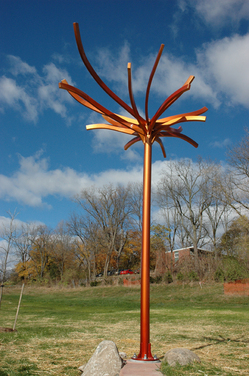 Courtesy of City of Ann Arbor
Multiple council members said they think the Public Art Commission has focused too heavily on the city hall sculpture project over the last few years when the community could have benefited more from delivering on a number of smaller-scale projects like the one in West Park.
"I'd like to see art throughout the city," said Council Member Christopher Taylor, D-3rd Ward, expressing a viewpoint shared by others on council who want to steer the commission in a new direction.
Taylor said he still thinks a thriving public art program is good for Ann Arbor. But he also said he recognizes there's a substantial balance in the public art fund and he's open to reconsidering whether too much money is being set aside.
Commenting on the fact that there's a $500,000-plus balance of street millage money in the art fund, Taylor said that strikes him as a lot.
"Streets are obviously critical to the city and we should reflect upon whether that's the best use of that money," he said.
Council Member Stephen Rapundalo, D-2nd Ward, said he's still a strong supporter of public art and doesn't want to see the program eliminated. But he agrees the council needs to have a thoughtful discussion about the program's effectiveness and its funding.
"I think the mayor and all of us have been frustrated in that we know there's a sizable amount of funds sitting there and that hasn't really been translated into outcomes and products," he said. "I imagine some of the opposition to public art is because people haven't seen what the dollars have brought in, because the dollars literally haven't been expended."
Asked whether she thinks the Percent For Art Program has been successful, McCormick said that's up for the City Council and the public to judge.
"Do I wish we had more public art? Absolutely," she said. "Do I think the commission has some challenges to really move forward and get more public art out there? Yes."
Briere recalled it was at her first meeting in 2007 when the council approved the Percent For Art Program. In hindsight, she said, the council didn't have enough information.
Fearing the sculpture in front of city hall could become more of a public urinal than public art, Briere said she thinks Ann Arbor should look to other cities for inspiration.
"In Calgary, they have incorporated public art into the bus stops by creating clear canopies where you're standing and there's engraved text on the inside, so when you stand there waiting you can read poetry," she said. "In Milwaukee, they had small sculptures affiliated with bridges, but the sculptures were relevant to the story of Milwaukee, so there was a purpose behind them.
"They weren't just stuff. They told a story. That was interesting."
Ryan J. Stanton covers government and politics for AnnArbor.com. Reach him at ryanstanton@annarbor.com or 734-623-2529. You also can follow him on Twitter or subscribe to AnnArbor.com's e-mail newsletters.