Posted on
Tue, Dec 14, 2010 : 12:39 p.m.
Ann Arbor officials working to launch first PACE program in Michigan under new state law
By Ryan J. Stanton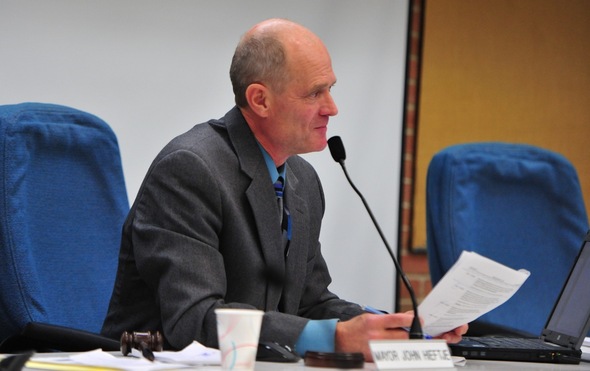 Ryan J. Stanton | AnnArbor.com
In one of her last remaining acts as governor, Jennifer Granholm signed into law today a piece of Ann Arbor-inspired legislation that will help business owners throughout Michigan finance energy efficiency improvements on their properties.
Granholm penned her name to House Bill 5640, better known as the PACE legislation, during a ceremonial bill signing in her office on the second floor of the state capitol building.
Ann Arbor and Washtenaw County officials have been pushing for the state to approve a PACE law — which stands for Property Assessed Clean Energy — for several months. State Rep. Rebekah Warren, D-Ann Arbor, sponsored the bill that made it possible.
The new law gives local governments authority to issue revenue bonds to pay for upgrades on private property, ranging from high-efficiency furnaces that can cost a few thousand dollars to solar-panel systems that can cost tens of thousands of dollars.
Property owners are responsible for repaying the loans from their local governments over a period of several years through special assessments added to their property tax bills.
Andrew Brix, the city of Ann Arbor's energy programs manager, said the PACE program is being set up so the estimated energy savings must be greater than the cost of the special assessment — meaning it'll be an immediate cost savings for the property owner.
"It's very exciting," said Ann Arbor Mayor John Hieftje, who testified in favor of the PACE legislation in Lansing. "It's something I've worked very hard on with our team here at the city. We're going to have to work through some of the details. But one of our goals is to reduce energy usage across the board in the city, and this is going to help us to get to that goal."
Proponents of PACE still hope to extend the law's scope to residential properties, so homeowners can receive extra help with energy improvements. The state Senate revised and limited the legislation to commercial properties in September, citing the fact that federal officials still are working to resolve larger issues surrounding PACE on a national level.
Mortgage-finance agencies Fannie Mae and Freddie Mac are fighting the tax-assessed financing elements. The debate centers on who gets paid first if a borrower defaults.
"Their concern is that a special assessment is a primary lien that would be in front of the mortgages they hold," Brix said. "Our assessment is these PACE assessments are making the properties more affordable and increase the likelihood of mortgages being paid."
Brix said the PACE assessments are no different than any other special assessments that cities have used for more than 100 years to pay for things like sidewalks and sewer upgrades.
The city of Ann Arbor already is working to get the state's first PACE program up and running. City officials expect to start taking applications from property owners within six months.
Ann Arbor received about $1.24 million in grant funding earlier this year through the U.S. Department of Energy's Energy Efficiency and Conservation Block Grant Program.
The city will use $260,000 of that to contract with the non-profit Ypsilanti-based Clean Energy Coalition to implement new community energy programs, including PACE.
The contract covers the cost of bringing Wendy Barrott onboard as the city's new full-time community energy programs coordinator, Brix said.
Barrott, the former director of energy and environmental services for the city of Fort Wayne, will help roll out Ann Arbor's PACE program. She started working for the city in November.
"We're trying to get all the pieces into place now that we know what all the final rules and regulations are," Brix said. "The key piece of the legislation is the acknowledgment that local governments helping to make energy improvements to private property is something that's in the public interest and we can use special assessments to pay for it."
Brix is hopeful businesses will begin taking advantage of the program right away. He said the city is setting aside about $430,000 of the energy grant money it received to start a loan loss reserve fund for the PACE program, which will cover any potential delinquent payments.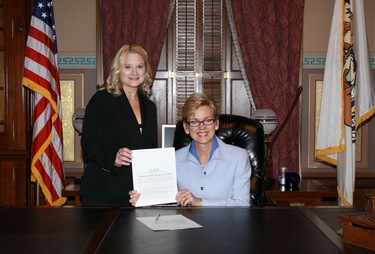 Photo courtesy of Jeremy Herliczek
That means the city probably will set a cap and will issue bonds to finance up to $4.3 million in energy projects through PACE in the first couple of years, Brix said.
"We may see a lot of lighting upgrades. We'll probably also see heating, ventilation and air conditioning improvements," he said. "We may see more heat recovery systems, particularly at restaurants where they're running hoods and blowing heat out into the winter night."
Hieftje said the program will be of particular interest to property owners who want to make improvements but have hesitations about assuming long-term financing obligations on properties they might move out of before the debt is paid off. The PACE program allows the cost of improvements to remain with the property, so even if the property is sold, the new owner takes over the payments — and also enjoys the reduced energy bill.
"The improvement would stay with the property and so would the debt," Hieftje said. "It would just be something that the property owners see show up on their tax bill to pay it back."
PACE programs have been successful in other states. Hieftje said he's hopeful cities in Michigan will be given the OK soon to extend the program to residential properties.
"But the commercial side of it is huge," Hieftje said. "I think on the commercial side, you're even better situated to take this on because it's a business — you have an income stream there. It's also something for businesses to say, 'We're a green company.'"
Brix said PACE is only one tool as the city looks to meet its green energy challenge, which includes a goal of reducing greenhouse gas emissions across the city by 20 percent by 2015, when compared to 2000 levels. He said that's going to take a change in people's behavior and lots of educating by the city, and that work is under way.
Hieftje noted Ann Arbor reached its goal this year of having 20 percent of the city's energy consumption coming from renewable sources.
The city has installed a number of LED streetlights around town and added solar hot water heaters on the downtown fire station — something already done on the city's swimming pools.
The city's boilers are now twice as efficient, Hieftje said, while the city's vehicle fleet has been reduced in size, and many vehicles are now running on biodiesel. The city also has added new hybrid recycling trucks that are expected to reduce emissions.
The city also continues to generate hydroelectricity from two dams along the Huron River and is drawing energy from a local landfill gas recovery system.
Ryan J. Stanton covers government and politics for AnnArbor.com. Reach him at ryanstanton@annarbor.com or 734-623-2529.