Posted on
Thu, Jan 26, 2012 : 5:57 a.m.
Fight with city hall over fence results in Ann Arbor homeowner considering moving out of town
By Ryan J. Stanton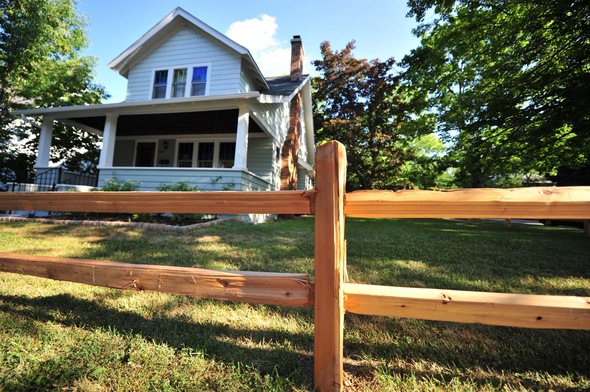 Ryan J. Stanton | AnnArbor.com
Louis Breskman
says he's considering moving out of
Ann Arbor
after being "hassled by the city" for installing a
wooden fence in front of his home.
Breskman, who lives on West Madison Street with his fiancee, Meredith Newman, went toe-to-toe with the city's Historic District Commission last July after causing a fuss by installing a split-rail fence on his property in Ann Arbor's Old West Side Historic District.
The problem: Split-rail fences in front yards are incompatible with the historic character of the district, according to city officials.
Ann Arbor takes historic preservation seriously, with about 1,800 properties included in 14 historic districts throughout the city.
Following a hearing before the HDC in July, the city promptly ordered Breskman to take down the fence, which he estimated cost him $1,200 to have installed.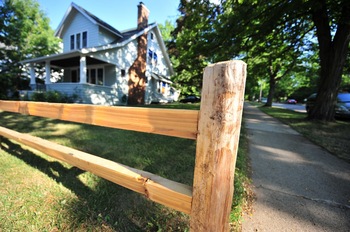 Ryan J. Stanton | AnnArbor.com
At first, Breskman said he was going to comply, but his fiancee convinced him to appeal the decision.
And so the case went before an administrative law judge in Lansing this past fall where sworn testimony was heard from both sides.
"He thought the whole thing was ridiculous and didn't want to waste the court's time," Breskman said of the judge. "Because it is stupid. It really is. The whole thing."
Breskman said the judge asked the two sides to try to work out the issue, and that has led to discussions with the city attorney's office. Breskman said he asked if the city would pay for the cost of removing the fence, and the city declined.
The HDC passed a resolution last month in an attempt to finally settle the case, setting a May 1 deadline for removal of the fence and directing the city attorney to take all necessary steps to reach a settlement with Breskman.
Assistant City Attorney Christopher Frost has represented the city in the matter. He and City Attorney Stephen Postema spoke with AnnArbor.com about the case this week.
They said the issue still isn't formally resolved, and the judge eventually will decide the case if a mutual agreement isn't reached between the city and the homeowner. But the judge has recommended the two sides try to reach a settlement on their own first.
"We are working with the homeowner on a resolution," Postema said, adding the ball is in Breskman's court at this point.
"The homeowner is reviewing some documents," he said. "It's along the lines of giving them some time to remove the fence. If not, their other option is to wait until the administrative law judge rules, but I think the administrative law judge is trying to have us jointly resolve it."
Frost called it a pretty standard case and said the city has tried to find a resolution that satisfies both the law and the homeowner.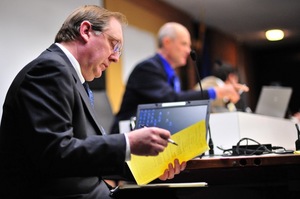 Ryan J. Stanton | AnnArbor.com
"I think Chris has dealt very fairly with them and we'll continue to deal fairly with them," Postema said, predicting the case will be resolved within a couple of weeks.
Breskman said he's felt out-matched, going up against a deep-pocketed city government with a team of professional attorneys.
"The city put together this five-inch-thick document," he said. "If I had paid a lawyer to do that, it would have cost me over $10,000. I don't have the resources the city does."
Breskman said there's been no budging on the city's part, and now he feels he has little choice but to take down the fence by May 1.
"We tried to fight it a little bit, but there wasn't anything we could do," he said. The city just forced us to take it down. All I could do was agree to take it down."
Breskman said one of the most disheartening parts of the process has been learning through sworn testimony in Lansing by Jill Thacher, the city's historic preservation coordinator, that one of his neighbors complained to the city about the fence.
Breskman, who works in the Livonia area, said he's seriously thinking about moving to the northern Detroit suburbs now.
"Nobody likes to get hassled, especially when you're a homeowner," he said.
He said he chose to live in Ann Arbor when he relocated from Philadelphia for work in 2004 because of its liberal reputation. But after being here a while and earning his MBA at the University of Michigan in 2010, he's of the opinion "it's maybe more ultra conservative."
He's still reflecting on his fight with the city.
"I don't know what else I could have done. I didn't want to spend a lot of money," he said. "Their priorities were to spend a lot of money on winning and mine were not."
Added Breskman: "I wish it could have turned out differently."
Ryan J. Stanton covers government and politics for AnnArbor.com. Reach him at ryanstanton@annarbor.com or 734-623-2529. You also can follow him on Twitter or subscribe to AnnArbor.com's email newsletters.