Posted on
Wed, Feb 22, 2012 : 2:59 p.m.
Lawyer: Ann Arbor Public Schools investigating alleged Eberwhite sexual assault
By Danielle Arndt
The Ann Arbor Public Schools is conducting a thorough investigation of allegations made in a lawsuit claiming a former Eberwhite Elementary School pupil was sexually assaulted by another student, the district's attorney said Wednesday.
"The Ann Arbor school system views the allegations in the lawsuit very seriously; they are taking it very seriously and are conducting a thorough investigation — under my direction — very seriously," said John Gillooly, the lawyer the district retained to represent it in the case.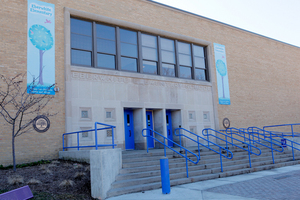 Chris Asadian | AnnArborcom
The lawsuit, filed earlier this month,
alleges
an 8-year-old girl was sexually assaulted twice in the bathroom of her special education classroom by another student, once in October 2010 and again in March 2011.
The lawsuit, filed by the mother of the girl, also accuses AAPS of mishandling the alleged incidents and failing to protect the girl from repeated bullying and the assaults.
"Steps are being taken from the classroom level to school administration level to the board room level — at every level — to find out exactly what took place," said Gillooly, a lawyer with Garan Lucow Miller P.C. in Detroit.
He said if the allegations are deemed true, AAPS would take whatever measures necessary to make sure these unfortunate incidents never happen again.
"If this lawsuit is found to be motivated by greed or something else, we will do everything in our power to resolve (the case) in the most effective and efficient manner possible," Gillooly added.
AAPS was formally served with the lawsuit on Feb. 14. AAPS will have until March 14 to file an answer to the complaint in federal court.
Federal District Court Judge Patrick J. Duggan, Jr. will preside in the case.
Nicholas Roumel
, attorney for the plaintiff, said after AAPS files its answer with the court, Duggan will set a scheduling conference to establish the procedural deadlines for the case, including the period of discovery; time for depositions, document exchange and pretrial motions; as well as eventual trial dates.
Roumel said he could not speculate whether the case would go to trial, although he added only 2 percent of all cases filed in federal court ever do.
"I imagine, however, the district and its counsel is going to vigorously defend this," he said. "And we are going to do everything we can to pursue this case on behalf of our client and her daughter."
Roumel said media coverage of the lawsuit has resulted in significant support for the family in this case.
"People in the public who have had their own issues with Ann Arbor Public Schools or a different district and have similar stories about kids being bullied or assaulted have come forward," he said. "It's been great to see that kind of support, although sad to hear those kinds of stories."
Gillooly said in these cases there is usually "more to it than meets the eye." He cautioned the community and everyone involved about making too many assumptions before the facts are known.
"I would urge everyone to not automatically assume that something took place," he said referring to the incidents alleged in the lawsuit. "It's important that nobody jumps to immediate conclusions, this includes the schools, the public, the family and their attorney and myself."
Staff reporter Danielle Arndt covers K-12 education for AnnArbor.com. Follow her on Twitter @DanielleArndt or email her at daniellearndt@annarbor.com.