Posted on
Wed, Oct 10, 2012 : 1:53 p.m.
Ann Arbor school board candidates clash on vision of leadership
By Danielle Arndt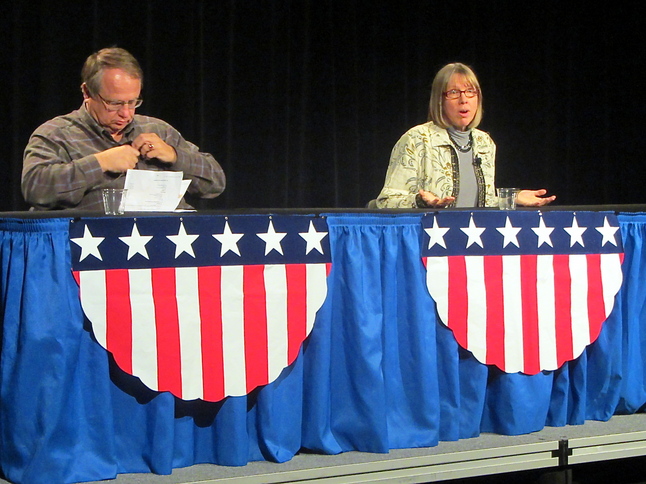 Danielle Arndt | AnnArbor.com
Incumbent
Deb Mexicotte
and
Dale Leslie
, her challenger in the
Ann Arbor
school board race, faced off on the issues Tuesday night in a moderately spirited candidate forum.
Leslie, a graduate of the district whose family owned Leslie Office Supply in downtown Ann Arbor, was aggressive in answering questions posed to him during the live televised event, which the League of Women Voters hosted from Ann Arbor's CTN Studios.
There is one four-year term seat on the Ann Arbor Board of Education up for grabs in November's election.
The school board candidates discussed their positions on technology in the classroom, class sizes, customer service and various aspects of curriculum. But it was their underlying differences of opinion on leadership that caused the most friction.
Leslie criticized his opponent's leadership abilities and the board's leadership as a whole, while Mexicotte touted the school board's accomplishments under her leadership.
Toward the end of the forum, the moderator from the League of Women Voters asked both candidates to answer the one question they wished the league had asked them.
Leslie said he wished the women had asked him about the void in leadership he sees in the district. He cited the board's No. 1 goal for the year, which was to build a stronger relationship and sense of trust among trustees, as an example.
The Board of Education set this personal goal for itself, as well as looking at ways to improve the district's financial position, as the two goals it would attempt to conquer in addition to the traditional work of the board.
"(This goal) can only mean one of two things. Either A) they didn't know this type of condition existed on the board ... or B) they knew about it and didn't do anything about it. … Either way, it's poor leadership that's being exerted," Leslie said.
Despite Leslie's attack strategy, Mexicotte refused to play defense against Leslie's offense.
"I'm running on my record," Mexicotte said after the forum. "I don't know what people would expect me to get aggressive about. I'm passionate about education and about the work of this board. But my experience and my record speak for themselves."
Mexicotte has served on the Ann Arbor school board for nine years, the past three as president. She said AAPS has successfully maintained programs and a fund balance through all her years on the board — a feat not many districts in Michigan can boast anymore.
The question she had hoped the League of Women Voters would have asked her was how the district has worked to close its achievement gaps among minority, low-income and special education students.
"In the time that I have been on the board, we have made substantial gains in closing those gaps and in some cases have made gains of 30 and 40 points in terms of our standardized testing in certain areas," Mexicotte said. "...That has been a real effort of the board and will continue to be until those traditional gaps no longer exist."
Leslie also expressed his view on the achievement gaps that are present at most of Ann Arbor's schools.
In August, 27 of Ann Arbor's 33 buildings were named to the Michigan Department of Education's Focus Schools list. The list called out those schools with a significant gap between the top 30 percent of student performers and the bottom 30 percent of student performers.
"Unfortunately, our superintendent has seemed to have dismissed these educational findings by the state as pure poppycock," Leslie said. "I think we need to invite the state to come down and explain why we were so deficient in this area and give us their view."
The candidates saw eye to eye during a discussion on class sizes. Both stated class sizes is an area that must be looked at. The candidates highlighted the importance of finding new ways to generate revenue in order to be able to afford smaller class sizes again.
The topic of a liberal arts education sparked some additional testy remarks. The candidates were asked how valuable a liberal arts education is in today's technological society and whether these values were supported by the Ann Arbor Public Schools' curriculum.
After highlighting in his opening statement a belief that the district must better rise to the challenge of educating today's youth, Leslie honed in on his concerns about the district's curriculum.
He described how at a meeting in August, the board of education voted to replace Ann Arbor's 10-year-old biology books.
"I was just astounded. … Five years old in a computer age is an eternity and yet we were using a textbook for a critical science that was 10 years old," Leslie said. "And my opponent said in a rather off-the-cuff way, 'I've been asking for a list of publications in the district … but no one seems to honor my request.' It's not a matter of whether someone feels like they can give us that info, I would demand it, if I were on the school board."
Mexicotte said providing students a range in education is more important than ever. She described how conversations about the benefits of arts and humanities are taking place all over, including in medical schools. Arts integration builds problem solving and creative thinking skills, she said.
"Medical schools are now realizing that students who do not have strong humanities or strong interpersonal skills, who (don't) understand both Shakespeare and neuroscience, are just not doctors that we really expect moving forward into the 21 century," she said.
Mexicotte said the district has worked hard to keep its arts and humanities programs strong, award-winning and well-resourced.
The candidates also were asked about their positions on redistricting and whether such an action was necessary to improve diversity in the schools.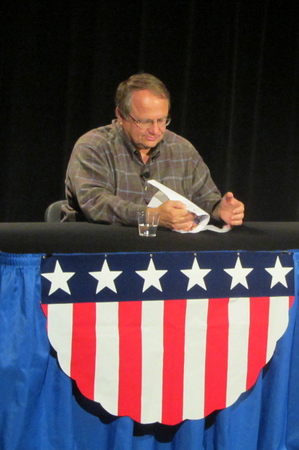 Danielle Arndt | AnnArbor.com
Both Leslie and Mexicotte agreed diversity is a strength of the Ann Arbor Public Schools' and is something the community as a whole values and wants to protect. Neither candidate saw a need to redistrict to maintain the current diverse population.
Mexicotte stressed the importance of stakeholder input and the role of working collaboratively with the district's administration when she addressed a question about how she would make the district better for 10 years down the road.
She said in 2006, the district drafted its current eight-step, comprehensive strategic plan. It was a joint effort among the board, the administration and all of its community stakeholders, and includes guidelines for the advancement of technology and how it will be used in the classroom, for cleaving to global standards of achievement, for how the district will maintain its facilities, for implementing personalized learning plans and more, Mexicotte explained.
"That strategic plan is a road map to 10 years from now. If we follow it and carry out each piece of it, we are going to be in great shape in 10 years," she said.
Leslie described his 10-year plan for a better district as a give-and-take partnership with the community.
"I'd like to see us more active in the community," Leslie said. "I'm in Kiwanis. We used to have a representative of the public schools that participated in our club. … We need to have an attitude in the district that we're here to serve the public. That means that whatever they give to us, we're going to give back to them in some sort of public service."
Live forums for other Ann Arbor races, including the mayoral race, the race for county prosecuting attorney and the position of sheriff, will continue Wednesday and Thursday from 7 p.m. to 9:30 p.m. on CTN Channel 19.
Danielle Arndt covers K-12 education for AnnArbor.com. Follow her on Twitter @DanielleArndt or email her at daniellearndt@annarbor.com.