Posted on
Mon, Jul 29, 2013 : 5:57 a.m.
Ann Arbor school board considers next options in superintendent hiring
By Danielle Arndt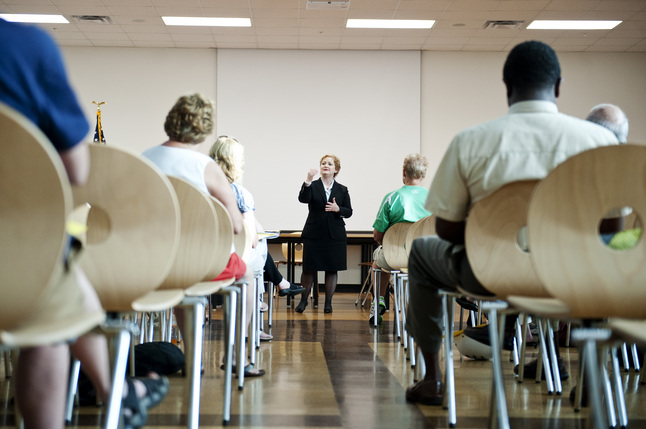 Daniel Brenner I AnnArbor.com
Previous coverage:
It is one month before school starts and the candidate the Ann Arbor Board of Education selected to lead the district into the 2013-14 academic year has declined to take the position.
Trustees, who hoped to have a new leader in place or at least chosen by the first day of school, will now head back to the drawing board to discuss other options for finding a permanent superintendent.
The board has seen its share of leadership shakeups in 2013, losing three top school officials in central administration: Deputy Superintendent for Operations Robert Allen, Executive Director of Physical Properties Randy Trent and Superintendent Patricia Green.
Green's departure was particularly shocking to the board and the community.
She had been with the district for about 20 months when around 1:30 a.m. on April 11, she slid her letter of resignation to board President Deb Mexicotte toward the end of a regular Board of Education meeting.
Green had signed a five-year contract with the Ann Arbor Public Schools when she was hired in July 2011.
As the board discusses a date and time to meet again to flesh out potential next steps in replacing Green, some trustees are weighing a fresh start with a new superintendent search in the spring, while others are contemplating offering the position to Colorado candidate Jeanice Kerr Swift.
Swift, the assistant superintendent of instruction, curriculum and student services for Colorado Springs School District 11, and Brian Osborne, superintendent of South Orange-Maplewood School District in New Jersey, were the two finalists selected by the board from a short list of six semifinalists. The district started with a pool of 61 applicants.
Trustees voted unanimously on July 19 to offer the position to Osborne. However, after considering the job offer with his family for a full week, Osborne on Saturday turned down the position.
It was unclear whether Swift is still available and would be interested in the position. She could not be reached for comment Sunday. Trustee Glenn Nelson said offering her the superintendency would be his preference.
"I think she also was an outstanding candidate. I think that's a very good option and, in my opinion, the best option, if she's still available," Nelson said. "... I found it hard to choose between the two."
Nelson listed a number of reasons he believes Swift remains an excellent fit for the school district: she has a "hunger" to be superintendent and is a hard worker; she has a proven track record of successfully executing challenging tasks; she is committed to being visible, "which is something clearly our community ... wants more of"; and she has thick skin and an ability to not take criticisms too personally, but rather to listen to the underlying messages of concern.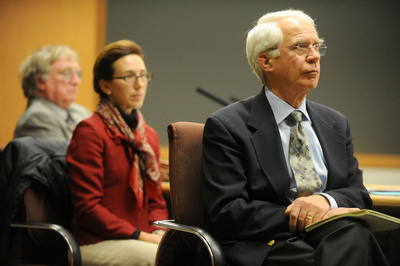 Angela J. Cesere | AnnArbor.com
"She doesn't let (the public negativity) get in the way of her own attitudes and her own ability to proceed with her work ... which could be useful in our current environment," Nelson said.
Trustee Andy Thomas also thinks Swift a viable candidate and would consider offering her the position. However, he stressed he is not ready to advocate for this option until discussing it at the board table.
Thomas said while he did have a preference for Osborne, Swift is a good candidate, "and I certainly don't look at her as a fallback candidate.
"Although, I don't know if she would be inclined to consider an offer from us or how much of a problem it might cause her to know she was not our first choice."
Offering the job to Swift, their second finalist, is just one of many possibilities for trustees.
Mexicotte said the board could choose to go back further into the pool to see if there is another candidate it would like to consider for the position. Trustees also could elect to have an interim superintendent in place for longer and to conduct a new superintendent search "at some point in the future."
Deputy Superintendent for Human Resources and Legal Services David Comsa currently is the interim leader for the district. Trustees said they could leave him in the position or select a new interim superintendent.
"It will be interesting to see where people are after having about a week to consider what the other options would be if Osborne was unable to join us," Mexicotte said.
Thomas said he would not be in favor of going back deeper into the pool.
"I think when we were discussing the candidates we felt there were two that clearly were superior to the others," he said. "Perhaps there will be some board members who will want to go back, but I would rather start a new search than pick through the candidates we had already decided were not as well qualified."
School board Vice President Christine Stead said the leadership team Ann Arbor has in place, including the interim, is a good team and she has seen progress in communication styles already.
Nelson said the only reason he could see to change interim leaders is if Comsa was needed in his former role because of a large work load in human resources.
Stead favors keeping the leadership team in place and starting a new search in January or February.
"School is starting soon and our team has been working on scheduling and staffing all summer long," she said. "I know the team is going to be focused intently on getting the school year going and I want to give them some opportunity to make some progress on those things that we've set in place already."
Stead said she believes the district's existing team can handle this school year and the next budget cycle. The internal audit the board approved in June will help with those items and provide guidance for the group, she said.
One consideration of waiting six months to launch a new search that is not yet clear is how the district's "satisfaction guarantee" clause with Ray & Associates would hold up.
The board was able to use Ray & Associates for its current search at little to no cost to the district because Green left the district within a two-year period from her hire date, enacting the guarantee with the consulting firm.
It is unknown whether the next search would still be free, if the board decided to again use Ray & Associates.
Stead said the board knew its recent search would not be completed during the optimal time frame for superintendent searches.
"It was nice to see the level of high quality candidates we received, though, even in an off-timing situation," she said. "I think that speaks well to the desirability of our district. ... So I'd like to see us get all our ducks in a row this year so we can have an ideal search season ... and work on making the timing better for everyone."
Danielle Arndt covers K-12 education for AnnArbor.com. Follow her on Twitter @DanielleArndt or email her at daniellearndt@annarbor.com.