Posted on
Mon, Mar 12, 2012 : 9:35 a.m.
Ann Arbor wing walker died after trying stunt too soon, NTSB says
By Cindy Heflin
Federal investigators have concluded a wing-walking stuntman from Ann Arbor fell to his death after trying to transfer from a plane to a helicopter before the helicopter was in the proper position, MLive reported.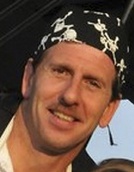 Todd Green
, 48, fell 150 feet to his death during an air show at Selfridge Air Force Base in Macomb County.
The conclusion from the National Transportation Safety Board is consistent with what pilots said happened after the accident.
Green, the son of famous wing walker Eddie "The Grip" Green, had performed the aerial transfer stunt successfully many times during his career.
Green was one of at least three people to die in air show accidents the weekend of Aug. 21.