Posted on
Sun, Oct 30, 2011 : 6:07 a.m.
Backers of Ann Arbor's Percent for Art program must remain vocal in supporting it
By Tony Dearing
Art is inherently controversial.
Most people will not present themselves as experts in math or science or engineering, but everyone is an art critic. Art evokes strong opinion and reaction. So, it seems, does Ann Arbor's Percent for Art program.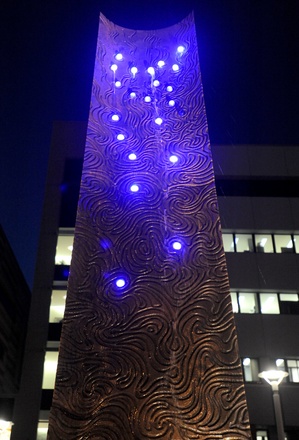 Angela J. Cesere | AnnArbor.com
The program, which takes 1 percent of funds spent on certain public works projects and sets it aside for art, is facing a cacophony of criticism. The Ann Arbor City Council has entertained motions to scale back the program. In
a recent poll on AnnArbor.com
, more than 900 people responded and 56 percent said it should be done away with altogether.
Against such an onslaught, those who support the program must continue to be vocal in defending the value - both intangible and economic - of public art. Today, we join them by reaffirming our strong support of the Percent for Art concept. At the same time, we see valid concerns about the program, and hope they can be addressed in a way that leads to broader acceptance over time.
The case for public art was made when the program was approved in 2007. A well-run public art program enhances the visibility and reputation of a community, attracting visitors, new residents and economic development. World-class art helps make us a world-class destination.
None of that, of course, makes the program immune from criticism. Is it art? Is it "worth'' the price that was paid for it? Given the nature of art, there will always be such questions. A harsh economy intensifies the objections of those who view art as a luxury. In Ann Arbor, the Percent for Art program also has become a foil for people whose real concern is some of the city's other spending priorities - particularly public safety.
Elsewhere across the country, communities are enthusiastically promoting the arts as a way to boost economic development and attract visitors. How incongruous that a city like Grand Rapids, which is the epicenter of conservative politics in Michigan, would embrace the ArtPrize competition and aggressively market itself as an arts destination while Ann Arbor, which views itself as progressive and is much more associated with the arts, is at war with itself over public art.
We understand - and very much share - the concern right now over recent budget cuts to police and fire services. That's why the city must continue to hammer home the point that money for public art comes from funds dedicated to infrastructure, and if it weren't spent on art, it would go back to those funds. It can't be spent on public safety. This city is capable of funding both public art and police officers. Anyone who seeks to pit the two against each other either doesn't understand the issue or is being disingenuous.
Critics also have asked why the Percent for Art dollars aren't being used to support local artists - particularly after the first major work, in front of city hall, was commissioned to German artist Herbert Dreiseitl. The city has been correct to point out that more than $600,000 of the project's $750,000 cost went to Michigan-based firms that were involved in the installation. But we challenge the thinking that there's something wrong with commissioning work from outside the city or state. Should the University Musical Society not bring the Berlin Philharmonic to Hill Auditorium because it's not made up of local performers? Seriously, Ann Arbor's ability to attract nationally or internationally renowned artists in either visual or performing arts is a tribute to our city, not something to disparage.
We would, however, like to see more balance in the program so that public art can be more integrated into locations across the city and local artists have more opportunity to participate. That may require a change in the ordinance, which restricts the funds for use on permanent art displays on city property.
We also are troubled that the city has been amassing far more money in the public art fund than it has the capacity to put to use. So far, only two projects have been installed and the fund currently has about $1.7 million sitting unspent. Granted, it took some time to ramp up the program, and turnover in city staff that serves the volunteer Public Art Commission also has contributed to delays. But four years into the program, it's either time for the commission to improve its capacity for approving projects, or time for the city to assess how much money it's setting aside for art.
That could occur through a re-examination of all the sources of funds from which it draws. Council members Sabra Briere, D-1st Ward, and Stephen Kunselman, D-3rd Ward, have questioned whether it's appropriate to tap the street millage for public art, and council is likely to revisit that issue later this year. We also would not contend that there's anything magic about the 1 percent figure. At a time when the city has been spending heavily on infrastructure, even 1 percent amounts to a lot of money. We're open to a discussion about whether the city might adjust the percentage being set aside. City officials certainly shouldn't be happy with the amount of money sitting unspent in the fund right now.
On Nov. 14, City Council will meet with the Public Art Commission for a working session to assess how the program has gone so far, and to consider adjustments to it. We welcome that examination. The public art program is a worthy endeavor that we continue to unapologetically support, but listening to criticism is an opportunity to improve the program in a way that leads to the greatest aesthetic and economic benefit possible. Ann Arbor does, after all, owe much to art. As a city, we should not just recognize that but embrace it.
Editor's note: This editorial was published in today's newspaper and reflects the opinion of the Editorial Board at AnnArbor.com. Marsha Chamberlin, who serves as a community member on our Editorial Board, is chairwoman of the Public Art Commission and did not participate in our deliberations on this issue.