Posted on
Fri, Sep 14, 2012 : 5:59 a.m.
Arthur Miller house on Division Street could face demolition if no one steps forward to buy it
By Ryan J. Stanton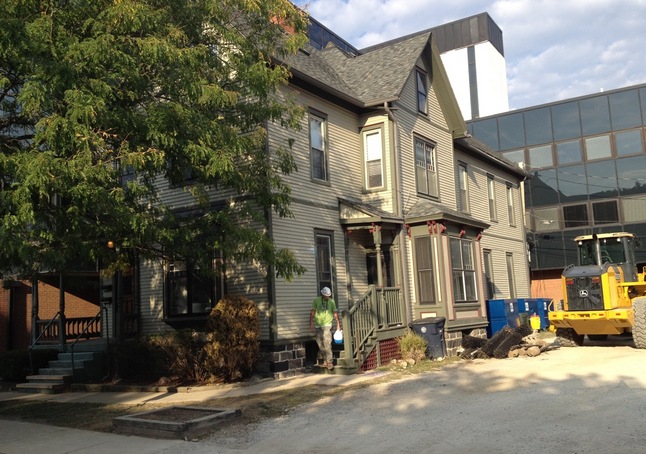 Ryan J. Stanton | AnnArbor.com
A house where
famous playwright Arthur Miller once lived
when he attended the
University of Michigan
could be demolished if no one steps forward to buy it and relocate it.
That's what U-M officials indicated at a neighborhood meeting Thursday night as they gave an update on the $29 million expansion of U-M's Institute for Social Research building.
The 3,210-square-foot wooden house at 439 S. Division St. stands next to the ISR building, a block south of downtown Ann Arbor, and was Miller's first residence when he attended U-M in 1934.
"I just think it should be known, before it is demolished, what it is," said Ann Arbor resident Marilyn Bigelow, a self-described informal historian who showed up to Thursday's meeting to let U-M officials know she'll be fighting to preserve the house, which dates back to the late 1800s.
Miller, a Pulitzer Prize-winning playwright, penned more than two dozen plays during his career, including "Death of a Salesman," "The Crucible," and "A View from the Bridge." He often was in the public eye throughout the 1940s, '50s and '60s, and married Marilyn Monroe in 1956.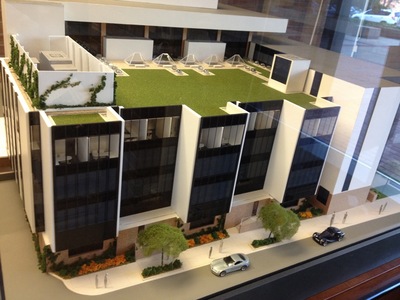 Ryan J. Stanton | AnnArbor.com
Miller died in February 2005 at the age of 89. The 280-seat Arthur Miller Theatre on U-M's North Campus remains named in his honor.
The house where Miller lived decades ago sits immediately to the south of the ISR building, where U-M began work this week on a 56,700-square-foot addition that expands the building's footprint closer to Division Street, replacing a pocket park on the northwest corner of the site.
Bigelow said she's been researching the playwright's time at U-M and learned that as a first-year student he lived in what was then a rooming house run by Elnora Nelson.
According to published biographies of Miller, Nelson was the widow of a dentist who made her residents store their luggage in a large wooden barrel in the attic containing old teeth. As the story goes, the future playwright quickly discovered none of those teeth had any gold crowns.
Miller, who later moved to a house at 411 N. State St., is said to have first made his mark in Ann Arbor as a writer for the Michigan Daily. He also contributed to the Gargoyle humor magazine.
Jim Kosteva, U-M's director of community relations, told Bigelow before Thursday's meeting he's interested in learning more about Miller's ties to the house.
City records show U-M paid $919,424 to purchase the Arthur Miller house in December 2010. It was last assessed at $178,100 before U-M bought it.
The house is being used as a construction management office during the course of the ISR expansion project, which is expected to last through January 2014. Kosteva said it likely will be offered up for public bidding — with the stipulation that it must be moved — following completion of the project.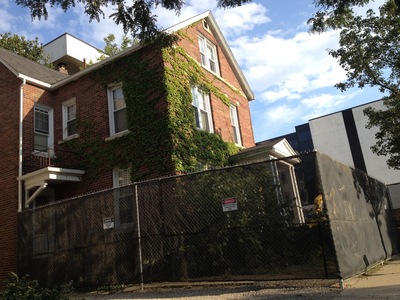 Ryan J. Stanton | AnnArbor.com
"The university's common practice has been to publish a notice and let people know that the home is available to be purchased and moved, and then it's a bid process," he said. "So obviously people submit bids if they wish to obtain a home, but it's clear they have to move it off the site."
Another house immediately north of the project area at 417 S. Division already is up for bid. If no one can successfully relocate it, Kosteva said, it will be demolished before long.
Brian Zybura, U-M's project manager, indicated the house to the north likely will be demolished in early October so its footprint can be used as a staging area during construction.
Kosteva said he's hopeful the Arthur Miller house will be purchased and experience a fate other than the wrecking ball.
"We're hopeful and optimistic that someone might be able to find a piece of property and the means to re-establish a new foundation for it and cover the costs of moving it," Kosteva said.
Bigelow said she has a better idea.
"I do think the university could afford to pay for the Arthur Miller house to be put somewhere else," she said, suggesting that should be a higher priority than other items on which the university is spending money. "If that's going to be destroyed, everybody should know."
Bigelow said she believes it would cost $40,000 to $50,000 to move the Arthur Miller house. She suggested the university should move it over near the Arthur Miller Theatre.
Courtesy of University of Michigan
Aside from Bigelow and her husband Gordon, only three other residents attended Thursday's meeting. That included a property owner to the north,
Dennis Vessels
, and his son Kevin. They were concerned about how close the project will come to their property line.
As for the empty gravel lot just south of the Arthur Miller house at the corner of Jefferson and Division, Kosteva said nothing is being constructed there as part of this expansion.
Asked if they could explain the need to move or demolish the Arthur Miller house after the current expansion project is done, and what might take its place, U-M officials said they couldn't.
"The short answer is not really," Kosteva said. "We recognize that for the course of the next 15 to 16 months, it's simply going to be utilized as a facility for the construction management."
Kosteva confirmed what the site plan appears to show — that the addition doesn't expand the ISR building's footprint south to where the Arthur Miller house stands. Asked if there are plans for another future expansion, Kosteva said nothing has been presented to the board of regents yet.
"The use of that site has not been determined," he said.
Another of the tales Bigelow is able to tell after researching Miller's history in Ann Arbor is how he arrived here as a freshman from New York City in the 1930s.
"He came into the Union on a bus coming from Brooklyn, New York," she said. "Two days on the bus, he gets off at the Union, he sees the taxis, and he says, 'Take me to the Union,' so the taxi rider takes him all over town and then pulls up at the Union,' and he realizes he's been had. But somehow he finds this house that's really close to the Union to live in his freshman year."
Bigelow said she's going to do what she can to see to it that the Arthur Miller house is saved. At Thursday's meeting, she spoke of a house that was saved in Columbus, Ohio.
"One of the delights of Columbus, Ohio, believe it or not, is to go down and see the James Thurber house, which has been preserved on a boulevard near the downtown library," she said.
"And not only that, they have bought the Victorian next door for public literary meetings and various civic gatherings," she said. "So not only have they kept the Thurber house intact, but you can wander and touch and talk and go into the rooms, and it's the most delightful thing."
As for the Arthur Miller house, Kosteva said he thinks there's a keen interest in seeing that part of U-M's history retained as best as possible. But if it's determined there no longer is an institutional or mission-related use for the home, he said, it's the university's practice to let it go.
Zybura said the permitted work hours for the ISR expansion project are from 7 a.m. to 8 p.m. Mondays through Saturdays, though work typically will stop by 3:30 p.m. each day. U-M officials said it's not expected there will be much after-hours work, but it's possible.
"Some time in late November we're going to start doing the building foundations," Zybura said. "That'll go throughout winter, and in February the structural steel will start to go up."
By next spring, Zybura said, the building will start taking shape. And by summertime, he said, most activities from then on will occur inside the building.
Ryan J. Stanton covers government and politics for AnnArbor.com. Reach him at ryanstanton@annarbor.com or 734-623-2529. You also can follow him on Twitter or subscribe to AnnArbor.com's email newsletters.