Posted on
Wed, Jul 6, 2011 : 5:59 a.m.
Attempt to reconsider Fuller Road utility project met with resistance from Ann Arbor City Council
By Ryan J. Stanton
Ann Arbor City Council Member Mike Anglin confessed he was left with egg on his face two weeks ago after voting in favor of a $1.2 million contract related to Fuller Road Station.
Anglin, D-5th Ward, said he had no idea the contract with Hoffman Brothers Inc. — which calls for relocation of 825 feet of sanitary sewer lines along Fuller Road — would help pave the way for a controversial transit center and parking structure proposed in Fuller Park.
"I was clearly mistaken and, upon further information, I realized that the work proposed is for movement of ... utilities for the proposed Fuller Road Station," he said.
By a 10-0 vote on June 20, the City Council authorized hiring Hoffman Brothers to provide sanitary sewer, stormwater and water main construction services for the so-called Northside Interceptor Sanitary Sewer Relocation Project, located south of Fuller Road and east of the intersection at East Medical Center Drive near the University of Michigan hospital.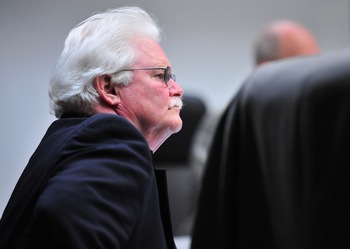 Ryan J. Stanton | AnnArbor.com
Anglin, who has repeatedly raised concerns in recent months about the city's involvement in a proposed transit center project at that location, called for a reconsideration of the contract with Hoffman Brothers at Tuesday night's council meeting.
But he was outnumbered. The council voted 8-1 to approve the contract for a second time, with Margie Teall, D-4th Ward, and Sandi Smith, D-1st Ward, absent.
Multiple council members spoke up and said they knew what they were voting on last month and they still stand by their votes. Council Member Tony Derezinski, D-2nd Ward, said Anglin was brave to admit he didn't know what he was voting on last month.
Stephen Kunselman, D-3rd Ward, said he can understand the confusion. "Clearly, the intent of the project is to prepare the site, so to speak, for the Fuller Road Station and none of that is in the text of the staff memo to us," Kunselman said.
But Kunselman agreed with Mayor John Hieftje and the rest of the council that the utility project stands on its own merits — with or without Fuller Road Station.
The work to be done by Hoffman Brothers includes the realignment and replacement of 825 feet of 60-inch sanitary sewer, a 30-year-old system that's part of trunkline that delivers sewage effluent directly to the city's Wastewater Treatment Plant on South Dixboro Road.
David Dykman, the city's project manager, wrote in a memo the current alignment has limited access that presents difficulties with monitoring the structural integrity of the pipe.
"The new alignment will add an additional access manhole and improve these capabilities," he said. "Project work also includes construction of approximately 525 feet of 24-inch storm sewer. A portion of this work is required to replace an existing storm sewer that is above, and in conflict with, the proposed 60-inch sanitary sewer realignment."
The project also involves installing 925 feet of new 12-inch water main and associated bends, fittings and valves to eliminate a "dead end main" that services Fuller Pool.
"The effort will create a looped system that provides for redundancy and increases the reliability of water delivery to the pool by allowing for distribution from an alternate direction should a problem occur requiring shutdown of the primary source main," Dykman said.
The first phase of work is expected to be completed later this fall. The next and final phase to complete the loop is planned for 2013 with the resurfacing of Fuller Road.
The sewer work will impact an existing soccer field on the south side of Fuller Road. As part of the project, the field will be refurbished, providing for improved drainage and turf conditions.
The project includes a contingency of $121,610, bringing the total cost up to $1.34 million. It's being funded by sewer, water and stormwater utility funds.
Four residents spoke in favor of Anglin's effort to reconsider the Hoffman Brothers contract at Tuesday's meeting. One of them announced the launch of a "Stop Fuller Road Station" website calling the current plan "a very bad deal" for Ann Arbor.
"Let's call Fuller Road Station for what it is — a parking structure for university hospital expansion," said Ann Arbor resident James D'Amour.
Council Member Sabra Briere, D-1st Ward, pointed out during the discussion that city staff has acknowledged the utility project wouldn't be as high of a priority right now if Fuller Road Station wasn't being contemplated for the site.
Council Member Stephen Rapundalo, D-2nd Ward, said Fuller Road Station clearly will be a beneficiary of the utility project, but it's still a needed infrastructure improvement and it's in the city's long-term capital improvement plan.
Anglin said he voted in favor of the $1.2 million contract last month thinking it was related to recent flooding conditions along Plymouth Road where an embankment collapsed. He said he still has many unanswered questions about the Fuller Road transit center project and thinks the City Council should be careful about approving any more expenses related to it.
"It seems to me that what we are doing in this process right now is starting to put infrastructure repairs into what we perceive to be the future site of Fuller Road Station," he said.
"I've seen us do it before," Anglin added. "I call it the 'wading-in testing of waters' — where we get in $1 million, we get another $1 million in, and soon we have quite a cost associated with a project that we haven't really decided we want to do."
Council Member Carsten Hohnke, D-5th Ward, said he still anticipates the council will have a robust discussion about Fuller Road Station at some point.
Hieftje said approving the utility project now allows work to be completed by mid-November, which then allows the soccer fields to be replaced a year earlier. He said it's all work that was going to be done anyway, with or without Fuller Road Station.
"It's something that will provide much better service to residents on the north side of town. I think this will serve something like 40,000 residents," he said.
"Knowing that it is related to the Fuller Road Station would make me want to vote for it all the more," he added, "because I believe that is one of the very best projects for the environment and one of the best projects we've seen in Ann Arbor for a very long time."
Ryan J. Stanton covers government and politics for AnnArbor.com. Reach him at ryanstanton@annarbor.com or 734-623-2529. You also can follow him on Twitter or subscribe to AnnArbor.com's e-mail newsletters.