Posted on
Mon, Apr 23, 2012 : 5:52 a.m.
Beating the odds at Ypsilanti High: Troubled teen finds job, stability through unique program
By Danielle Arndt
One year ago, Victor Newell was just another number at a Detroit alternative high school.
Easily ignored, Newell found it easy to get in trouble — or "distracted," as he called it.
With 30 students, and at most two adults per classroom, Newell said teachers told the teens to work on math problems or to log on to a computer for various studies. But for Newell and his friends, if they didn't understand the subject matter — or didn't "feel like it" — it was easy to "mess around."
"In Detroit, there was not much help... There wasn't no one to break it down for you. They won't guide you. There was too many people," he said.
Chris Asadian | AnnArbor.com
One teacher told Newell he wasn't worth helping, that he would end up pushing a broom, in jail or worse — dead, he said.
Newell was reading at a pre-kindergarten level, skipping school, getting in trouble with the law and lacking confidence, ambition, basic math skills, a job and clear direction for the future.
Now, after six months of attending Ypsilanti High School's Positive Success Initiative (YPSI), Newell has improved his reading by four grade levels, works double shifts at the Dunkin' Donuts, volunteers for Big Brothers Big Sisters and is studying for his drivers license exam, all while preparing to attend Washtenaw Community College.
"And the sad thing is, there are so many other kids out there just like Victor," said YSPI teacher Jason Towler.
A tenuous clutch
After observing the impact YPSI has had on Newell and others in such a short period of time, Ypsilanti Public Schools' hovering $14-million operational deficit is of immense concern to Towler.
Towler and Ypsilanti's now-retired special education director developed the Positive Success Initiative. It is unique in that it caters specifically to at-risk students with learning disabilities and emotional impairments, which is contrary to most special education services in Michigan that are designed for cognitively impaired youth, Towler said.
In addition, YPSI recognizes that college is not in the cards for everyone.
The program teaches students about other post-secondary options as well as necessary job and life skills, such as balancing a budget and proper conduct for a job interview.
"We have intellectual equity, but there is no emphasis on sweat equity anymore," Towler said, adding that the kind of technical and vocational programs that Newell and others like him could benefit from are the first to go in cash-strapped districts.
YPSI launched in the summer of 2011. Currently, Towler is the sole employee overseeing the program, on top of his primary role as transition coordinator for Ypsilanti Public Schools.
Typically, Towler works 60 to 70 hours a week with zero extra pay.
"I was frustrated seeing so many kids get lost to the streets and fall through the cracks," he said of his motivation to launch the initiative. "And there are just too many cracks they can fall into these days."
To be accepted in to the positive success program, students had to pass an initial "boot camp," which Towler said served to weed out those who lacked the self-motivation needed to become productive members of society.
Ten students were screened and selected for the inaugural year based on learning styles, strengths and weaknesses. All of the students had significant behavioral and truancy problems while attending Ypsilanti High School. There also were a few with mental disorders, including one student who suffers from schizophrenia.
Of the 10 targeted students, six survived boot camp. All now have jobs, are behaving better and have improved their math and literacy skills, Towler said. Each student also has learned to give back and to volunteer by selecting a charity organization to become involved in.
For Newell, Big Brothers Big Sisters was something he could be passionate about and was an opportunity for "kids to really look up to him," he said. He also participated in building a house for Habitat for Humanity.
"I seen so many kids go down a wrong path," Newell said. "I can listen to 'em about what they're doing in school and give 'em advice about what not to do. I can relate to 'em... it's interesting."
Students' attendance rates in the program have increased to 97 percent, from 37 percent at the beginning of the school year, Towler said. Additionally, the waiting list for YPSI has grown to 37 people — all via word of mouth from those in the program.
"I wasn't going to school... I was just doin' me," Newell said. "But now, you know... I see that that's not a life. That that ain't healthy."
Towler is concerned, however, that the program's measurable success won't matter with Ypsilanti's looming budget cuts.
Tough start
Support for the program was pulled even before it began.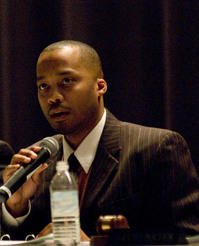 Prior to the start of the 2011-12 academic year, Towler said he expected to have one additional staff member. But at the last minute, the district reassigned the individual.
Superintendent Dedrick Martin told AnnArbor.com that in the past, Ypsilanti has tried to not to cut special education services.
"As far as specific programs, special education is something that is being considered right now (for cuts)," Martin said.
"We have prided ourselves for years on going above the minimal expectations. But the reality is, it costs more than we receive in (per-pupil) funding to educate these students. And when we have to reduce the budget by 14 million, we have to take critical looks at every program."
Martin said it costs $10,000 to $11,000 to educate a special needs child, while the district receives just $7,514 per child in state aid. It also requires more staff.
The district has considered the possibility of partnering with the Washtenaw Intermediate School District for more of its special needs services, he said. But now that the district has approved pursuing a potential merger with Willow Run Community Schools, everything is even more up in the air.
"It's really hard," Martin said. "In general right now, all programs are facing a potential downsizing... And that's not a slam or an indictment on any one thing... It's the numbers we have to deal with.
"The sad thing is, we have examples of people like Jason coming up with some fabulous things — things that are good for kids — and we are trying to keep what we can."
For students, a fresh start
The premise behind the YPSI program is to remove at-risk students from the high-pressure environment of traditional high schools.
"Victor was getting messed with at school and getting into fights," Towler said.
Now he and others in the program conduct class out of the SPARK East Business Incubator in downtown Ypsilanti.
Students who are so far behind that they'd potentially be in high school until they turned 21 are the students that benefit most from the program, Towler said. Those students often give up and drop out, but YPSI gives them renewed hope and helps them not to feel defeated, he said.
Newell and his classmates will not receive high school diplomas, but they will receive certificates of completion.
"A lot of people think you need a diploma to go to college, but there are other options for students who can't catch up," Towler said.
Newell, who is good with his hands, wants to attend WCC to become a plumber — something people always will need.
The Positive Success Initiative helped Newell to open a bank account and is teaching him to save money and set goals.
Towler said there is no typical day for a YPSI student, defining the program as "person-centered." Every week, the teens have a functional math and reading assignment they must do, and they must choose from a checklist of tasks, such as going to a museum, attending a job fair or submitting a certain number of resumes.
"It's about what they need to be successful. Creating a realistic path for these kids and giving them the right tools for the right toolbox," Towler said.
"When I came (to Ypsilanti), I was pretty down," Newell said. "I had to push back. Basically, I had to get past how I was thinkin', and Mr. Towler helped me get through it all."
Newell said the turning point for him was when he and some friends got into trouble with the law when Newell was 18. Newell's dad, who lives in Ypsilanti, said Newell should come live with him.
"I'd seen a lotta rough times. I was a bad kid. I had to turn my life around," Newell said. "I took (getting busted by the cops) to heart and I'm doin' much better here than there.
"It's hard for anyone to think they can do it where I come from... You get in what you put out. If you ain't puttin' in nothin, you ain't gonna get nothin out."
Newell and his twin sister are the youngest of five children. His siblings still live in Detroit, but he is trying to convince his sister to come to Ypsilanti to join the Positive Success Initiative. However, "she's not ready yet," he said.
Newell and his siblings strayed "off the right path" after their mother died when Newell was 7 years old, he said. At that point, Newell did not have his father in his life.
"We were just a bunch of kids and had to stay strong. We didn't have nobody right there," he said.
His mother's memory has helped motivate Newell.
"She'd always say, 'Finish school, finish school, finish school' ...My ma'd be happy (now)," he said.
"I'm really proud of all Victor has accomplished," Towler said. "He has become an excellent mentor for the group."
Although he still returns to Detroit to visit his friends and family, Newell said it's different than before. His old friends have a newfound respect and admiration for him and no longer try to pressure him into acting out or participating in illegal activities.
"My friends seen I got a job and nice clothes and they like try to ask me about that stuff now," Newell said. "And nobody couldn't get me to do nothin' if they tried... I ain't chose that life anymore."
Staff reporter Danielle Arndt covers K-12 education for AnnArbor.com. Follow her on Twitter @DanielleArndt or email her at daniellearndt@annarbor.com.