Posted on
Tue, Oct 9, 2012 : 5:59 a.m.
Bike lanes, road diets and crosswalks: Ann Arbor looks for ways to improve walking and biking
By Ryan J. Stanton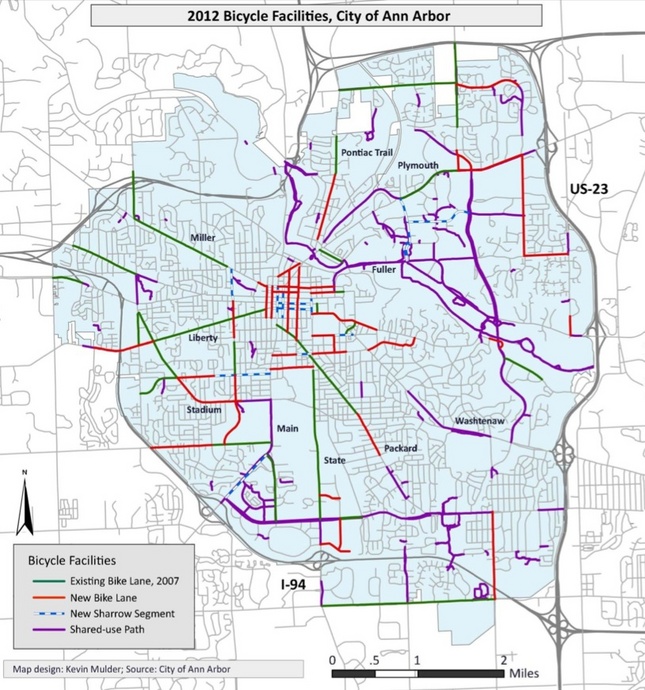 Courtesy of City of Ann Arbor
In the past five years, the city of
Ann Arbor
has added 19.7 miles of bike lanes to its streets, for a new total of 37.4 miles of bike lanes in the city.
The city also built 12 pedestrian refuge islands, filled nearly three miles of gaps in the city's sidewalk system, and added shared-use arrows to 5.8 miles of roads.
Those figures were relayed in a progress report that Eli Cooper, the city's transportation program manager, delivered to the Ann Arbor City Council Monday night.
Cooper's report comes as the city is in the process of updating its 2007 Non-Motorized Transportation Plan, which is focused on creating a safe environment for bicycling and walking in Ann Arbor.
Five years after its implementation, city officials are reviewing and updating the plan and looking for new ways to improve the walking and biking experience.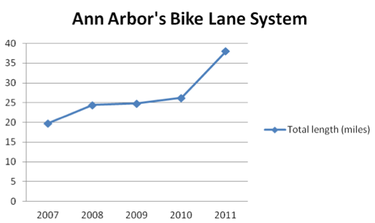 Courtesy of City of Ann Arbor
"There are over 120 mid-block crossings — some major, some minor — that are recommended in this document as well, so it's not merely about bike lanes," Cooper noted.
Cooper said there have been substantial changes in the way non-motorized systems are addressed, and a number of new concepts have emerged in more recent years.
Many bike-friendly cities have focused on developing "bike boulevards," which are streets intended primarily for bikers and walkers, and "cycle tracks," which are buffered bike lanes.
"These are the kinds of things we have really just begun to look at to see which ones are implementable," Cooper said.
Cooper also said the city is working with the Clean Energy Coalition and University of Michigan to potentially bring a bike sharing system to Ann Arbor next year. He referenced the B-cycle program that has become popular in many cities throughout the country.
Cooper acknowledged the city's non-motorized plan has been overly ambitious from the start, and there's simply not enough funding to meet every goal.
"When we looked at the 120 recommended crosswalks and the 50 miles of bike lanes, it was in the order of $10 million worth of improvements on just those elements," he said. "And so I think it's important to note that with all this progress, the plan is ambitious and expects us to do more."
Cooper said additional funding would be needed to fill more sidewalk gaps or install wayfinding signs to help bicyclists get around town. In five years, he said, the city has filled only 2.9 miles of the 25 miles of sidewalk gaps identified in the original non-motorized plan.
"It would be interesting to know what the city's interest is in ramping up investment in this area in order to make more progress," Cooper told council members Monday night.
Five of the council's 11 members were in attendance. Absent were Carsten Hohnke, Christopher Taylor, Margie Teall, Sandi Smith, Jane Lumm and Tony Derezinski.
Courtesy of City of Ann Arbor
Mayor
John Hieftje
said he's not sure there's room in the city's budget — at least not the general fund — to put more money toward non-motorized transportation right now.
"There wouldn't be general fund money going in that direction," he said. "That money is going to be needed to pay for basic things like police and fire."
Hieftje said the city has been able to use state gas tax money for alternative transportation projects, and that will continue to happen.
"But we're certainly always looking for other opportunities," he said.
Council Member Stephen Kunselman, D-3rd Ward, said it's hard to say where the city might be able to find more funding. But if he's faced with a choice between putting city dollars toward either non-motorized transportation or public safety, he said, the latter wins.
Cooper said the non-motorized plan isn't just about walking and biking — it's also about addressing larger issues like traffic congestion and pollution.
When the non-motorized plan was adopted in 2007, Cooper said, the city had "18 miles of scattered, non-connected bicycle lanes that were ideas that were the beginning of a system." He said the downtown had virtually no bicycle facilities, but that's changing.
"Over the six or seven years that I've been in town, there's a noticeable increase in the number of bicycles that I see every time I'm out on our streets," Cooper added. "So we're really seeing significant increases in the reliance on these means of transportation."
Cooper reminded council members of the city's pedestrian safety ordinance, which was first approved in 2010 and later amended. It's aimed at getting motorists to stop for pedestrians at crosswalks.
"That fits within the framework and was actually recommended within our plan," Cooper said, suggesting the ordinance has helped level the playing field for pedestrians and motorists.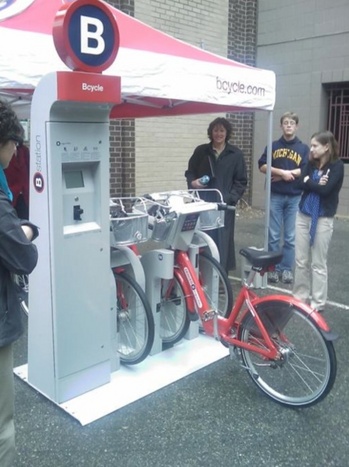 Courtesy of City of Ann Arbor
He pointed out the city has installed
flashing beacons
at seven different crosswalks throughout the city, including four on Plymouth Road, to help pedestrians get motorists to stop for them as the ordinance intends.
Council Member Marcia Higgins, D-4th Ward, said she appreciates the progress the city has made.
"On pedestrian islands, in particular where we've used the flashing beacons, I like those a lot because it alerts me as a driver that I need to be preparing to stop," she said. "You can see it for a distance."
Cooper said targeted enforcement efforts by the Ann Arbor Police Department have helped make the community aware of the city's rules.
"I can tell you that there has been a dramatic change in the behavior at crosswalks resulting from targeted enforcement exercises," he said.
He said the city could get more creative, too. He pointed to one city where police have used a bunny costume to grab motorists' attention and get them to stop at crosswalks.
"These are the creative ideas we can incorporate into the plan if that's the direction we as a community want to go in," he said.
Council Member Mike Anglin, D-5th Ward, said he thinks the city needs to focus on more educational outreach and not punitive enforcement.
"I think there's more goodwill developing between cyclists and motorists," he said. "There's 'thank you for letting me go' — that hand signal seems to be more prevalent."
So-called "road diets" are another part of the non-motorized plan. Such diets can involve lane reductions and additions of bike lanes and crosswalks with pedestrian islands.
"Our plan calls for many of them," Cooper said. "As a matter of fact, at last count we have implemented 10 road diets in different parts of the city over the past five years."
One of the next roads the city is hoping to place on a diet is Jackson Avenue, where the city wants to have a portion reduced from four to three lanes to add bike lanes and possibly new crossings.
The city plans to continue work on updating the non-motorized plan throughout the fall, including more public input and review, with adoption in early 2013.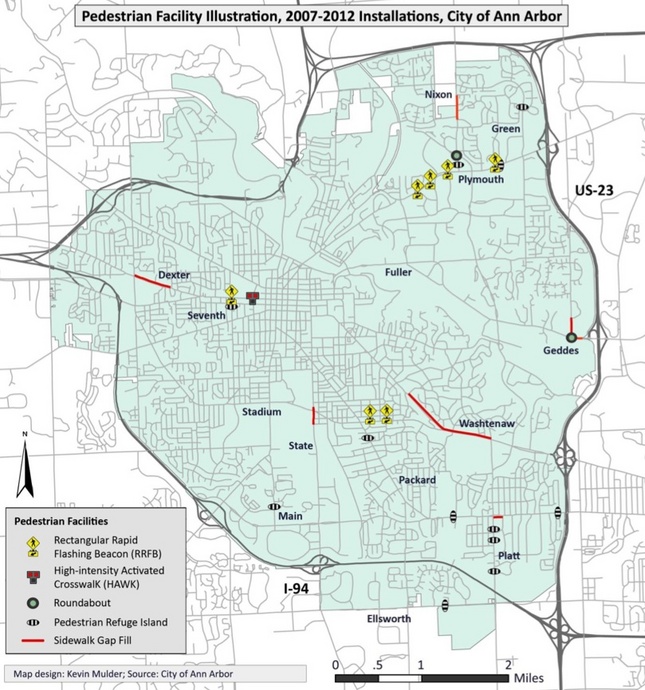 Courtesy of City of Ann Arbor
Ryan J. Stanton covers government and politics for AnnArbor.com. Reach him at ryanstanton@annarbor.com or 734-623-2529. You also can follow him on Twitter or subscribe to AnnArbor.com's email newsletters.