Posted on
Wed, May 1, 2013 : 5:59 a.m.
Dave Brandon debunks top myths about Michigan's athletic department
By Kellie Woodhouse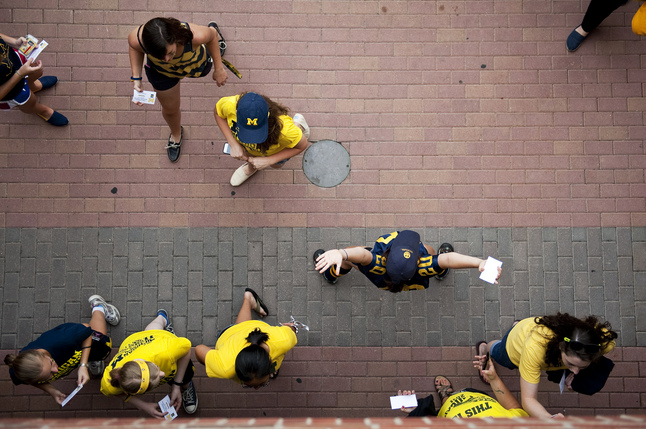 Daniel Brenner I AnnArbor.com file photo
Athletic director
Dave Brandon
knows a lot of people believe a lot of things about
University of Michigan
's athletic department. This week, Brandon met with faculty and debunked what he considers "the greatest myths" about the department.
"We're misunderstood a lot," Brandon said to a faculty senate committee on Monday.
Twenty-five years ago, the athletic department had a $16 million annual budget. Now, its budget is more than eight times larger and with that growth comes a lot of questions and, if you ask Brandon, misunderstandings.
Myth 1: The athletic department is subsidized by the campus community.
Although most university athletic departments lose money —105 of the 127 Division I schools that report their finances lost money last year— U-M's department is part of the minority that turn profits each year. The school's lucrative football and basketball programs bring in the money needed to finance the athletic department's $135 million budget.
Melanie Maxwell I AnnArbor.com file photo
Brandon said a lot of people assume the athletic department takes some money from the general fund or other university arms. That's not the case. In fact, Brandon said the athletic department gives $2 million to U-M's general fund annually toward scholarships.
"We're a completely self-supporting auxiliary unit," Brandon said.
That means that when you read about the $500 million poured into football, basketball and hockey facilities and the $250 million planned for other sports venues, the athletic department is independently securing the funds for those renovations.
"Whatever revenues we bring in, we have to generate," Brandon continued. "We get no support from the general fund."
Myth 2: The athletic department is highly profitable
While the department does average a $5 million to $10 million surplus each year, Brandon says that with a $240 million debt load and continuing costly construction projects —for example painting the Big House is expected to cost $6 million— the department is actually "an enterprise that struggles to pay for itself."
"There's also this notion that we're a highly profitable enterprise and that's certainly not the case," Brandon said. "The required expenses and the commensurate capital costs associated with running these athletic departments is such that there's no profit."
He added: "It's not a business model that you'd ever invest in."
Myth 3: The role of the student athlete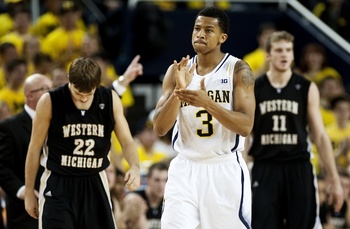 Daniel Brenner | AnnArbor.com file photo
"Another myth is that student athletes are not really student athletes, that they're more athletes," Brandon said.
"I can tell you that we do get challenges in a couple of our sports where there is a highly commercial competition for our student athletes, primarily football [and] men's basketball," Brandon continued, saying that with a some successful students their desire to go pro outweighs their desire to finish college. Most athletes, however, know they'll never make a living in their sport.
"In our other 29 sports, for the most part ... student athletes come here knowing they need to have a life after athletics and they need a degree and they need a purpose after athletics."
Brandon did say that top athletes on the football and basketball teams are treated like celebrities on campus.
Myth 4: The athletic department is detached from the university community
"I see us as everything but detached," he said. Brandon said that while the department funds itself, it exists in large part to serve the university community. He highlighted charity partnerships the department has with the U-M Health System and discounted student ticket prices and university facility rentals as examples.
Brandon also underscored the recent uptick in student tickets for football games. The $7.50 increase, which is a 23 precent uptick over last year, is going toward gym renovations. Gyms are currently outside the purview of the athletic department, although they weren't always.
Bonus Myth: The department took a hit with the Michigan Stadium renovation
Brandon didn't mention this one as a myth, but he responded to concerns that the department is bogged down in debt because of the $227 million renovation of Michigan Stadium, unveiled in 2010.
Brandon said that while the renovation "is a major part" of the athletic department's long-term debt, it's critical to the school's current revenue model. After annual debt service, the department makes $14 million a year thanks to the 81 luxury boxes and club seating added in the renovation.
"We would be insolvent if it weren't for the stadium project," Brandon said.
Brandon said the athletic department received roughly $40 million in donations toward the renovation and was able to secure a lower-than-expected interest rate on its debt.
"The project really has become a positive aspect of how our model works," he said.
Kellie Woodhouse covers higher education for AnnArbor.com. Reach her at kelliewoodhouse@annarbor.com or 734-623-4602 and follow her on twitter.