Posted on
Mon, Jul 23, 2012 : 12:57 p.m.
Contract extension gives U-M athletic director Dave Brandon possibility of earning $1.5M in 2018
By Kellie Woodhouse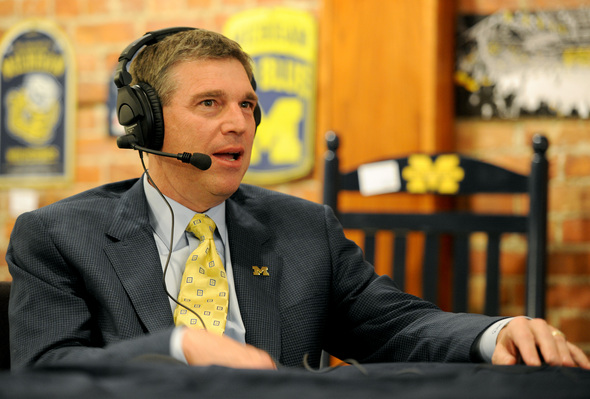 Angela J. Cesere | AnnArbor.com
Two years after his start at the
University of Michigan
, administrators are pleased with athletic director
Dave Brandon
's performance.
So pleased, in fact, that the school has extended his contract three years before it's set to expire and increased his pay rate to a possible $1.5 million in 2017-18, up significantly from his current earnings.
Brandon's 2011 base pay rate was $600,000 and he received $165,000 in bonus pay outlined in his contract and $100,000 in deferred compensation.
Under the extension, Brandon will earn $800,000 in base pay this year and his base will rise $50,000 each year afterward — eventually reaching $1.05 million in 2017-18.
Further, the amendment increases possible bonus pay to $200,000 each year, up from the $165,000 currently allotted.
Brandon also is entitled to yearly deferred compensation credits, which will rise from $100,000 this year to $200,000 in 2016 and $250,000 in 2018, according to his contract amendment, which was approved by regents last week.
Brandon has guaranteed sports tickets, the use of two cars and free use of the university's golf courses. Some travel for his wife, Jan, also is reimbursed, according to his employment contract.
The pay increases secure Brandon's spot among the
highest paid athletic directors
in the nation. A 2011 USA Today database listed Brandon as the third-highest paid athletic director in the Big Ten, behind the athletic directors of Ohio State and the University of Wisconsin, who earn $1.058 and $1.041 million a year, respectively.
Among the highest-paid officials were the athletic directors of Vanderbilt University and the University of Texas, with salaries ranging from $2.56 million to $1.096 million.
Brandon, a Michigan alumnus, former Wolverine football player and former U-M regent, left his job as Ann Arbor-based Domino's Pizza's chief executive officer in 2010 to become Michigan's athletic director. As Domino's chief executive, Brandon made $3.2 million in 2008.
Former U-M athletic director Bill Martin earned a base salary of $380,000 when he left in March 2010.
Since coming to U-M, Brandon has overhauled the athletic department internally, overseeing the exit of 85 staff and the hiring more than 100 new employees — including creating 30 new positions. As chief marketing director, Hunter Lochman sits in one of those new positions and is overseeing another one of Brandon's new initiatives, the launch of a student loyalty program.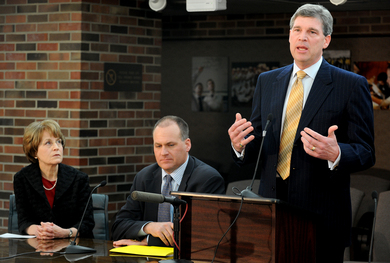 Angela J. Cesere | AnnArbor.com
Brandon also is responsible for hiring football coach Brady Hoke and firing football coach Rich Rodriguez.
Brandon OK'd the first ever night football game at Michigan Stadium last year, which Michigan won in the final seconds against Notre Dame before a record-setting crowd. He began a series of stunts and "wow factors" last season, too, including "Rocket Man" delivering the game ball, a pre-game "card trick" and adopting throwback jerseys.
Most recently, Brandon announced that Michigan Stadium will receive a $2.8 million marquee and a $6 million paint job. Last year, football, basketball and hockey received $20 million scoreboards.
He has announced plans for $250 million in construction projects for non-revenue projects in the coming years.
"We've gone through a period of change that certainly results in a completely different organizational structure. We are much stronger," Brandon said in June.
In a memo to regents, U-M President Mary Sue Coleman praised Brandon's performance.
"He has done an outstanding job of leading Michigan's intercollegiate athletics in a highly competitive landscape," Coleman wrote, lauding his "compelling strategic vision for the development of Michigan athletics."
Kellie Woodhouse covers higher education for AnnArbor.com. Reach her at kelliewoodhouse@annarbor.com or 734-623-4602 and follow her on twitter.