Posted on
Sun, Sep 23, 2012 : 5:59 a.m.
Where the sidewalk ends: Clague Middle School wins $180K grant for safer walking, biking routes for students
By Amy Biolchini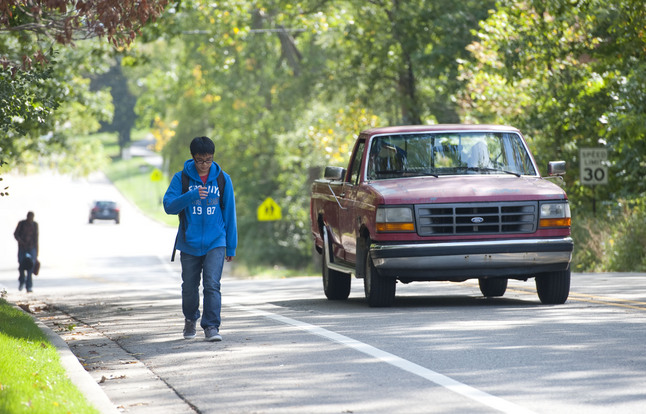 Courtney Sacco I AnnArbor.com
Students walking to and from four schools in northeastern
Ann Arbor
will soon find their feet hitting fresh pavement where the sidewalk ends on
Nixon Road
.
Michigan Department of Transportation officials announced recently that Clague Middle School at 2616 Nixon Road won a federal grant for intersection and safety upgrades near the school.
The $180,000 Safe Routes to School grant will fill a major sidewalk gap on Nixon Road just south of Green Road that has forced students walking home to hit the street once the pavement ends.
As budget cuts have forced Ann Arbor Public Schools to reduce the number of bus routes the district can fund, students living within the 1-mile radius of the schools they attend are now strongly encouraged to commute by foot or by bicycle.
But students living in relatively newer neighborhoods on the outer edges of Ann Arbor often find sidewalks end abruptly and many times end up walking in the street on their way to and from school — as is the case on Nixon Road north of Clague.
"If you're a mom or dad and your child has to walk to school and there's no sidewalk there and you're scratching your head, there's a lot of reasons there," said Eli Cooper, transportation program manager for Ann Arbor.
The Safe Routes to School program was designed to allow school districts seeking money for safety improvements access to funding without having to compete with general road projects.
The grants are competitive, and volunteer Clague Middle School staff and parents spent about two years surveying parents and working with city engineers to draft a proposal for the $180,000 grant.
The grant is one of six awards MDOT allocated to Michigan schools this month — about $990,000 in all — to help students safely walk and bike to school.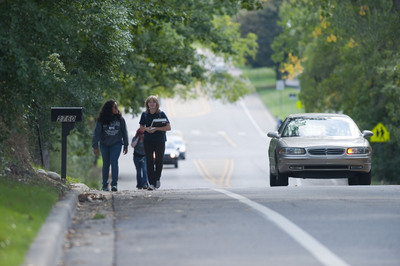 Courtney Sacco | AnnArbor.com
The grant will fund the installation of sidewalks and crosswalks on Nixon Road, flashing beacons on Green Road and crosswalk improvements at the intersection of Green and Nixon.
Clague Middle School Principal Cindy Leaman said students currently walk on a bike path space on the side of the road to get to and from school because a sidewalk on Nixon Road is incomplete.
Though there wasn't an accident or specific incident that prompted the school staff to seek out the grant, Leaman said she wanted to be able to provide the safest environment for students possible.
City engineers worked with the Clague Safe Routes to Schools Committee for about two years to gather data and collect recommendations for the project, said Jeff Gaynor, a teacher at Clague and a committee member.
"A tremendous amount of effort and cooperation is required in order to get one of these grants," said Kathy Griswold, a former Ann Arbor school board member and former member of the Transportation Safety Committee.
A four-way stop sign controls traffic at Green and Nixon roads. There are pedestrian crosswalks at the intersection, but Leaman said they could be better identified.
Griswold said the intersection is awkward and does not give drivers enough distance to see cyclists traveling in the bike lanes on Nixon Road.
The area has heavy traffic for about two hours in the morning and afternoon as students arrive at school.
"We're really looking to be proactive," Leaman said. "As a community we looked at what intersection improvements would make the pathways safer to all."
At Clague, the staff has been encouraging students to bike and walk to school through an incentives program for about two years. The Safe Routes to School grant also will contribute funds to furthering education programs.
On specific walk-to-school days, Leaman said about 40 percent of the students walk and ride their bikes to school, and the bike racks overflow.
Leaman said she plans to meet with administrators and the city of Ann Arbor Oct. 5 to hash out how to make use of the grant.
"I think it's been a very collaborative process and I've been pleased working with the Safe Routes to School program and the community," she said.
There is no local match for the project, though the city of Ann Arbor funds the design and construction engineering.
In December 2010, MDOT awarded nearby Thurston Elementary School a similar grant of $160,840 for the construction of pedestrian islands and crosswalk improvements on Green Road.
Griswold said she's thrilled to see the safety improvements that will be made possible by the grant, but said the project is at the very beginning of a number of safety improvements that should be made to streets and sidewalks in Ann Arbor.
"There's a decade of backlog of safety improvement projects," Griswold said.
A Transportation Working Group assembled by AAPS Superintendent Dr. Patricia Green formed this summer with staff from the city, the Ann Arbor Transportation Authority, the University of Michigan and the district.
"We're involved to help look at where there might be road and sidewalk issues and challenges as the school board is determining the future of student transportation in the context of a school system that's cutting its budget," said Steve Powers, city administrator for Ann Arbor.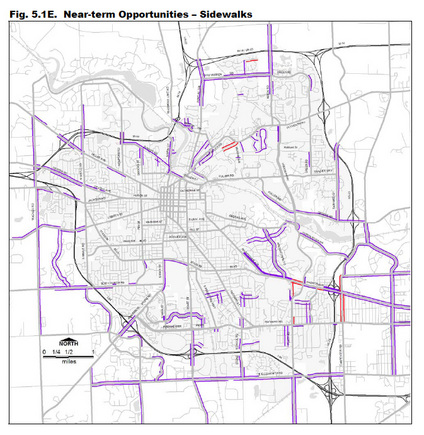 Courtesy of the City of Ann Arbor
The city's engineering standards and specifications manual require sidewalk along city-owned streets, Cooper said, noting many of the areas that don't have sidewalks now were annexed in to the city. When the developments occurred, the areas still belonged to adjacent townships.
Pre-World War II developments in Ann Arbor had sidewalks installed along every city-owned street. Post-war developments saw a suburban sprawl of residential areas with fewer sidewalks, Cooper said.
"They are reflections of societal values at moments in time," he said. "Folks are coming to realize sidewalks are an essential part of community."
Ann Arbor City Council member Sabra Briere said the issue of filling sidewalk gaps and ensuring safe routes to school is one for the entire community to face, not for the city or the school district to deal with separately.
Briere gave an example of students who walk to Wines Elementary on Cooley Street from newly built subdivisions off Newport Road. Students walk on the shoulder of Newport Road and over M-14 to get to school because there is no sidewalk on the road, Briere said.
"There is no safe route," Briere said. "These students are forced on to Newport Road or they don't walk — their parents have to drive them. The burden has shifted from the government to the individual."
Sidewalk gaps have been an unfunded line item on the city's capital improvement plan for years, and were documented in a 2007 Non Motorized Plan.
The plan's did not come with a time frame, and many of the sidewalk projects have not been finished, according to city staffers.
Ann Arbor City Council narrowly voted down a resolution in a 6-5 vote Monday night that would have put the city on a five-year schedule to get rid of sidewalk gaps.
"The pace or rate of change is what we need to bring back (to the council)," Cooper said. "Are we making the changes the council expects in a timely fashion?"
Sidewalk projects have been historically difficult to finance, as private landowners are often not interested in financing construction on their property.
"It's going to be hard to get all the sidewalk gaps addressed, particularly the single-parcel ones where it would fall on a property owner," said Pat Cawley, project manager for the city, noting that politics often get in the way of construction when the cost of a sidewalk is assessed to a property owner.
The city does not have the funds in its coffers to cover the cost of new construction, and so most of the safety improvement projects to roads and intersections around town are financed through grant money.
A millage Ann Arbor voters passed in 2011 can only be used for sidewalk repairs.
"There is not enough money to maintain the system that we have," Cooper said. "Even though there might be a safety challenge identified, it competes with general maintenance."
Amy Biolchini covers Washtenaw County, health and environmental issues for AnnArbor.com. Reach her at (734) 623-2552, amybiolchini@annarbor.com or on Twitter.