Posted on
Tue, Jan 11, 2011 : 12:42 p.m.
Concerns surround Fuller Road transit center as project moves to Ann Arbor City Council for approval
By Ryan J. Stanton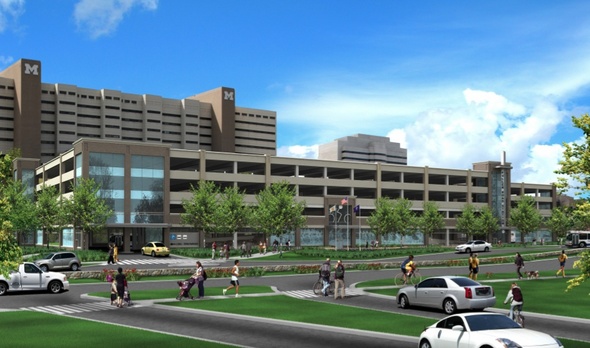 A proposal to build a new transit center along Fuller Road was met with some resistance Monday night during a special work session of the Ann Arbor City Council.
While some council members, including Mayor John Hieftje, appear to be in full support of the $43 million Phase I project, it's evident some still need convincing — including Mike Anglin, D-5th Ward, and Stephen Kunselman, D-3rd Ward.
"It seems to me that we're moving ahead on something that may not be of service to the community," Anglin said. "I'm not interested in providing parking for the university."
The city's long-term vision for the area south side of Fuller Road — just east of East Medical Center Drive and in front of the University of Michigan medical campus — includes an intermodal transit facility with accommodations for trains, bicycles, buses and pedestrians.
But a new train station isn't expected to happen until future phases. The first phase of Fuller Road Station, which the council is being asked to approve now, includes a five-level, 977-space parking structure with five built-in bus bays and 103 bicycle parking spaces.
The university is paying for 78 percent of the total project costs, and thus would get rights to 78 percent of the parking spaces in the structure.
A contract between the city and the university to move forward with the project is expected to come before the City Council for approval by March.
"The idea of having a multimodal transportation center at this location is one that was born at the city, and not the university," Sue McCormick, the city's public services area administrator, stressed to council members Monday night.
Anglin said he's not yet convinced the city should pump $10 million into the project. He said he has concerns that the project would be located on a footprint that — though it has been a paved parking lot for many years — is technically zoned city parkland.
Ryan J. Stanton | AnnArbor.com
"We have a beautiful site there and we'll be destroying it by putting this large structure there," he said, adding he also is concerned the city may be relying on overly optimistic population growth estimates from the Southeast Michigan Council of Governments.
"We've recently found out in the recent census that we actually have lost population, sadly," he said. "And the 2035 projection of us growing is a SEMCOG projection that probably is no longer sustainable, so I don't think that assumption can be continued to be worked with."
Eli Cooper, the city's transportation program manager, gave a lengthy presentation Monday night in which he summed up the reasons behind the project.
"Ann Arbor is a growing regional employment center," he said. "Approximately 20,000 new jobs are forecast to come here over the next 25 years or so. As a result of that employment forecast, significant transportation issues have been framed."
Cooper said commuter rail has been recognized as a means to bring workers into the city of Ann Arbor. He said that has many attractive attributes, including lower reliance on automobile travel, less energy consumption, reduced air pollution and reduced need for parking.
He said great strides have been made on the Ann Arbor-to-Detroit commuter rail initiative, as well as a proposed Ann Arbor-to-Howell connection known as WALLY. In the midst of those efforts, the federal government has put a significant amount of money behind a high-speed rail initiative for the Ann Arbor-to-Chicago corridor.
Cooper said another element that led Ann Arbor to consider building a new intermodal transit center was a closer inspection of the current Amtrak station at 325 Depot St. It's the busiest Amtrak station in Michigan, handling nearly 150,000 riders per year, he said.
"By many measures, it's inadequate today and will become increasingly inadequate as we move forward," he said. "The site along Depot Street and Broadway is constrained. Road access is poor, there's limited parking, and the parking that exists is a difficult stretch away."
Cooper added that Amtrak anticipates doubling its ridership over the next 20 to 25 years, which will only worsen the congestion problems.
"With respect to the primary road that the Amtrak station sits upon, there are daily backups," he said, demonstrating the problems on a map. "Think about adding another couple hundred commuters and/or high-speed rail to this mix, throw in a couple of buses, and you could understand why this is truly inadequate for serving a high-capacity transit system."
Anglin took a shot at the traffic figures city staff has been using to support the project, questioning the relevance of the 30,000 transit trips that occur daily along Fuller Road.
"The 30,000 rides back and forth are students on buses from the main campus to north campus," he said. "They're not stopping at Fuller Road. They're going right past it."
Hieftje noted it was by unanimous vote of the City Council, including Anglin, that the city has reached this point and moved through design phase of the project.
Cooper and other city officials who have been pushing the transit center concept for the last two years continue to refer to Fuller Road Station as the future "gateway" to Ann Arbor.
U-M Planner Sue Gott spoke to that Monday night about the Phase I project.
"We wanted to make sure that this facility would complement the future train station as a landmark," Gott said. "So that led to thinking architecturally about this building being somewhat of a backdrop, so that the real foreground statement can occur when the train station is designed and implemented in future phases."
Gott said the university sees the project as "an opportunity to support the city's vision, which we share, for a transformative facility that really brings Ann Arbor into the new century."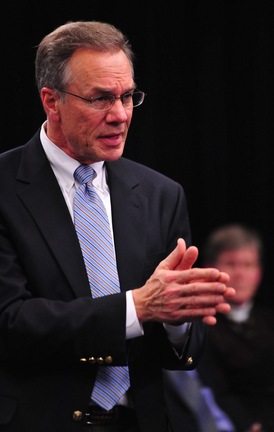 Ryan J. Stanton | AnnArbor.com
Cooper presented a map showing nearly 40 locations throughout Washtenaw County where there are public lands adjacent to the Norfolk-Southern Railroad. He said a countywide search for a transit center site turned up Fuller Road as the most ideal location.
"What we found with this particular site is it's adjacent to the University of Michigan medical complex, which is one of the primary anchor industries within our community," he said. "With over 17,000 workers coming and going daily and over 2 million visitors a year, we see the walk access from the Fuller Road Station site to the medical campus one of the key elements."
U-M spokesman Jim Kosteva clarified that there actually are about 18,000 to 20,000 employees daily going to work at the university's medical campus. He said the university as a whole has seen a net increase of about 4,500 new full-time positions in the past five years, and U-M leaders expect the medical campus to continue to be a center for job growth.
"Those are big city numbers right there, and this is probably the most concentrated employment center in the region," Hieftje said.
"That's correct," Kosteva responded. "I can't think myself of another area throughout much of the Midwest — outside of major metropolitan areas like New York or Chicago — where you have that level of concentration of employees that are located within such close proximity to a single point of intersection with a railroad line."
Cooper said 14 citizen meetings have occurred to date on the Fuller Road transit center project, including meetings where public input was taken on the various phases.
"The first level of the Phase I facility will have 18-foot-high ceilings. That allows for the entire footprint of this facility to serve as a transit interface," he said. "Buses can operate inside and under the roof within the entirety of this Phase I facility."
Cooper said the beauty of the Fuller Road Station design is that it has the ability to accommodate another 500 to 600 vehicles through future vertical expansion of the parking structure.
Council Member Christopher Taylor, D-3rd Ward, wondered about the potential impact on traffic along Fuller Road.
Cooper said a roundabout likely will be built at the intersection of Fuller and East Medical Center Drive. If that's done, in the year 2035 — with full buildout of both the transit center and the nearby Lower Town neighborhood — the city has nothing to worry about, he said.
Ryan J. Stanton covers government and politics for AnnArbor.com. Reach him at ryanstanton@annarbor.com or 734-623-2529.