Posted on
Tue, Apr 3, 2012 : 12:51 p.m.
Ann Arbor teenager suspected in graffiti tagging arraigned on felony vandalism charge
By Kyle Feldscher
One of the Ann Arbor teenagers arrested and accused of tagging city buildings with graffiti has been arraigned on a felony charge, according to court records.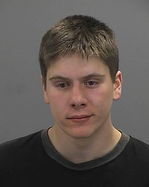 Courtesy of the Washtenaw County Sheriff's Office
Jacob Saalberg, 17, is facing one count of malicious destruction of property worth more than $1,000 but less than $20,000, according to court records. He was released from the Washtenaw County Jail Monday on a $15,000 personal recognizance bond.
Saalberg is accused of tagging 220 Felch St. in mid-March. Robert Cleveland, the owner of the building, said he had paid $3,000 to have the building totally cleaned of graffiti on March 10 and spray paint appeared on the building just days later.
Saalberg was arrested Thursday and arraigned on the charges Monday, according to court records. A search warrant executed on his residence revealed spray paint cans, paint pens and electronics showing evidence of graffiti, according to Ann Arbor police Lt. Renee Bush.
If convicted, Saalberg faces a maximum of five years in prison and a $5,000 fine. In addition, Cleveland is considering a civil suit.
Ann Arbor police also arrested an 18-year-old Ann Arbor man who was allegedly tagging playground equipment and trashcans at Ann Arbor's Las Vegas Park Saturday afternoon. He had not been arraigned as of Tuesday morning, according to court records.
Kyle Feldscher covers cops and courts for AnnArbor.com. He can be reached at kylefeldscher@annarbor.com or you can follow him on Twitter.