Posted on
Mon, Apr 29, 2013 : 10:38 a.m.
Graffiti charges: Two teens accused of vandalizing dozens of sites around Ann Arbor
By John Counts
This story has been corrected to say one of the suspects is 16 years old.
Police believe they have caught two teenagers responsible for painting SAES and Mole graffiti tags on dozens of buildings, overpasses, light poles and other locations around Ann Arbor.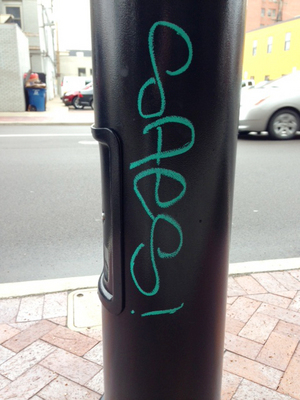 John Counts | AnnArbor.com
Petitions for a combined 27 counts of destruction of property have been authorized for a 15-year-old boy and 16-year-old boy, both of Ann Arbor, said Detective Robin Larson. They made their first court appearances Friday at a preliminary inquiry, which is more or less the equivalent of an arraignment. Both were given future court dates for a hearing that will examine the incidents in more detail, Larson said.
The 15-year-old boy thought to be responsible for the SAES tags faces 16 counts of varying degrees of malicious destruction of property. Whether the charge is a misdemeanor or felony depends on the amount of estimated monetary damage caused. Larson said the case is still building and more charges could be forthcoming as the damage is tallied up. She did not immediately want to put a dollar amount on it.
The tagger's handiwork has been seen around Ann Arbor for months, especially downtown and on the west side.
The 15-year-old SAES suspect will return to court on May 6. In the meantime, Larson said she suspects the boy is continuing to vandalize buildings.
"I think he's tagging under a different moniker," she added.
Police are investigating and more charges against the boy could be forthcoming.
The 16-year-old boy thought to be behind the "Mole" tags is a good friend of the SAES tagger, police said. Besides painting graffiti on property around town, they skateboard together, Larson said. The "Mole" tagging suspect has been charged with 11 varying counts of destruction of property and will return to court May 13.
Other boys from the same group of friends could also be charged in the coming weeks. Larson said she has a couple of other cases pending.
"It's a thrill (for them)," Larson said. "They find it exciting."
The detective also continues to investigate the graffiti painted at the Artrain site on North Main Street earlier this month. She said she has a few suspects, but added that the department is still seeking any tips from the public.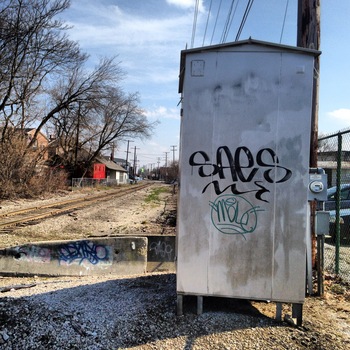 Ryan Stanton | AnnArbor.com
"I'm hoping I can get some more information to find out who is responsible," she said.
Six rail cars at the Artrain site along North Main Street were vandalized between 1:30 a.m. and 10 a.m. on April 13 causing approximately $60,000 in damage. The vandals tagged the cars with "Clams," "Raw" and "Hash," Larson said.
Crime Stoppers is still offering a $1,000 reward for information regarding graffiti and vandalism at the Artrain site. Anyone with information is encouraged to call Crime Stoppers at 1-800-SPEAK UP (773-2587).
John Counts covers cops and courts for AnnArbor.com. He can be reached at johncounts@annarbor.com or you can follow him on Twitter.