Posted on
Mon, May 2, 2011 : 2:26 p.m.
Dance floor fight at Dream Nite Club in downtown Ann Arbor results in 3 injuries
By Lee Higgins
A man cut two men in the face and a woman in the leg with a sharp object during a fight on the dance floor early Sunday at Dream Nite Club on South Fourth Avenue, Ann Arbor police said.
The victims were treated at University of Michigan Hospital and police are working to identify the man responsible, Det. Sgt. Brian Jatczak said.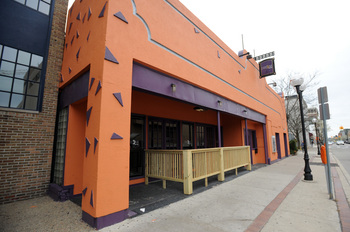 Melanie Maxwell | AnnArbor.com
According to police, a 20-year-old Superior Township man was dancing when a man, who had been thrown out of the club an hour earlier for fighting, punched him in the head. A fight broke out involving the victim, the victim's friend and the man who threw the punch at about 1:15 a.m., police said. Jatczak said bouncers intervened, tackling a group of people.
When the fight was over, Jatczak said, the 20-year-old man realized he had a serious cut on one of his cheeks and a cut on his neck. The man's 21-year-old friend, also from Superior Township, had a cut above one of his eyes.
A 21-year-old Ann Arbor woman who got pulled into the fight, had a gash on her leg, police said. Her 21-year-old friend, who is from Novi, cut her knee, but did not seek medical attention, Jatczak said.
The three victims who were treated at the hospital arranged for their own transportation there, police said. Officers didn't learn about the incident until 10 minutes after it occurred, when the Novi woman was pulled over in the city for running a red light and told police she was on her way to the hospital to visit her friend, Jatczak said.
Jatczak said he did not have details on the fight earlier in the night and did not know why the man returned and assaulted the victim.
Vickash Mangray, who runs the club and formerly operated it under the name Studio 4, could not be reached for comment today. Studio 4 closed in June 2010 after city officials raised concerns about problems there, including large fights outside.
It reopened in fall as Dream Nite Club. More recently, city officials considered recommending non-renewal of its liquor license due to unpaid back taxes before reaching a payment agreement with Jeff Mangray.
Attorney James Cmejrek, who represented the Dream Nite Club in earlier litigation, could not immediately be reached for comment this afternoon.
City Council member Tony Derezinski, who serves on the city's liquor license review committee, said he wasn't aware of the incident, but planned to talk to Police Chief Barnett Jones about it. He said the fight is something that will be taken under consideration when the club's liquor license comes up for renewal.
"We cannot tolerate this kind of conduct," he said.
The suspect was described as black, bald, 5 feet, 5 inches tall, 25 to 30 years of age and roughly 240 pounds. He was wearing a black shirt and black pants, police said, and may have been carrying a white towel.
Police say he left in an older maroon Ford SUV, Eddie Bauer edition, with a tan interior. It's unclear whether anyone was in the SUV with him, Jatczak said.
Anyone with information can call the police department's tip line at (734) 794-6939.
Lee Higgins covers crime and courts for AnnArbor.com. He can be reached by phone at (734) 623-2527 and email at leehiggins@annarbor.com.