Posted on
Thu, Jun 16, 2011 : 5:59 a.m.
Debate over Fuller Road Station picks up as Ann Arbor City Council prepares to consider project
By Ryan J. Stanton

Photo courtesy of city of Ann Arbor
With the city's budget behind them,
Ann Arbor
officials are returning their attention to an issue sure to be the subject of vigorous debate in the coming months:
Fuller Road Station
.
The City Council has held off on taking any action on the project — which includes building a large parking structure, bicycle facilities, bus depot and possible train station on city-owned land along Fuller Road — since the Planning Commission approved the first phase last fall.
But talks are picking up again, and the project is expected to come back before council sometime soon — possibly in the form of a special work session at first. Not wasting any time, opponents of the project have renewed protests.
Members of the Huron Valley Group of the Sierra Club are arguing the city is wrong to consider permanently repurposing a chunk of city parkland for the project — located in front of the University of Michigan's medical campus — without going to voters for approval.
"What are we getting with this deal? What's in it for the city?" said James D'Amour, the Sierra Club's vice chairman. "We have existing facilities for trains that are quite adequate."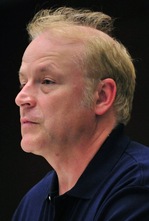 The city's charter requires any sale of city parkland to be approved by voters, and the proposed location of Fuller Road Station technically is part of Fuller Park. The Sierra Club and others argue the city is circumventing the law by entering into a long-term agreement with U-M for a five-level, 977-space parking structure expected to stand for several decades.
Fuller Park, most of which is located north of Fuller Road, includes soccer fields, an outdoor pool, picnic and play facilities. Critics of the project's location note the area has been designated as parkland for more than 80 years, but it seems city officials now consistently refer to the property as "public land."
The City Council took action in July 2010 to change the permissible uses for property zoned "public land" to include "transportation facilities," which allows building a train station at Fuller Park.
"Evidently then, the city has decided that this portion of Fuller Park is no longer parkland," said Nancy Shiffler, chairwoman of the Sierra Club.
"And does this mean that any parkland in the city may be equally vulnerable to redefinition?" Shiffler added. "How could Ann Arbor citizens be expected to support park millages when they don't know what will remain as parkland?"
Because the land technically isn't being sold, Mayor John Hieftje and other city officials argue it doesn't need to go to voters for approval.
They also point out the specific area where the parking structure and train station would be built is currently a surface parking lot, not actual green space. The city has leased the 250-space parking lot to U-M for nearly two decades.
"There's really no other location, certainly in our area, that is as ideal," Hieftje said of the Fuller Road site. "The presence of the hospital where 24,000 people go every day is really what makes it work and what makes it so exciting."
What the records show
AnnArbor.com obtained a copy of the original 1993 agreement between the city and the university that called for a joint-use parking lot at Fuller Park.
Accompanying the agreement was a memo from then-City Administrator Alfred Gatta explaining part of the reasoning behind the agreement was an attempt by the city to save landmark oak trees that were threatened by a proposed road realignment.
Gatta wrote in the memo the parking lot would accommodate overflow parking needs at Fuller Park and also provide parking space for users of a new soccer field. He added the university would use the new lot at designated times that do not to conflict with city park uses.
The agreement called for the city to lease the entire parking lot to the university Monday through Friday from midnight to 4 p.m. and 10 p.m. to midnight for 15 years. After 15 years, the university would have the option to renew the lease for successive five-year periods.
U-M continues to lease the lot from the city today.
AnnArbor.com also obtained a copy of a draft environmental assessment for Fuller Road Station that was prepared by the city in April. It goes into detail about how Ann Arbor officials came to decide on the 7.61-acre site along Fuller Road for the proposed transit station.
According to the report, the project would take up about 3 acres, mostly within the footprint of the existing surface parking lot, but also a limited amount of additional space between the lot and both the city's road right-of-way to the north and the railroad property to the south.
"Not only would the new station provide improved access to key destinations throughout Ann Arbor, it would feature unparalleled access to the (U-M medical campus) while increasing accessibility for all persons using the station, especially users with special needs such as wheelchair access," the report reads. "The ease of access to destinations also helps provide increased security for passengers making connections and accessing other parts of the city."
The report notes there are more than 25,000 Ann Arbor residents who commute daily to work in Wayne County and about 17,000 Wayne County residents who work in Washtenaw County.
"FRS can serve to accommodate rail commuter and long-term rail-related parking demands and provide direct access to the rail system," the report reads. "It is also conveniently located within walking distance of the 15,000-plus jobs on U-M's medical campus."
The report acknowledges the project is proposed for an area within the Huron River valley that is "master planned as parks and open space."
The report shows the city completed an analysis of public lands adjacent to the Norfolk Southern Railroad that could potentially accommodate a new transportation facility in March 2007. The analysis revealed 16 potential sites, most owned by the city, some by the university.
The city dismissed 15 of those sites — all but Fuller Road — including locations at Barton Pond, Bird Hills Nature Area/Kuebler Langford Park, Barton Nature Area, Bandemer Park, U-M Medical Center, U-M's Mitchell Field, Furstenburg Nature Area, Gallup Park, Huron Hills Golf Course, Forest Park Nature Area and the Ann Arbor Wastewater Treatment Plant.
The stated reasons for dismissing those sites ranged from "poor visibility" to "no vehicular access" to "floodplain." A handful of the properties also were dismissed because they were designated as city parks or nature areas, records show.
U-M's Mitchell Field, which is located next to the Fuller Road site near the hospital, also was dismissed because it was a designated recreation area with heavy use.
Asked whether they'd consider bringing forward a resolution to put the repurposing of parkland for the Fuller Road project up to a public vote, multiple council members said there's not enough support on council for such a measure.
Council Member Sabra Briere, D-1st Ward, said the real issue is whether the city government can treat parkland as fungible. Because the city's zoning language sees "public land" as encompassing all publicly owned land, including parks, it is possible to repurpose public land and parks to have multiple uses, she said.
"The solution I see is rezoning — a change that would separate parkland as its own use, without other uses possible," Briere said.

Photo courtesy of city of Ann Arbor
Debating the costs
The $43 million first phase, as approved by the Planning Commission in September, includes a five-level parking structure with five built-in bus bays and 103 bicycle parking spaces. City officials say they're tweaking those plans to possibly include commuter rail platforms in the first phase now — but that's if the project is even done in phases.
The university has committed to paying for 78 percent of the Phase I costs and would have access to 78 percent of the parking spaces in the structure. The long-term vision for Fuller Road is estimated to cost $121 million, inclusive of planning and engineering costs, and city officials are hopeful federal funding will be forthcoming to cover those bills.
Federal officials already announced a $2.8 million grant for preliminary engineering and environmental study work for a train station at Fuller Road last month — in addition to $196.5 million for improvements to the tracks between Dearborn and Kalamazoo.
"It is the most exciting time for rail in Michigan in 100 years," Hieftje said. "This is a very exciting time and actually things are moving forward."
Council Member Mike Anglin, D-5th Ward, said he's not as excited, though. Fuller Road Station sounded like a good project at first, which is why he supported it, he said.
"Now it's really looking a lot more like a parking structure than anything else and that concerns many of us," he said, adding he has doubts there'll be a large influx of federal cash.
"Nor are we in need of a train station for a town our size," Anglin said. "The dream is a wonderful dream, but possibly in the wrong place, maybe in the wrong town."
City records state the city — along with U-M and the Ann Arbor Transportation Authority — is pursuing the Fuller Road Station project based on a concept first proposed by Hieftje in June 2006. The university didn't get involved until later.
Jim Kosteva, a spokesman for U-M, said the university has a medical center master plan adopted in 2005 that identified university-owned land in the Wall Street area as a location for a new parking structure. As the university was proceeding toward that development two or three years ago, he said, Ann Arbor officials invited U-M to partner with the city at the Fuller Road location for a more comprehensive intermodal transportation facility.
Kosteva said U-M agreed with the logic behind the Fuller Road location because it provided better interconnections with rail, buses, pedestrian movements and bicycles.
The existing Ann Arbor Amtrak station is located 3,200 feet west of the proposed Fuller Road site. It's the busiest train station in Michigan and the second busiest along the corridor behind Chicago. City officials note that's in spite of the shortcomings of the existing station's location, which is difficult to access and has limited parking.
Anglin said the city has put about $1 million into the Fuller Road Station project to date. Potentially spending millions more at a time when the city is letting police officers go is "unconscionable," Anglin said, but he can see where this is headed.
"There are no guarantees of a train coming here, but there's certainly a guarantee of a huge structure," he said. "It's already planned, designed, everything."
Hieftje said no date's been set for when the project will come back to council.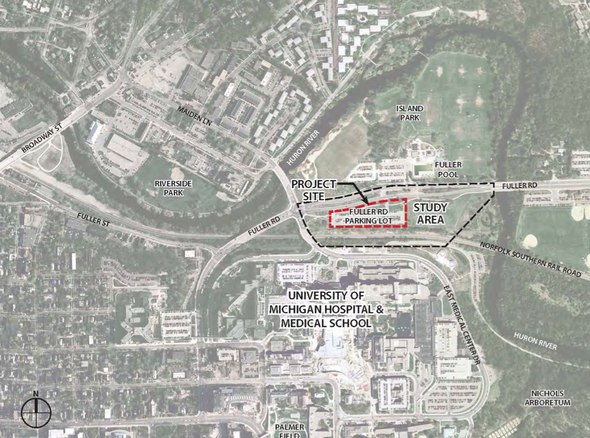 Image courtesy of city of Ann Arbor
Ryan J. Stanton covers government and politics for AnnArbor.com. Reach him at ryanstanton@annarbor.com or 734-623-2529. You also can follow him on Twitter or subscribe to AnnArbor.com's e-mail newsletters.