Posted on
Thu, Jan 19, 2012 : 3:30 p.m.
Insurance company says policy doesn't cover injuries of woman paralyzed at Jenny's Dexter Market
By Lee Higgins
An insurance carrier for a Webster Township farm market where a woman was paralyzed as she led a hayride last fall says in court documents that the market's insurance policy doesn't cover the woman's injuries.
Western World Insurance Company, based in Franklin Lakes, N.J., filed a complaint Wednesday for declaratory judgment against Burton Hoey, who runs Jenny's Dexter Market, and Mary Armbruster, who was injured there.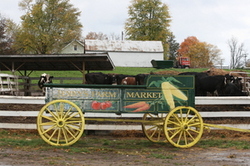 It asks the court to declare that Hoey's insurance policy doesn't cover Armbruster's injuries and that the insurance company isn't responsible for compensating Hoey for any settlement that results from a lawsuit Armbruster recently filed against the market.
The complaint, filed in federal court, includes a copy of Hoey's insurance policy that says it doesn't cover "bodily injury" to any "temporary worker." Armbruster had asked to work at the market on weekends to give hayrides to customers, according to her lawsuit.
Hoey declined to comment Thursday morning, saying he hasn't seen the filing. His attorney, John Bredell, could not be reached for comment.
Armbruster, 23, of Ann Arbor, was paralyzed from the waist down in the Sept. 24 accident at the market on Island Lake Road. She was attempting to get control of two horses on the property when she was thrown from the wagon and run over, suffering a fractured spine. She spent more than two months in the hospital.
Her suit says she is facing hundreds of thousands of dollars in current and future medical bills and continues to suffer mental pain and physical injuries.
Lee Higgins covers crime and courts for AnnArbor.com. He can be reached by phone at (734) 623-2527 and email at leehiggins@annarbor.com.