Posted on
Wed, Mar 6, 2013 : 2:59 p.m.
Ann Arbor Superintendent Pat Green: No one needed to ask me to take a pay cut
By Danielle Arndt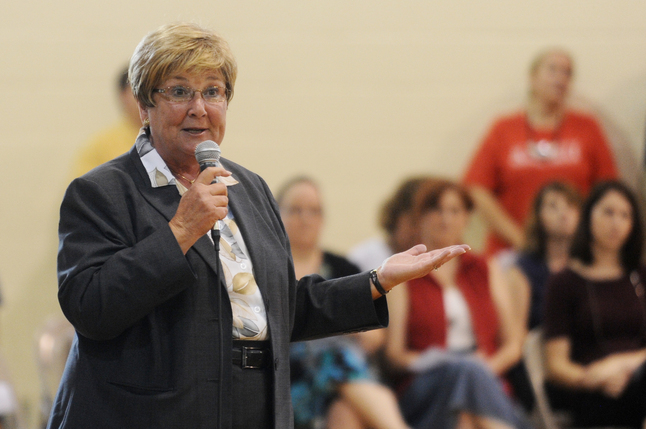 AnnArbor.com file photo
Editor's note: This is the first of a two-part interview with Superintendent Patricia Green about budget issues in the Ann Arbor Public Schools. Part two will be published Thursday morning.
Ann Arbor Public Schools Superintendent Patricia Green said she will accept a cut to her $245,000 salary to help balance the budget for the 2013-14 academic year.
Green, in an interview Tuesday with AnnArbor.com, said she was planning to take a pay cut even before the Ann Arbor teachers union president publicly challenged her to reduce her salary.
"I already shared with the board that I intended to take a cut in my pay," Green said Tuesday. "And that precedes anybody saying anything publically about it. … If I'm asking concessions from individuals in this organization, how could I not take the same thing myself? I don't need anybody to ask me to do that. Because as a superintendent I recognize, that as a leader of the school district, you don't ask people to take compensation cuts and not do it yourself."
Ann Arbor Education Association President Linda Carter recently called for Green and the rest of central administration to "step up" and take a pay cut as the district tries to negotiate reduced compensation with its unions. She said administrators' salary decreases should be at least on par with teachers' salary reductions, if not more.
"She needs to come back down here with the rest of us," Carter said last week about Green's salary, which a new database shows is the highest of all superintendents in Michigan by $31,000.
Contract negotiations are under way in Ann Arbor, school officials said. And negotiations with the district's unions are expected to play an important role in Ann Arbor Public Schools reducing its budget by more than $17 million.
Each 1-percent across-the-board pay cut that employees agree to could save AAPS $1.3 million, officials have said.
Green's total compensation in 2012 was $308,433, according to W2 tax information provided by the district.
How much of a pay cut Green will take is not known. Green said the percentages of the reductions and the terms of the concessions are all part of the negotiation process that is taking place right now with all AAPS employees.
"I don't think that detail is something we're prepared to talk about yet," she said.
Green added all of the district's employees are important and everyone — including her and the rest of central administration — has contracts. So everyone's contracts are being looked at right now, she said.
The Ann Arbor Public Schools face tough and emotionally charged cuts for the 2013-14 academic year. Among the possibilities are more cuts to music, theater, athletics, district media center staff and transportation.
This is first the first time since 2010 the district's unions have been asked to renegotiate their contracts.
"We're looking at furlough days and any compensation type of activity. We want to still try to keep as much (of the cuts) out of the classroom as we can," Green said. But she added after five years of reductions, "It's into the bone. There is nothing that is going to be pleasant. Nothing."
The district has cut its operating budget by about $70 million in the past five years, through the consolidation of transportation services, increasing class sizes, increasing pay-to-participate fees, cutting athletics, decreasing funding for art and music and decreasing pay and benefits for staff. Green said it's to the point that the cuts have taken a serious toll on a school district that is considered one of the very finest.
"What it does now is it basically starts pitting program against program and people against people," she said, adding school officials can't prevent it and can only hope it doesn't get too ugly. "... It's all valuable. Every single thing on our list this year, if these were better times, would not even come close to being considered."
Danielle Arndt covers K-12 education for AnnArbor.com. Follow her on Twitter @DanielleArndt or email her at daniellearndt@annarbor.com.