Posted on
Thu, Jun 20, 2013 : 5:55 a.m.
Some 'clean up' needed on approved Ann Arbor Public Schools budget for fall
By Danielle Arndt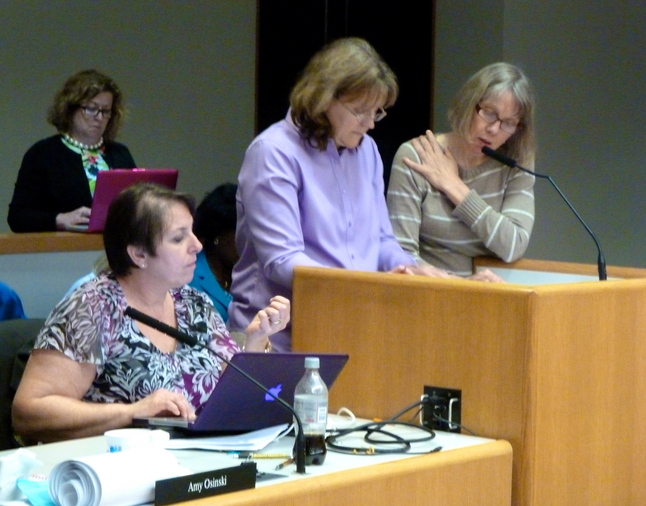 Danielle Arndt | AnnArbor.com file photo
Previous coverage:
The Ann Arbor Board of Education may be clearing up some confusion — and cleaning up some numbers — on the 2013-14 budget approved last week at its next regular meeting.
District spokeswoman Liz Margolis said there are a few items, from administrators' perspectives, that need some clarification. She declined to comment on what those items were, stating she didn't know where the finance department is on double checking the numbers and where it is in discussions with the board president.
School board President Deb Mexicotte said after having about a week to reflect, she has been notified that "in the end, we may not have had everything in the proper columns."
The piece the board may need to revisit is seventh hour. Mexicotte said she has been informed there may have been an arithmetic error and the board may have included the $100,000 savings expected to be achieved by charging students for seventh hour in both the list of expenditure cuts and the list of revenue enhancements when the board was adding up the budget toward the end of the June 12 meeting.
Last week's meeting ended in a harried fashion, as trustees worked to crunch numbers on the fly, while they pulled items from the budget that they previously agreed to cut. At one point during the last half hour of the meeting, Mexicotte called the process "sausage making at its best." The majority of board members were determined to pass a balanced budget, no matter what, by the time the meeting adjourned.
The board removed four items from its June 12 agenda and rescheduled them for the next meeting on June 26, as well as extended its meeting past the midnight deadline four different times to ensure the board could vote and approve the budget. Mexicotte spent about 10 minutes at the lectern helping Chief Financial Officer Nancy Hoover sort through which of the proposals the board actually voiced it wanted to keep after its lengthy and intricate discussion.
The vote took place at about 1:50 a.m. Thursday, June 13 and was passed 6-1 with Vice President Christine Stead dissenting.
The meeting then adjourned but had to be reconvened less than a minute later so the board could vote on the 18-mill non-homestead property tax that goes along with the budget and authorizes the district to levy taxes for operational expenses.
Mexicotte said the seventh-hour savings arithmetic error is the only potential blunder she is aware of.
"If it ended up in the wrong column, ... it doesn't mean it won't change the (other) numbers slightly," she said. "What I think Nancy will do in that case — if that is indeed the case — is she'll bring a budget adjustment for our approval, as we do several times a year anyway. ... But we're still re-looking at the numbers and double checking."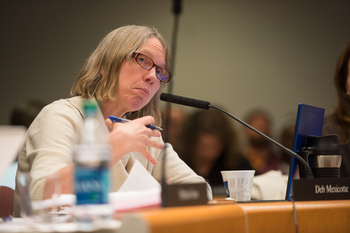 Courtney Sacco | AnnArbor.com file photo
She added she projects there will be some "small clean up items" the board will discuss at its June 26 meeting.
When asked about whether any of the arithmetic issues could have been prevented if the board had not been determined to pass the budget at that late hour, Mexicotte said no. She maintained it was important that the board set a number of directions on June 12, "so that the staff could know and the community could know what we were planning and what we were moving forward with" before school dismissed for the summer.
"We wanted to pass it on the 12th so that if we were to think about something incorrectly or change our minds, or if we were to receive some new information and needed to make amendments, then we had that opportunity on the 26th," she said. School boards have until June 30 to pass a balanced budget in Michigan.
Mexicotte added the board made a budget adjustment last June after the 2012-13 budget was passed because it learned the district would be receiving more revenue from the state, so the board amended the budget to not cut counselors. She also said any budget, including a household budget, is fluid and has to be tweaked.
"Sometimes mistakes happen or come back because of additional information," she said. "... I wouldn't say it is unusual to work through a difficult issue — and there is nothing more difficult than the budget right now — and have to revisit it. Something as complicated as this, something as hands-on as this, something as intricate as this — you may have points of confusion, but if we're talking about one item (seventh hour) of our more than 15 we were looking at, then, one might argue, that's not really that bad."
Stead, who described Wednesday's budget process as "shenanigans" and dubbed the outcome "irresponsible," said she feels there are a few things the board could have done differently on June 12 to prevent the need for a lot of clarification.
She said in hindsight, even though she did vote in favor of extending the meeting any longer the last two times the motion was made, she wishes the board would have taken just a few extra minutes before voting to "go back through the overarching themes and say, 'OK, did we end up where we wanted to in that category?'" Stead said going through the final count of the number again also would be beneficial.
Despite these sentiments, when asked if waiting until the June 26 meeting to vote on a budget would have been better or would have resulted in better direction to the administration, Stead said she wasn't sure. She added passing any budget — even though she voted "no" on this one — sooner rather than later is generally more beneficial for all involved because it allows time for implementation and communication with the community.
She said specifically that it was good to be able to tell families before school let out that there will be transportation for high schoolers in the fall. The board had heard from families who said they planned to look elsewhere to educate their students if the board decided to cut busing.
Stead said one item she feels was botched in the original process was the Pioneer High School theater technician position. Stead said she initially moved to keep the position and she is not precisely sure how the decision evolved to have the board decide to keep the position but shift the funding responsibility to the Pioneer Theater Guild. Trustee Andy Thomas made this proposal, but Stead said when she vocalized her support it was not intended to be for removing the position from the general fund payroll.
She said she will be seeking some clarification on this piece to ensure all of the trustees voted how they thought they voted on the theater technician position.
Mexicotte said: "Any trustee can bring any part of this back ... just to make sure we did what we thought we did."
Board Treasurer Glenn Nelson said he personally does not have anything he would want to bring back, but he would view it as "completely professional and appropriate" if some trustees did desire to do this.
"If anyone does have any question, I would expect that they do bring it back," Nelson said. "It is very important for us as a team — as board and administration — to be very clear on what our joint intent was and is moving forward."
Danielle Arndt covers K-12 education for AnnArbor.com. Follow her on Twitter @DanielleArndt or email her at daniellearndt@annarbor.com.