Posted on
Thu, Mar 29, 2012 : 5:59 a.m.
Firefighters union pushing Ann Arbor officials to use surplus to increase staffing
By Ryan J. Stanton
The Ann Arbor firefighters union is fighting back in response to Fire Chief Chuck Hubbard's plan to close down two of the city's five fire stations.
Instead of closing stations, the union argues the city should be increasing staffing in the fire department to meet national standards.
"The citizens of Ann Arbor should know that they are receiving sub-standard fire and emergency life-saving response coverage, and that our city managers would rather put the funds which could remedy the situation in the rainy day fund," reads a statement from the union released this week by President Matt Schroeder.
The union is on a mission to get the Ann Arbor City Council to halt the shuttering of the two stations, closures Hubbard is considering given the reduced staffing in his department. The union is asking the council to instead increase staffing by 12 firefighters.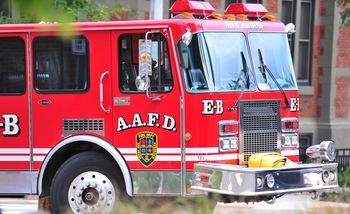 Ryan J. Stanton | AnnArbor.com
The fire department has 76 firefighters right now, plus the chief and his administrative assistant. Hubbard told AnnArbor.com this week he recalls a time when the department had more than 120, but years of cutbacks have left the
Ann Arbor Fire Department
where it is now.
To adequately staff five stations and meet national standards, the union claims it would take 18 firefighters per shift — versus the 15 staffed right now.
"This would require 12 additional firefighters (four extra people for each of three shifts a day) in total to staff all shifts from current staffing, or 88 firefighters in total," the union states, citing the same figure Hubbard recently called his "magic number."
According to the city's finance department, the cost of hiring a firefighter under the new labor agreement with the firefighters union is $79,599, inclusive of wages and benefits.
Based on new contract terms, a staff of 88 firefighters — which the union claims would allow the city to meet national standards — would cost $955,000 more per year from current levels or $875,000 more than the 77 employees budgeted for the new fiscal year starting July 1.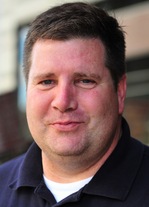 Tom Crawford
, the city's chief financial officer, recently released a revised budget forecast, predicting general fund revenues will come in $900,000 higher than planned next fiscal year, while expenses are expected to be down by $700,000.
Crawford is recommending the city sock away $1.4 million in its rainy day fund, but the firefighters union argues at least a portion of that should be used to hire firefighters.
AnnArbor.com sat down with City Administrator Steve Powers and the fire chief this week to talk about the latest plans and the possibility of adding staffing.
Powers is uncertain if the city will be able to increase staffing levels to 88 firefighters in the next budget, but he and Hubbard are confident the city will be moving forward with the change to a three-station fire department by July 1. Hubbard said he'll likely start making the transition and closing stations sometime in June, and it won't require council action.
"I know the system I'm proposing is a good system — it's just hard to swallow. It's new, it's different," Hubbard said. "But this is by far a better system."
Powers will be presenting his recommended city budget for 2012-13 in April, followed by council adoption in May. He said the lower cost of hiring a firefighter under the new labor contract makes it easier for the city to increase ranks if the council decides to go that route.
"That will be a decision of council, but certainly it will allow for that choice to be made more affordably than the last couple of years," Powers said.
Striving to meet standards
Hubbard would like to increase his staff to 88 firefighters. But given the existing staffing levels, he believes concentrating the fire department's resources in three stations instead of five will better position the city to respond to fires.
He acknowledges the city — while it might be better served— still will fail to meet national standards recommended by the National Fire Protection Association.
That includes standards that suggest a fire department, at a minimum, should be able to get four firefighters to a fire within four minutes 90 percent of the time, and it should be able to get 15 firefighters — a "full alarm" assignment — to arrive within eight minutes 90 percent of the time. The city doesn't meet those standards now, nor will it under Hubbard's plan.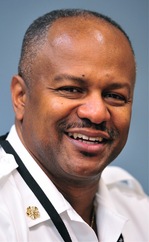 Hubbard told the City Council recently he doesn't know of any fire department that meets all of the NFPA's standards.
But the firefighters union said it contacted fire chiefs in Livonia, Dearborn and Sterling Heights and found all three cities meet the major components of the NFPA standards. AnnArbor.com was able to reach the chiefs of two of those cities — Livonia and Sterling Heights — to confirm the numbers.
Livonia has 21 firefighters on duty per shift. It sends 17 firefighters to a fire. The city's fire chief, Shadd Whitehead, said the first engine arrives on scene in under 3.9 minutes on average, while the remainder of the fire response units arrive in less than eight minutes at least 90 percent of the time. He said Livonia fully complies with the NFPA standards.
"I don't think we're the exception," Whitehead said. "In our business, no matter what fire department, it comes down to two things. You have to be there in a certain amount of time to make a difference, and you have to get there with enough resources."
Dearborn staffs 25 firefighters per shift. It sends 14 to 17 firefighters to a fire, with the first engine arriving in under five minutes on average, and the remainder of the fire response units arriving on scene in under eight minutes at least 90 percent of the time.
Sterling Heights uses four-person engine companies that arrive in four to five minutes on average, said Mike Deprez, the interim fire chief. He said the city has a minimum of 25 firefighters on duty per shift, which makes a difference in responding to fires.
"We can guarantee four people on scene within five minutes 90 percent of the time," he said, factoring in one minute for turnout time — the time it takes for firefighters to throw on their gear — which is another NFPA standard in addition to the four-minute travel time.
"Our average response time is closer to four minutes," he said. "We used to pride ourselves in a 3.5-minute response, but with traffic and road conditions it's closer to four minutes now."
Deprez said his department usually puts 15 or 16 firefighters on the scene in under eight minutes, so it's meeting that standard as well.
"Are they difficult to meet?" he said. "They do present some challenging scenarios certainly, but I wouldn't say they propose a hardship. Are they impossible? No, they're not. You certainly want to try to maintain that and meet the standard as much as possible."
Sterling Heights has 97 firefighters plus another four clerical employees for a total of 101 employees in the department. He said the department has lost four fire inspectors and one clerical worker over the last three years but has maintained staffing otherwise.
"Anytime you lose one member, it does change your operational plan," he said. "There's an equal and opposite reaction for every body you lose, and if you take a station out."
A recent study found it takes the Ann Arbor Fire Department 4.3 minutes on average just in travel time, plus another 1.8 minutes for dispatch time and 2.3 minutes for turnout time.
Hubbard clarified that when he told the City Council he doesn't know of other departments meeting NFPA standards, he meant he doesn't know any that meet all of them.
"The standard isn't just a four-minute response. There are a lot of variables to the standards," he said. "I don't know all of them, and different departments meet different parts of it. My point was no one meets them all. No one that I know of meets all the standards."
Hubbard said he'd be curious to know how other departments are meeting the four-minute travel time standard.
"I don't know who meets that. I question that," Hubbard said. "I'm not going to try to speak for other departments, but I'd have to see that in action."
Budget policy decisions
Faced with a $6.2 million deficit last August, Livonia officials asked their voters to approve a 1.7-mill public safety tax to avoid cuts to police and fire.
"We're fortunate here in our city," Whitehead said. "The residents in the community spoke pretty loud and clear that public safety and the fire department is important to them and they passed a millage 3-to-1 to maintain the same level of service they had come to expect."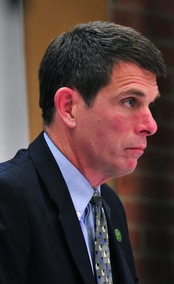 Powers said in the nearly seven months that he's been city administrator in Ann Arbor, there have not been any serious discussions of a public safety or fire millage.
"As far as any policy direction, policy is established by council and council has not discussed it even in passing," Powers said. "We're in the second year of a two-year budget. I think significant policy changes, significant budgetary changes, would really flow into the 2014-2015 budget plan, which will start not too long after we're done with 2013."
The union has argued fire fatalities are up since the city began making deep cuts to the fire department. Between 1992 and 2005, there were only three fire fatalities in 14 years in Ann Arbor, but there were 12 in the six years between 2006 and 2011.
Hubbard denied there's a link between those deaths and staffing cuts.
"There is no scientific way to account for that," he said. "Sometimes fires spike, sometimes they go down. Sometimes deaths spike, sometimes they go down. If you look at the fatalities that we've had, if you look into why they were, it has nothing to do with staffing."
Hubbard said it's unfortunate the department has experienced some fatal situations, but none have been because of a lack of staff.
For instance, he recalled one home blew up.
"You can't help that," he said. "A fire station could be right across the street with 200 guys in there, it wouldn't have mattered."
Ryan J. Stanton covers government and politics for AnnArbor.com. Reach him at ryanstanton@annarbor.com or 734-623-2529. You also can follow him on Twitter or subscribe to AnnArbor.com's email newsletters.