Posted on
Tue, Mar 27, 2012 : 5:58 a.m.
Former WCC counselor Ronald Bridgeforth sentenced after 40 years on the lam
By Cindy Heflin
After more than 40 years as a fugitive, Ronald Stanley Bridgeforth stood in a San Mateo County court Friday, waiting for a judge to decide his fate.
Would the man who worked for many more years as a beloved counselor at Washtenaw Community College under the alias Cole Jordan go to prison for a crime his lawyer said was committed in a moment of bad judgment during Bridgeforth's "reckless youth?"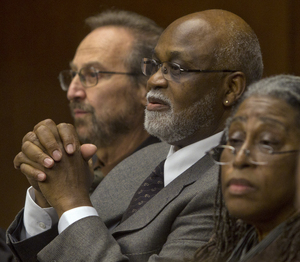 When the answer came, it was good news. Bridgedforth, now 67, was sentenced to a year in the county jail on a charge of assault with a deadly weapon for firing twice at a San Mateo County police car in 1968.
With good behavior, he'll likely be free in six months, said his lawyer, Paul Harris.
Bridgeforth could have faced five years in prison. Supporters broke into applause when the sentence was pronounced, the San Francisco Chronicle reported.
Before the sentencing, Bridgeforth read a statement apologizing for his actions and asking the judge to recognize his record of community service and let him continue to help troubled youths.
"Mine was a misguided and reckless act that endangered everyone's life," Bridgeforth said. "… My wife and I have led lives filled with service and purpose. We have educated ourselves and used those tools to educate hungry minds and to heal broken spirits. We have toiled daily to right the wrong I have committed. … Today I am asking you to give me a chance to continue this work of service to the community."
Bridgeforth saga
About 100 supporters came to the courthouse for the sentencing, Harris said, but only 39 could fit into the courtroom. Among them were two people Bridgeforth had counseled at Washtenaw Community College. They both gave emotional statements to the court, Harris said.
One of them, Zachary Baker, told the court he was homeless and about to drop out when he went to see Bridgeforth. The meeting changed his life, he said. "He listened to me in a way that no one ever had before."
Baker said he credits the fact that he is about to graduate from the University of Michigan to Bridgeforth's caring and compassion. "Had he been in jail the day I needed help, my life would not be what it is today. I ask for your mercy."
In imposing the sentence, Superior Court Judge Lisa Novak said Bridgeforth appeared remorseful and was truly rehabilitated, the San Francisco Chronicle reported.
Harris said he was satisfied with the sentence. He noted that Bridgeforth was also ordered to serve three years probation and 300 hours of community service in Alameda County working with at-risk youth. He said the community service order was a direct result of the chief of probation in the county asking that Bridgeforth be assigned to work there because of his skill in helping troubled youth.
Bridgeforth was also ordered to pay a fine of $8,500.
The crime occurred Nov 5, 1968, when Bridgeforth and two other people who were working with young people in San Francisco acquired stolen credit cards with which they tried to purchase clothing and toys from a White Front discount store, Harris said.
The clerk became suspicious and called police. As Bridgeforth and the other two men tried to flee, a police car blocked their vehicle's path, Harris said. Bridgeforth got out of the back seat and fired two shots at the police car. Officers fired back, and Bridgeforth was hit in the foot, and all three were arrested.
Harris said Bridgeforth's two accomplices, who had prominent African-American lawyers, pleaded guilty to credit card fraud and served one year in jail. Bridgeforth pleaded guilty to a charge of assault on a police officer with a deadly weapon, and fearing a life in prison, fled before sentencing.
Bridgeforth went to Africa for a year and then came back to San Francisco, eventually making his way to Michigan and WCC.
He began his career —under the alias Cole Jordan —at WCC as a custodian. In 1993, he received a master's degree in counseling from Eastern Michigan University, and in 1998 he became a WCC counselor and faculty member.
Last November he came forward to take responsibility for his actions, saying he wanted to set an example for his two sons, now in their 30s.
Contact Cindy Heflin at 734-623-2572 or email her at cindyheflin@annarbor.com or follow her on Twitter.