Posted on
Sun, May 26, 2013 : 5:59 a.m.
Young Citizen of the Year: Andy Hsiao has passion for creative fundraising
By Erica Hobbs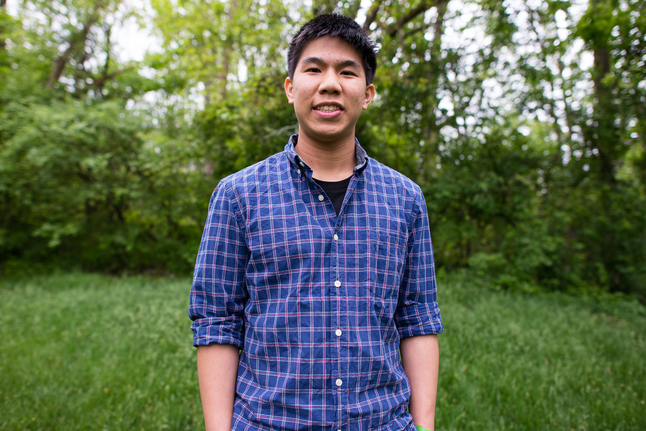 Courtney Sacco | AnnArbor.com
Editor's note: The AnnArbor.com Young Citizen of the Year Award recognizes leadership and community service on the part of area high school students. Today, we present the winner and nine finalists.
When Huron High School junior Andy Hsiao first heard about the devastating tsunami in Japan in March 2011, he knew he wanted to help.
Hsiao, then only a freshman in high school, decided to organize a fundraiser for the victims. Soon after, Hsiao set up a Facebook group selling T-shirts with the words "Fight on, Japan!" written in Japanese. Sale of the shirts raised about $3,000 for the cause. The effort was just the beginning of a series of creative fundraisers and volunteer activities that would become the foundation of Hsiao's Youth Impact student group, formed to raise money for causes across the globe.
It is for Hsiao's work with Youth Impact and other volunteer efforts that he has been named AnnArbor.com Young Citizen of the Year.
Hsiao, 17, started Youth Impact with his friend last summer. Though Hsiao has been a member of Rotary International's Interact service club for young people since his freshman year in High School — and will be serving as its president next year — he said his goal with Youth Impact was to give volunteers a stronger connection to the causes they serve by allowing them to select and create their own projects, instead of only volunteering for the projects of others. In particular, Hsiao said his goal was to help people use their passions to volunteer.
Andy Hsiao
Age: 16
Parents: Kaori Ohara and Jimmy Hsiao
High school: Huron High School
School activities and community activities: School and community activities: Created Youth Impact, a youth service group formed to help students select their own volunteer projects. Under his supervision, the group has held multiple fundraisers. He has volunteered for Fall Chore Day, Perry Nursery School, Clague Middle School orchestra mentoring, chess mentoring, canned food drives and Ele's Place. He is a member of the National Honor Society and has been a member of Rotary International's Interact Service Club since his freshman year. He is a member of the Huron High School Orchestra and chess club and co-founder of the Mitchell Elementary School Chess Club.
Nominated by: Lisa Dengiz and James Stanhope
College plans: Undecided
"I just wanted to try to get the message across, if you have something you're committed to, there's a lot of ways to help," he said.
Since its official start at the beginning of the 2012-13 school year, the club has raised more than $5,000 with two major fundraisers for the Take Heart Association Project, a non-governmental organization that raises money to provide medical care to needy children in Kenya with heart disease.
The first project was a pizza-tasting competition in which participants paid an entry fee to eat and judge donated pizzas by area pizza-makers. The second was the "Youth Factor" benefit show, an "X Factor"-style talent competition made up of students of Ann Arbor high schools.
The idea for Youth Impact came about after a U.S. history project during Hsiao's sophomore year. Long-term substitute teacher James Stanhope gave students time one day a week to pursue a creative project, based on Google's 20 percent policy, where workers are allotted a fifth of their work time to explore creative projects. Hsiao, a violin player, decided to organize a classical music benefit concert to raise money for Katariba, a Japanese organization that connected displaced children and teachers with temporary schools after the tsunami.
With support from his teacher, Hsiao recruited performers from the Livonia Symphony Orchestra, the University of Michigan and Eastern Michigan University to perform. The fundraiser had been the second one of the year to support the cause. Hsiao and his friend Atulya Shetty, an award-winning chess player, had organized an event earlier that year in which participants paid a $10 entry fee to play chess against Shetty. The two events raised about $3,000 total for the organization.
Hsiao said the events were examples of ways he and his friend used their personal talents and passions for a greater good. But he said he realized it was more fun to do projects as a group and decided to start a club to get more people involved.
"I wanted more people to really use their passions to fundraise," he said.
Stanhope, one of two people to nominate Hsiao as Young Citizen of the Year, said Hsiao's hard work and humble attitude separated him from his peers, earning high respect from Stanhope.
"He's a very good leader," he said. "I think that's why he's so impressive because, at such a young age, he had all these skills and talents but understands his place."
Lisa Dengiz, a social worker, was the other person to nominate Hsiao for Young Citizen of the Year. Dengiz works at Ele's Place in Ann Arbor, an organization that helps children and teens who have lost a loved one. She said she contacted Hsiao last year after reading about his efforts on AnnArbor.com and invited him and his volunteer group to work with Ele's Place. She said Hsiao and other members of Youth Impact were eager to learn about Ele's Place and worked with them to spread awareness of the group's resources to area teens. She said she was instantly impressed by Hsiao.
"I just think he's a perfect combination of authentic, sincere, hardworking, compassionate and passionate, all the great attributes we want to see in youth leaders; he definitely is deserving," she said.
In addition to his work with Youth Impact and Interact, Hsiao is also an honor student, a member of the Huron High School Orchestra and chess club, as well as an after-school orchestra mentor at Ann Arbor's Clague Middle School and co-founder of the Mitchell Elementary School Chess Club, also in Ann Arbor.
Huron High School Principal Arthur Williams said Hsiao's sense of responsibility is greater than most of his peers and his rational mind and a genuine caring for others are additional strengths.
"Andy loves life and lives it in a way that will cause the world to be a better place for everybody," he said.
Long-time family friend Frances Kai-Hwa Wang said Hsiao's creativity and ability to network and motivate others also distinguish him from his peers and adults as well.
"Fundraising is never easy and to be able to do it at the grassroots level…I think that's really commendable," she said.
As he approaches his senior year of high school, Hsiao said he would like Youth Impact to focus on more projects that benefit local organizations, such as Ele's Place, but the decision will be voted upon by the group as a whole.
When it comes to life after graduation, Hsiao said he is not yet sure where he wants to go to college or what he wants to study, but he said no matter what he does, volunteering will always be a part of his life.
"It's just a good feeling, you can't really explain it in words," he said. "It's always a good feeling."
Erica Hobbs is a freelance journalist for AnnArbor.com. Contact the news desk at 734-623-2530 or news@annarbor.com.