Posted on
Fri, Oct 12, 2012 : 5:59 a.m.
Fink vs. Kuhnke: Two attorneys compete for open seat on Washtenaw County's 22nd Circuit Court bench
By Ryan J. Stanton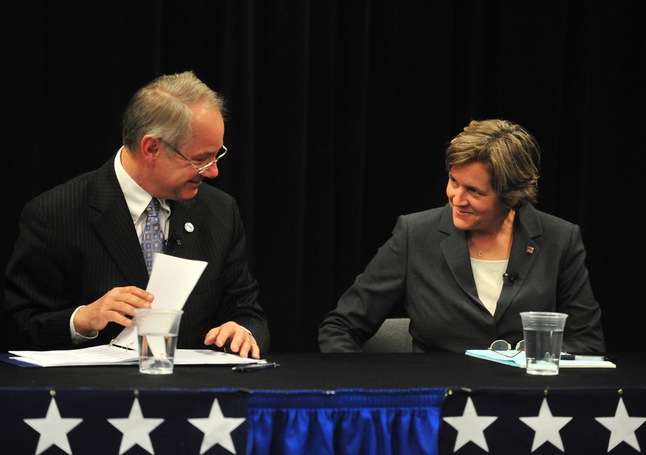 Ryan J. Stanton | AnnArbor.com
Voters on Nov. 6 will get the rare opportunity to fill an open seat on
Washtenaw County's 22nd Circuit Court
bench and it's a choice between two attorneys who are political opposites.
Ann Arbor resident Carol Kuhnke, a pro-choice Democrat, is running against Ypsilanti resident Jim Fink, a pro-life conservative who leans Republican.
Both will appear on the ballot without party affiliation since it's technically a nonpartisan race. But in a presidential election year, talking politics can be hard to avoid.
"When I talk about it being a nonpartisan race, people will frequently say, 'Yeah, I get all that, but are you a Democrat or a Republican?' And I'll tell them I'm a Democrat," Kuhnke said.
Fink believes political leanings shouldn't matter.
"This is a nonpartisan race and it is important that people have faith that the decisions of a judge and the way the judge administers justice has nothing to do with partisan politics," he said. "I have been endorsed by many Republicans, many Democrats, and many who are politically unaffiliated because they trust me to put politics aside and to render decisions based on the law."
Kuhnke agreed it's a judge's job to follow the law, and she insists that's exactly what she would do as an impartial and unbiased judge. But she said there are times when a law is not clear and a judge has to rely on his or her conscience and work to make the right call.
Ryan J. Stanton | AnnArbor.com
Kuhnke has been an attorney in private practice for nearly 20 years. Fink, a former law enforcement officer, has been in private practice for about 14 years.
Kuhnke argues she's the most experienced for the job. Her basis for saying that is she believes she's had more experience trying cases than her opponent.
"Many lawyers never go to court," Kuhnke said. "There are some who handle transactions, manage corporations and write contracts. I'm not that sort of lawyer. I've spent my entire career working in our circuit courts, handling motions and depositions and trying cases."
While Kuhnke may have more experience trying cases in Circuit Court, Fink argues he's still the most qualified because he believes he has the broadest experience.
"I have participated in virtually everything that might come before the Circuit Court," he said, referencing both his experience as a private attorney and the two decades he spent working for the Washtenaw County Sheriff's Office. "Trials are one of the minor things that are important. It's not a minor event, but it's not what a circuit judge spends most of his or her time doing."
Kuhnke said she's tried dozens of cases in Circuit Court as a trial attorney and she thinks that kind of experience is absolutely critical.
"While the trials are not 100 percent of the work of the court, 100 percent of the work of the court is preparing cases for trial, because that's where they're all headed if they don't settle," she said.
Fink and Kuhnke emerged as the top vote-getters in a four-way primary race back in August, thus advancing to the November general election.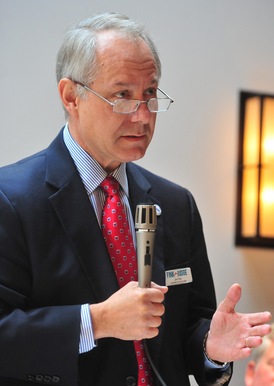 Ryan J. Stanton | AnnArbor.com
Fink pulled 41.4 percent of the vote compared to Kuhnke's 29.8 percent, while
Erane Washington
and
Doug McClure
, both Democrats, took 17 percent and 11.6 percent, respectively.
Fink and Kuhnke are now facing off for a chance to take over the seat being vacated by Melinda Morris, who is retiring.
Kuhnke noted during a League of Women Voters debate Thursday night that Morris is the only female judge to ever serve on the county's five-member Circuit Court bench.
"And after 20 years on the bench, Judge Morris is retiring and we risk going back to an all-male bench," Kuhnke said.
"I don't ask anybody to vote for me just because I'm a woman," she said. "I ask them to vote for me because I'm the most experienced and most qualified candidate, and also to recognize that it's important that a woman's voice be heard in all of the matters of society, including on the bench."
Despite their differences, the two candidates do have a few things in common. Both have deep ties to Washtenaw County. Kuhnke, 44, grew up in Milan, while Fink, 56, grew up in Ypsilanti.
Both are respected by their peers in the legal community, and both have spent many years giving back through their volunteer work.
Fink sits on the Michigan Domestic Violence and Sexual Assault Prevention and Treatment Board, the City of Ypsilanti Charter Commission, and the Dawn Farm Board of Trustees. He also has served on the Hope Clinic (Ypsilanti) Capital Campaign Committee, Washtenaw Area Apartment Association Board of Directors and Ypsilanti Human Relations Commission.
Kuhnke is a longtime member and current chairwoman of the Ann Arbor Zoning Board of Appeals and has served on the city's downtown zoning advisory board and the Washtenaw County Board of Election Canvassers. She also is a member of the Ann Arbor NAACP, Women Lawyers Association, League of Women Voters and the Michigan Association for Justice.
Kuhnke attended the University of Michigan as an undergrad and then earned her law degree from Chicago-Kent College of Law in 1993.
Fink went to Eastern Michigan University and then worked for the Washtenaw County Sheriff's Office from 1977 through 1998, rising through the ranks from deputy to sergeant to lieutenant to commander. He earned his law degree at the Detroit College of Law in 1987 and got started working in the county attorney's office while still employed with the sheriff's office.
He eventually went off into private practice after retiring from the sheriff's office. He said his work has included civil litigation, misdemeanor criminal defense, municipal law, real estate, commercial transactions, small business representation and landlord-tenant matters.
"In my practice, I'm in court several times a week — almost every week in the Circuit Court and district courts, and occasionally in the probate court and occasionally in family court," he said.
Fink comes from a family of lawyers and judges. His father, Robert Fink, and brother, Karl Fink, served as Washtenaw County judges. He said that alone doesn't qualify him to be a judge, but he can say that he grew up loving the law and he loves public service.
Kuhnke says she has spent her entire career as a courtroom lawyer and is intimately familiar with the life cycle of a lawsuit and how the court works. She said she has represented working people as an attorney, and as a judge she would take pride in making sure everyone got a fair hearing.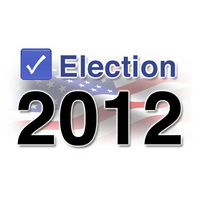 "I'm intimately familiar with what goes on in the Circuit Court and how it can work a little bit better and more efficiently," she said.
Kuhnke has endorsements from a number of labor unions and groups like the Washtenaw County Democratic Party, United Auto Workers and Huron Valley Central Labor Council. As a supporter of gay rights, she also is backed by the Michigan Democratic Party's LGBT Caucus and the Gay & Lesbian Victory Fund.
She also has support from a number of prominent Democrats, including U.S. Rep. John Dingell, Ann Arbor Mayor John Hieftje, state Sen. Rebekah Warren, state Rep. Jeff Irwin, Michigan Supreme Court Justices Marilyn Kelly and Diane Hathaway, and retired Justice Alton Davis.
Fink said he's proud to be endorsed by not only Republicans, but also a number of big-name Democrats like Sheriff Jerry Clayton, County Prosecutor Brian Mackie and Water Resources Commissioner Janis Bobrin. He also is being supported by groups like the Police Officers Association of Michigan, Michigan Court Officers and Right to Life Michigan.
Fink believes a number of changes can be made to improve customer service in the 22nd Circuit Court and make life easier for people.
"Things like electronic filling, scheduling conferences and other things that don't require presence at the courthouse by phone, trying to consolidate hearings or court appearances to reduce the number of times people have to come to court and to reduce the number of times they have to pay their attorneys to come to court," he said. "Those would all help."
Kuhnke said she's spoken with the court's staff about customer service and there are a lot of creative solutions that could be implemented with some support from higher up. She also believes judges have a role to play in improving outcomes and experiences in the court system.
"Most cases do settle before trial, but too many of them settle the day of trial or the week before when they could have settled nine months earlier," she said.
Kuhnke said the trials she has handled have ranged from simple cases that take one day to much more complex cases that take up to two weeks and sometimes longer. She said most of her clients have never needed to use the court before and never will again after she's helped them.
"I greatly enjoy helping people," she said. "I enjoy helping them work through a difficult legal process and knowing that I've done something to improve their lives."
Fink said his work is a labor of love, too.
"I stayed at the sheriff's department about 11 years after I completed law school because I loved the work so much and I loved the public service," he said. "I'm running for circuit judge because I love the law, I love public service, and I love this community."
Ryan J. Stanton covers government and politics for AnnArbor.com. Reach him at ryanstanton@annarbor.com or 734-623-2529. You also can follow him on Twitter or subscribe to AnnArbor.com's email newsletters.