Posted on
Thu, Apr 15, 2010 : 6:03 a.m.
Militia group gave FBI information on Hutaree two years ago, e-mails show
By Lee Higgins
A Southeast Michigan Volunteer Militia member provided information about Hutaree and one of its members to an FBI agent in April 2008, according to two e-mails obtained by AnnArbor.com.
The e-mails were sent eight months before ATF inspectors conducted a records check on a Lenawee County gun dealer, which prosecutors say kicked off the investigation into the militia group they've labeled as anti-government and extremist.
In addition, SMVM Coordinator Lee Miracle and spokesman Michael Lackomar said Hutaree came up in discussions they had with FBI agents the day before the 2008 presidential election.
"The decision was made to cooperate with the authorities fully because we do value good relations with local and federal law enforcement," Lackomar said. "In addition, we knew that one of the groups they were talking about, the Hutaree, struck us as potentially unstable and possibly dangerous."
FBI Special Agent Sandra Berchtold, a bureau spokeswoman in Detroit, declined to comment Wednesday on whether the SMVM cooperated in the probe.
"There's an ongoing investigation into Hutaree and we can't comment on ongoing investigations," she said.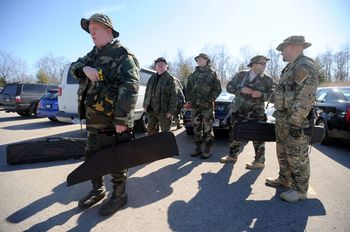 Angela Cesere | AnnArbor.com
Nine members of Hutaree are in federal custody after being indicted on charges that accuse them of conspiring to levy war against the United States. Among other allegations, members of the Christian militia unit are accused of discussing killing a law enforcement officer, then attacking the funeral procession motorcade with homemade bombs.
The e-mails were provided to AnnArbor.com under the condition that the author remain anonymous because he's concerned for his safety. Two e-mails he sent to an FBI agent in April 2008 pertain to Hutaree.
The first is dated April 7, 2008 with the subject heading "Info you wanted."
"Here's what I got," the email says. "I'm still looking, if I come up with anything else, I'll send it."
The email contains a link to the Hutaree Web site, a link to a Hutaree YouTube channel and says that two photographs of "Mouse" are attached. "Mouse" is a nickname for Hutaree member Joshua Clough of Blissfield, who is charged in the indictment.
"Let me know if there's any other way I can be helpful," it says.
The agent replied on April 9, 2008, thanking the e-mailer for the "info."
"We will do our best to track mouse down," the agent wrote.
The second e-mail is dated April 9, 2008 with the subject heading "Mouse info (And lots of it...)."
"I don't know if this will help...," the email says. "But I felt bad that I wasn't able to give you enough before...So I dug around"
The email contains further information on Clough, including that he's using the nickname "Azuurlin." It also contains links to a profile on Yahoo, a MySpace.com page and a phone number. The phone number was obtained through a search on a reverse directory online, the e-mailer wrote.
"Do I get my 'Junior G-Man' badge yet?" the e-mailer wrote.
The day before the 2008 presidential election, Lackomar, Miracle and another SMVM member were questioned separately by federal law enforcement agents, Lackomar said.
The group had organized a meeting the day after the election, so when Lackomar received a phone call from an FBI agent, he suspected that's what it was about.
Lackomar said he was asked whether he heard of any specific chatter regarding anything that could happen on Election Day, and he said he hadn't. He told the agent about the meeting his group had planned, he said. Several minutes into the conversation, Lackomar said, the agent asked what he thought about Hutaree.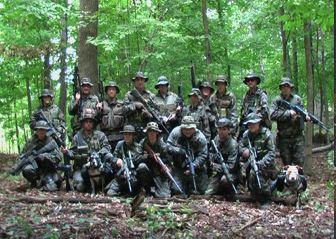 "I gave (the agent) the impression they were loose cannons basically," he said.
Miracle said he was asked that same day by an FBI agent whether there's anything investigators should be concerned about. It came up after he finished talking about the meeting his group was planning, he said.
Miracle mentioned Hutaree and told the agent the group had a Web site, he said.
Miracle said he considers Hutaree an "armed cult."
"It is our duty as American citizens to protect American lives," Miracle said. "If someone wants to accuse me of trying to keep Americans safe, I'm guilty as charged. You don't want to be responsible by your silence for any kind of unnecessary mayhem.""
The SMVM used to train with Hutaree and had a falling out in 2007. But Miracle and Lackomar said that had nothing to do with any discussions they had with law enforcement.
"We just felt that they were a group that could become very radicalized very easily," Lackomar said. "That's because of the ultra-religious nature of their leader and the whole unit. They lashed out against other units and the government."
Militia members share information about other groups for a variety of reasons, said Mark Pitcavage, director of investigative research for the Anti-Defamation League, who studies the militia movement.
Some have developed personal relationships with law enforcement officers, and others must share information or "they'll get in trouble," he said.
The FBI has made an effort since the 1990s to reach out to militia groups and check in with them on occasion, Pitcavage said.
In certain cases, militia members won't warn a law enforcement officer about a potentially dangerous individual because they assume it's an "agent provocateur," Pitcavage said. In those cases, they'll only warn other militia members, he said.
"Every now and then some of them genuinely may be alarmed at what they've seen," Pitcavage said.
Lee Higgins is a reporter for AnnArbor.com. He can be reached by phone at (734) 623-2527 and email at leehiggins@annarbor.com.