Posted on
Sun, Apr 4, 2010 : 6 a.m.
Moravian project might not have support from Ann Arbor City Council
By Ryan J. Stanton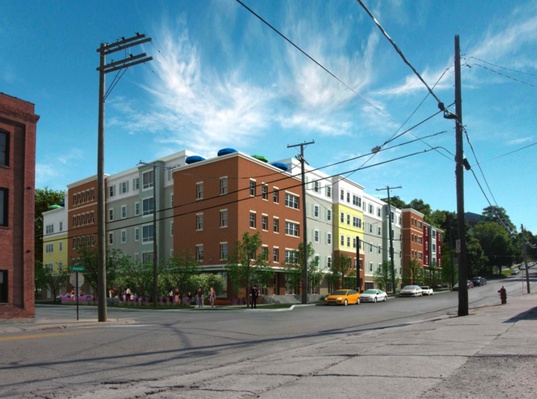 A development five years in the making comes before the Ann Arbor City Council for final approval on Monday. But despite recommendations from city staff and the Planning Commission, it doesn't appear to have the support it needs from council members.
The Moravian, a proposed 62-unit apartment complex geared toward young professionals and others who want to live near downtown, needs eight votes for approval. All indications are that fewer than eight council members support the project.
"At this point, I don't think it has a shot," said Council Member Margie Teall, D-4th Ward, a supporter of the project. "It bothers me. We are throwing out all of the possibilities of what we could have if we don't take our blinders off."
After spending the last two years jumping through the city's hoops and revising plans over and over, the development team for The Moravian appears frustrated with the city and its processes.
"I still believe in this city, but the last couple of years of going through everything that we have ... it was an unforeseen gauntlet," said Ann Arbor real estate broker Newcombe Clark, a member of the Downtown Development Authority and a partner in the Moravian project.
"We've done everything we can," Clark said. "Monday night I think will be telling on whether or not the system works — that our city follows through with due process. I remain hopeful that council will come through with us."
Jeff Helminski, managing partner of The Moravian Co., has issued a call to supporters on a Facebook page, hoping strength in numbers will sway the council. Until now, the only voices council members have heard at the podium have been those of a handful of residents who don't want to see The Moravian replace the aging homes and industrial buildings at the edge of their neighborhood.
Helminski said he thinks council members should make their decision based on whether The Moravian meets the standards of the city's ordinance for Planned Unit Developments, not personal preferences.
"When we started this whole thing, we talked to the city and asked what the standards were for PUD approval and they directed us to look at previous PUDs," Helminski said. "I went through and looked at every PUD and did a big analysis of how that compared to our site. We're requesting just a fraction of the level of zoning variance that others have, and we're offering more benefits. The project is consistent with the standards of the PUD ordinance — it meets all the requirements."
The developer's site plan shows 12 of the 62 apartment units — about 19 percent — would be affordable to lower-income households. The city's PUD ordinance asks for 15 percent.
Council Member Carsten Hohnke, D-5th Ward, said he still doesn't think the project's benefits are sufficient to set aside the current zoning to create a special PUD for The Moravian. Hohnke won't be at Monday's meeting due to a personal commitment, but has relayed a prepared statement to be read in his absence.
"The existing zoning is a social compact; it is the established consensus of the community," he wrote. "Setting it aside essentially introduces a tear in that social compact. While PUDs are a necessary tool, their use should be exceptional, and their benefits to the community should be bold enough to mend that tear. I don't believe that in this case they are."
Hohnke points out The Moravian provides just three more affordable housing units than required. He said that stands in contrast to the 35 units in excess provided by the recently approved and smaller Near North PUD. 
Helminski, however, said he thinks it's unfair to compare his private development to a publicly funded affordable housing project.
Hohnke added The Moravian — though cited by some as a benefit for downtown Ann Arbor — is not in the downtown.
"By definition and community consensus, downtown begins north of William Street," he wrote. "It is in that downtown core that we have a community consensus for realizing the benefits of increased residential density. If we prick holes in the membrane of our downtown, and allow density 'leakage' into near-downtown neighborhoods, we undermine our ability to achieve the benefits we seek in our urban center."
Clark said he worries what kind of message a no vote Monday night would send to others who want to invest in the city. He said Ann Arbor already has a reputation for being a tough town to develop in.
"For the last two years, we've been trying to stay on top of a game that continually changes its rules on us," Clark said. "This project has the ability to confirm or confound a lot of community values and ideals we often claim to hold but often have a hard time trying to demonstrate."
Helminski said he believes the project offers a wide range of public benefits. For example, he said, its energy-efficient environmental design will reduce greenhouse gas emissions by 636 metric tons annually, which is the equivalent of taking about 129 vehicles off the roads. The current site also has environmental concerns that would be mitigated.
The Moravian has support from more than 100 residents, businesses and community leaders who say the project would boost the local economy and increase the vitality of downtown. It also has the endorsement of the Ann Arbor Chamber of Commerce.
"Change is always hard, but change is coming to Ann Arbor," Clark said. "I think approval of a project like this could potentially show that we are committed as a community to moving forward."
Ryan J. Stanton covers government for AnnArbor.com. Reach him at ryanstanton@annarbor.com or 734-623-2529.