Posted on
Tue, May 22, 2012 : 5:59 a.m.
Police and fire spared further cuts as Ann Arbor city budget wins approval in 8-2 vote
By Ryan J. Stanton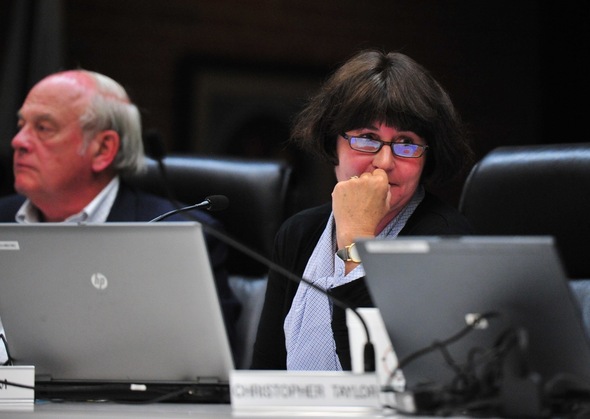 Ryan J. Stanton | AnnArbor.com
After years of staffing cutbacks in police and fire, the
Ann Arbor City Council
voted 8-2 early Tuesday morning to approve a city budget that begins a rebuilding process.
"We got to where we wanted to be," said Mayor John Hieftje. "We did not, in fact, reduce safety services. In fact, we increased funding there, and that's a big advance in one year."
The budget for the fiscal year starting July 1 — approved toward the end of a meeting that lasted six and a half hours — includes a $122,270 general fund surplus.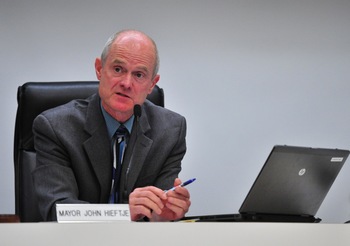 Ryan J. Stanton | AnnArbor.com
Across all funds, the budget shows $404.9 million in revenue and $382.4 million in expenditures, including $79 million in general fund spending.
One full-time police officer position is being added, putting the department at 119 sworn officers, plus five part-time officers are being hired for a new recruit program.
"We're starting a recruit program that will really help us downtown," Hieftje said. "And also it means that as officers retire or leave the job for other reasons, they can immediately step in so that we don't have this overtime-causing thing that happens when people leave unexpectedly or when they retire and it takes time to replace them."
A proposal sponsored by Council Member Margie Teall, D-4th Ward, was approved before the budget passed. It calls for hiring six more firefighters if grant funds become available.
That would bring the department up to 88 firefighters, which Fire Chief Chuck Hubbard recently identified as his "magic number."
But the council didn't go as far as to provide a backstop and say that the city would fund the six firefighter positions if grant funds don't come through.
Council members Mike Anglin and Jane Lumm voted against the budget at 1:30 a.m. following the defeat of several amendments they were backing.
Lumm wanted to increase the number of firefighters regardless of whether state and federal grant funds are available and suggested cutting high-speed rail monies. That idea was shot down, as was Lumm's proposal to hire five to 10 more police officers.
The council voted 7-2 against Lumm's proposal, which called for adding 10 more officers if a federal grant is awarded to the city and five more if it's not awarded.
Council Member Stephen Kunselman, D-3rd Ward, was the only to vote in support of Lumm's proposal. Anglin had stepped away from his seat when the vote happened.
"We do need these police officers," Kunselman said.
Council Member Marcia Higgins, D-4th Ward, went home sick partway through the meeting and didn't vote on the final budget, but she did vote on some earlier amendments.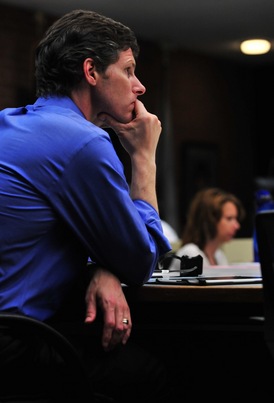 Ryan J. Stanton | AnnArbor.com
Hieftje argued against Lumm's plans, saying there wasn't enough money in the budget for what she proposed and that crime is trending downward anyway so there's no emergency.
Lumm's police staffing proposal called on the administrator to make additional cuts to the budgets for mayor and council, public services, human resources and 15th District Court.
"While I think we'd all like to have a few more police officers, I'm not willing to put this kind of stress on all the other budgets to see that that gets done," Hieftje said.
"What bothers me about it is adding people that we may not be able to support in the coming years," he added. "We're already looking at having less revenue next year."
Lumm, an independent who was elected to council from the 2nd Ward in November, expressed disappointment in her colleagues for not supporting her budget amendments.
Her proposal to restore fall leaf pickup and holiday tree pickup services also suffered defeat in a 7-3 vote, with only Tony Derezinski, D-2nd Ward, and Anglin joining in support.
The city's staff indicated the recurring costs to restore both services would be $300,484, and another $383,000 would be needed to purchase two street sweepers.
Other council members said they didn't see tree pickup as a vital service, and they cited concerns with the fall leaf pickup program, saying it clogs up city streets with leaves and that hidden objects buried in leaf piles have damaged the city's equipment.
Council Member Sabra Briere, D-1st Ward, attempted to zero out the mayor's and council's $6,500 budget for conferences and travel, but only Lumm joined in support. Other council members argued the money is rarely touched, but it's important to have when needed.
Lumm and Sandi Smith, D-1st Ward, won support for an amendment to use nearly $50,000 in general fund surplus money to maintain human services funding at $1.24 million.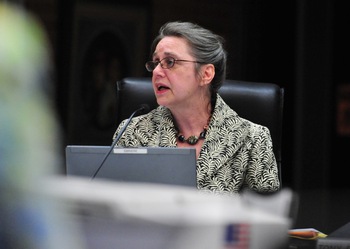 Ryan J. Stanton | AnnArbor.com
Briere's resolution to
get rid of the RecycleBank recycling rewards program
also passed by an 8-3 vote. Council Members
Christopher Taylor
, Teall and Derezinski said they weren't sold on RecycleBank yet, but they were in favor of keeping it around another year.
Others agreed with Briere that there's not a big enough benefit to the city to spend more than $100,000 a year for the next 10 years on RecycleBank.
"It's very hard to see the lift, if any, that's provided by this program," said Council Member Carsten Hohnke, D-5th Ward. "It's not working for us as we planned."
There's a $107,200 one-time cost associated with eliminating the program, so it's just about break even for the next budget year, but there will be savings in future years.
An attempt by Lumm and Kunselman to reduce the city's public art budget by $307,299 was defeated with no other council members supporting the proposal.
They wanted to eliminate about $185,000 in transfers to the art fund from the water, sewer and stormwater budgets, as well as $122,500 in expected transfers from the street millage.
Kunselman's proposal to generate extra local funding for fire staffing also was defeated in an 8-3 vote with only Lumm and Anglin joining in support.
Kunselman wanted the Downtown Development Authority to follow an interpretation of city code that would call for the return of $659,771 in tax-increment financing dollars to local taxing jurisdictions in the next year, including $199,360 to the city's general fund.
Hieftje suggested Kunselman was using the DDA as a political punching bag and said he could end up delivering a blow to the city instead.
Taylor won support for his proposal to restore a 15th District Court secretary position that was slated to be eliminated. The position added $76,193 in costs to the general fund, but most council members agreed it was necessary to maintain quality services at the court.
Lumm argued the district court missed its budget reduction target by $212,000 and she didn't want to give the court a free pass on that.
Ryan J. Stanton covers government and politics for AnnArbor.com. Reach him at ryanstanton@annarbor.com or 734-623-2529. You also can follow him on Twitter or subscribe to AnnArbor.com's email newsletters.