Posted on
Thu, Apr 21, 2011 : 5:55 a.m.
Ann Arbor Police chief says he was 'ashamed' of conditions police officers endured inside city hall
By Ryan J. Stanton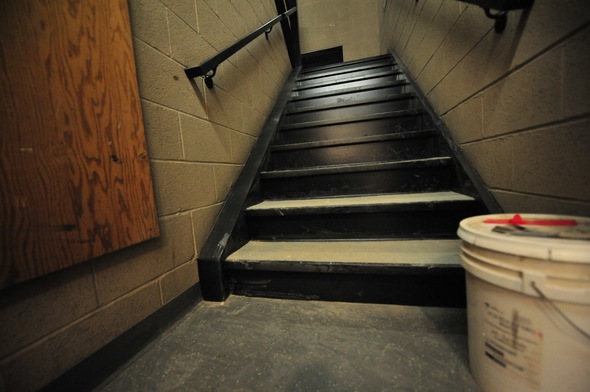 Ryan J. Stanton | AnnArbor.com
Police Chief
Barnett Jones
said this week he's embarrassed and ashamed of the conditions that
Ann Arbor police officers
had to work in for many years.
In addition to concerns about high radon levels, Jones said other circumstances police officers endured in their former basement and first floor offices in city hall were unacceptable.
"You hear their stories about how the water was running down on them — and you've got to remember now, there's complaints about asbestos, too — and you've got the water coming down on them, and it stunk like maybe it was sewer water," he said. "It was just bad."
Numerous tests conducted in the basement of city hall over the years showed radon levels far above amounts considered acceptable by the U.S. Environmental Protection Agency.
The police officers union also has cited concerns with mold and asbestos, which were present, and believes the mix of those elements may have contributed to health problems experienced by several officers, including two who died of cancer in the last two years.
The Ann Arbor Police Department and its 124 sworn officers now work out of the new police-courts building adjacent to city hall, a complex officially known as the Ann Arbor Justice Center. The city built it at a cost of nearly $50 million and the project is just now wrapping up.
"There were a lot of police officers who retired and have come forward and said, 'Man, this is our building and we never got it. We never thought this was going to happen,'" Jones said.
Even though they have a new building, Ann Arbor police officers will continue to use the city hall basement, said Bob Cariano, the city's safety manager.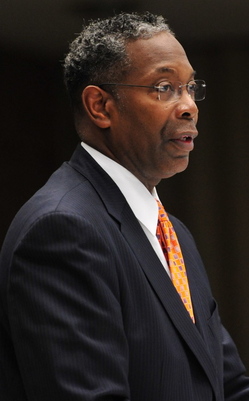 Ryan J. Stanton | AnnArbor.com
Cariano said no employees will be stationed in the basement, but the police lockers and other meetings spaces that city employees will use are located there. He said the city has installed a completely new sub-slab pressurization radon mitigation system to ensure safety, and asbestos also has been removed.
"We will not have any employees currently assigned to the basement as a whole," he said. "The only thing they'll be down there for will be training sessions. We've got three training rooms that are down there and, in most cases, that'll be in less than a four-hour window at any time."
Cariano said officers should only have to be in the basement locker rooms for a half-hour prior to the start of their shift and then at the end of their shift.
John Elkins, president of the police officers union, said the union isn't taking any chances. It's going to request testing of the space before it occupies it.
"We're going to want to know with some certainty that it's safe," he said, adding radon and asbestos remain a concern because of the loss of two officers, Vada Murray and Jason Zogaib, to cancer. "You think about it a lot because of Jason and Vada and some of the others who have passed away shortly after retirement with similar illness."
Kurt Hudgins, president of Ann Arbor-based Protech Environmental Services, does radon testing and mitigation work all over Washtenaw County and Southeast Michigan. His company conducted tests in city hall in March 2009 and informed city officials that remedial action was needed to address radon levels that ranged from 15.6 to 21.7 picocuries per liter of air.
The EPA action level is 4 pCi/L.
Protech has been working with the city on installation of the new radon mitigation system in the basement with the goal of reducing the high levels.
"We're actually still working with the city on the issue," Hudgins said. "It's been a long, ongoing process with the remodel, so we're in and out of there. We're still not complete."
Cariano said the city cut open the basement floor and trenched down to put in the new system to extract radon from the ground. A system of four-inch PVC pipe with several openings draws the gas through a powerful pump system and then spits it out away from the building.
"We've done some preliminary testing and our numbers are well below the threshold limit of 4, and once we get the building closed up again, we'll bring the contractor back in again and do final testing," Cariano said, adding that'll probably happen in the next 45 days. "We've still got the basement under renovation so we're not using it at this point."
Cariano said the previous mitigation system was designed to draw radon gas from under the basement floor, but it was not working properly, and the city didn't fully realize that until it started construction.
Radon is a naturally occurring, radioactive gas formed by the breakdown of uranium. It is tasteless, colorless and odorless, and is found in soil and rocks.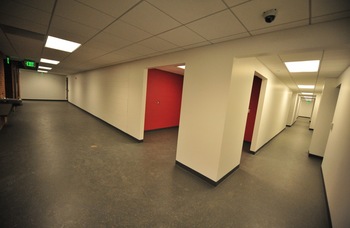 Ryan J. Stanton | AnnArbor.com
Cariano said the city will do ongoing testing to monitor the new system. That's something the union believes the city neglected previously.
"The recommendation is to do a minimum three-month testing out of the year," Cariano said. "And we'll be doing that probably starting mid-December through March every year just to monitor our levels and make sure they don't start to creep back up for some unknown reason."
There is no basement in the new police-courts building. And with a modern heating and cooling system in place, city officials don't expect radon to be an issue there.
Jones, who became police chief in 2006, said he couldn't believe there was opposition in the community to the police-courts building project when he came to Ann Arbor.
"I get here and there's an active group of very vocal citizens who were talking about the cops didn't need a building," he said. "And I came from the outside where I looked at this building and I smelled this building, and I'm like, 'Are you people kidding me?'
"You couldn't walk down the steps without water you believe is sewer water dripping on you or slipping on it, and you walk into the bathrooms and they stunk so bad."
Jones said female officers were treated like they were an afterthought in the old building because there were no female officers when it was designed in the 1960s.
"So they built spaces for them that were in closets," he said. "And I mean, it was unbelievable. And then you could have citizens come in contact with child molesters and pedophiles and people who committed rape because there was no appropriate space for them."
Jones said he was appalled that the city was subjecting police officers and citizens to those kinds of conditions.
He recalled a time he was coming out of the bathroom when he saw a young woman and her two children sitting on a bench next to a man who was a convicted sex offender.
"I remember walking past them and I went, 'That ain't right.' And I went back and said, 'Can I help you?'" Jones recalled. "Everybody was at lunch, and she said, 'I'm here to get fingerprinted for a job.' And he looks at me, 'I'm here to register.' So I have a man here sitting on a bench with a woman with two kids, and he was a sexual predator. So I took the lady and her two kids upstairs with me because that was not right, and that happened every day."
The holding rooms were another story, Jones said.
"We had the old-style hook in the floor for handcuffing people," he said. "I mean, come on. You don't have that in Ann Arbor. You don't have that in a progressive, professional, intelligent community. But they were subjecting members of the police department, citizens of the community, and even bad guys we arrested, to those type of conditions. I told people then I had never seen conditions like that. I was ashamed. I was ashamed."
Jones said high radon readings in late 2008 were the last straw, and he started lobbying to move his employees out of the basement. The eventual move-out started in February 2009.
"I didn't want to take a chance," Jones said. "As a chief, my people come first. They had fear. I needed my people not to have a fear."
Other top city officials don't disagree conditions were bad. And in fact, that's one of the reasons cited for moving forward with construction of the new building.
A police department employee who preferred to remain anonymous told AnnArbor.com there were dozens of buckets and trays in the ceiling above where police worked to catch rain that leaked through a promenade into the first floor of city hall.
Murray, who died of lung cancer on April 6 after two decades as a police officer in Ann Arbor, mentioned those same buckets in a video testimony before his death. He believed the issues with radon and asbestos in city hall caused his fatal health problems.
"Water leaked into the first floor on a continual basis," the employee wrote in an e-mail. "This was evident by the discolored ceiling tiles on the first floor. The hidden secret was that approximately 50 containers (most five gallon buckets) were placed in the ceiling to catch the rain. The containers were never emptied or cleaned."
Added the employee: "The containers just sat there with water, mold or dry depending on the weather. On particularly rainy days, full five-gallon buckets would crash through the tiles."
Ryan J. Stanton covers government and politics for AnnArbor.com. Reach him at ryanstanton@annarbor.com or 734-623-2529. You also can follow him on Twitter or subscribe to AnnArbor.com's e-mail newsletters.