Posted on
Wed, Apr 14, 2010 : 11:03 a.m.
Proposed cuts to Ann Arbor police and fire draw criticism from union, council candidates
By Ryan J. Stanton
Proposals by Ann Arbor leaders to cut deep into police and fire services to balance the 2010-11 budget are drawing heavy criticisms this week from the firefighters union and a group of candidates running for City Council.
Late Tuesday night, four candidates seeking to oust members of the current Ann Arbor City Council majority released a joint statement opposing the cuts.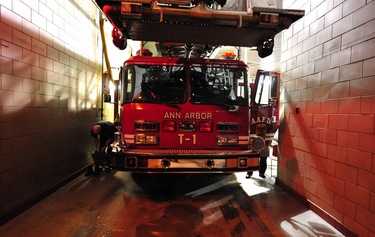 File Photo
The four candidates — all Democrats — are Patricia Lesko, who is running for mayor, 1st Ward candidate Sumi Kailasapathy, 4th Ward candidate Jack Eaton and 5th Ward candidate Lou Glorie.
They called the potential cuts in City Administrator Roger Fraser's proposed 2010-11 budget "unnecessary" and a "disservice to taxpayers."
Also on Tuesday, Matt Schroeder, president of the firefighters union, released an open letter to the City Council, arguing Ann Arbor deserves better fire protection.
"As Local 693 has continued to find ways to have input into Mr. Fraser's quest for a regionalized fire service for Washtenaw County, we remain disappointed by the lack of interest by the city administrator for our input into the process," Schroeder wrote. "With proposed cuts to our department being double of other city departments and our ability to provide services proposed to reduce our ability by 22 percent, I challenge you to reconsider cutting the fire department. We were leaders in our attempt to help the city overcome its financial struggles by taking a 3 percent cut and contributing more to our pension. We have been committed to the safety of our citizens to include the students of our university. We are truly lean and fiscally responsible."
Schroeder urged council members to ask questions of the administrator, the fire chief and the union. He said he's been directly impacted on a personal level by the most recent fire fatality in the city and knows from a professional perspective what it could have been if the fire department had already been cut by then.
"This is an emergency, please do not allow this core service to be politicized," Schroeder wrote. "The citizens deserve your leadership on this issue. Their safety is at stake."
Schroeder directed council members to read a recent Detroit Free Press article that reported frustration is growing over how some communities in Southeast Michigan are responding to their mutual aid agreements for fire protection, and fire aid pacts aren't holding up.
Fraser and his staff have worked in the last several months to close an additional $5.2 million gap in the city's budget. Those cuts impact public safety more than any other area. 
Fraser acknowledges it hasn't been easy to put together the budget this year, but millions needed to be cut and public safety makes up half the city's general fund. The job eliminations in the police department are expected to save $1.6 million, while those in the fire department will save $2 million. Another $270,000 in savings is expected from a reduction in police vehicles.
"This proposal has been difficult to prepare in light of the hard choices that need to be made in order to present a balanced plan," Fraser told the mayor and council in his budget memo.
"It is tedious and painful work to prepare a budget when the economic times are so very bleak, as now. We know that our job is to serve the citizens of Ann Arbor in the very best way possible with the money we have available. Getting to consensus around an expenditure plan is more difficult than ever when the choices look and feel draconian."
Unless the City Council rejects Fraser's plan, 20 positions in the fire department and 20 in the police department will be eliminated in July.
The four challengers running for council argue in their joint statement that the cuts will take the number of sworn officers down from 99 to 87, which they say is too deep a cut when Ann Arbor already has as few as six police officers on patrol at any given time.
"Cutting emergency services has become business as usual when closing these alleged budget gaps," Lesko said. "In all the budgets the administrator has presented to council since 2003, he has inaccurately projected deficits. In 2009, Mr. Fraser's general fund budget projections were off by over $2 million. Ann Arbor's general fund ended up with $2 million more than his budget projected it would.
"Mayor and council have the money to fund police and fire. All they need to do is to direct the city administrator to rein in overhead— start with the $1,000 oil changes charged by the city's fleet department to our fire department, and the $50 wiper blade replacements charged by the fleet department to our police department. The city's fleet department has accumulated a $10 million cash surplus, part of which should be returned to the general fund to fund police and fire services."
Eaton, a labor lawyer with experience negotiating union contracts, said he questions the motivations behind the proposed cuts.
"Our city needs to partner with our unionized employees to realize all possible savings," he said. "This latest threat of job loss is a poorly disguised attempt to coerce further concessions from those unions. Good faith bargaining requires honesty and mutual trust. This bullying is disrespectful to our public employees and ultimately does a disservice to taxpayers who pay the bills."

Lesko, Kailasapathy, Eaton and Glorie pledged that should Fraser's proposed 2010-11 police and fire budget cuts be enacted, if elected, they will co-sponsor a resolution to re-open the budget and direct the administrator to reverse the cuts.
Glorie said fire and safety services are indispensable. She also thinks proposed water and sewer rate increases can be avoided.
"I suggest the city release the surpluses in the IT, solid waste and fleet funds immediately to pay for essential services and prevent an escalation of water and sewer rates into the exosphere," she said. "And while we're at it, let's stop the borrowing. Our city's CFO brags about the city's AA+ credit rating from Standard and Poor's. Since the bond rating industry gave top grades to subprime derivatives, this does not reassure."
Kailasapathy, a certified public accountant, said she has analyzed the city's budget and thinks there's enough money to maintain police and fire services at current levels.
"Our primary goal should be to provide basic services such as fire and police services to our constituents," she said. "Ann Arbor City Council needs to move away from a culture of anecdote-based budgeting and indulging in spending sprees, to a more objective method of budgeting that is grounded in numbers that ensure human safety and well-being."
Lesko, Kailasapathy, Eaton and Glorie have announced they will be hosting a meet and greet event at Vinology on Main Street in downtown Ann Arbor from 5-7 p.m. Sunday.
Ryan J. Stanton covers government for AnnArbor.com. Reach him at ryanstanton@annarbor.com or 734-623-2529.