Posted on
Tue, Mar 29, 2011 : 5:59 a.m.
Rep. Rick Olson gets earful on state budget issues on door-to-door outing in Washtenaw County
By Ryan J. Stanton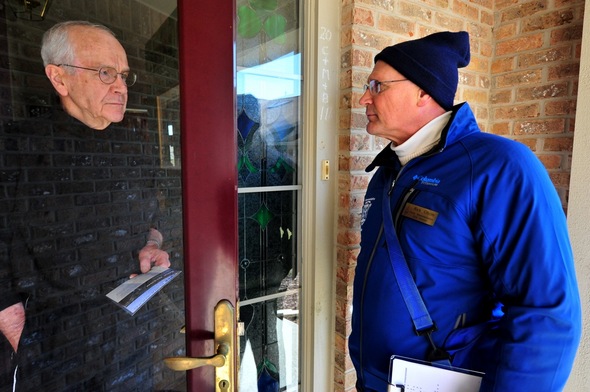 Ryan J. Stanton | AnnArbor.com
Before going door-to-door on Monday afternoon in
Pittsfield Township
, state Rep.
Rick Olson
predicted he might not get a warm reception from every resident.
With all that's happening in Lansing, including efforts to slash education funding and start taxing the pensions of seniors, the Republican lawmaker from Washtenaw County's York Township expected to hear concerns from the mostly 60-and-older community off Lohr Road.
And he was right.
Philip Kearney, a retired faculty member from the University of Michigan's School of Education and author of a primer on Michigan school finances, had choice words for Olson, who is generally supportive of Republican Gov. Rick Snyder's state budget proposal.
"He's screwing the schools," Kearney said of Snyder. "Old guys like me, too, on retirement. I'm willing to pay my taxes, but I think the damn business tax ought to be a little higher. All you Republicans think all that stuff trickles down. I don't believe that."
The state budget cuts Snyder has proposed — partly to close a $1.4 billion deficit and partly to finance $1.8 billion in tax breaks for businesses — would negatively impact schools, universities, cities, townships, counties, senior citizens and low-income wage earners, among other groups. It also promises deep cuts to the state's film incentives.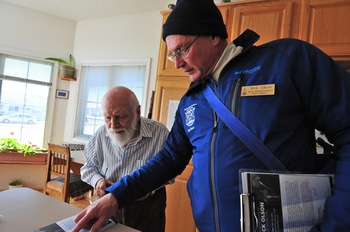 Ryan J. Stanton | AnnArbor.com
Snyder has defended his proposals by saying short-term pain is needed to reposition Michigan's economy for the future. He believes lowering business taxes, financed by measures like eliminating tax credits for the working poor, will create jobs.
"He's certainly making an attempt to try to reset the state, but you gore a lot of oxen in the process," Olson told Kearney. "There's no guarantee that it'll work. That's for sure."
Olson's door-to-door outing was an attempt by the freshman lawmaker to connect with constituents and gain feedback as the Legislature takes up Snyder's budget.
Most residents who answered their doors smiled and told Olson thanks for stopping by, but they didn't have much else to say. But those who did have concerns were frank in their remarks to Olson.
Diane Price, a former administrator from Princeton University who came to Ann Arbor for retirement, decried Snyder's proposed cuts to education. That includes a 15-percent reduction in funding for state universities and cuts to K-12 education that work out to about $700 per student when factoring in increased mandatory pension contributions.
"If you don't have education, a way of bettering yourself, it costs taxpayers more money than the other way around," Price said, suggesting it'll just lead to higher crime rates and increased costs on the public safety and justice side of government budgets.
Price said she thinks a better solution would be implementation of a graduated income tax system, which would require a state constitutional amendment. She added she's in favor of taxing pensions, even though she's one of those who would be taxed.
"What I'm not for is decreasing the taxes for businesses, decreasing the state tax rate," she said. "I would go higher and I would have it graduated, so that those of us who have money pay for education. I don't see what Rick Snyder is doing with his emphasis on education and keeping the smart people in Michigan, but then cutting the money that would go toward that."
Price said things could be worse: She could still be living in New Jersey. "There they have a governor that's worse than Rick Snyder," she said.
Olson told residents like Price and Kearney he expects to stay on the forefront of the education discussion in Lansing in the coming weeks.
"Education is something that's really important to me because my dad died when I was 2 months old and my mom raised six of us kids on welfare, and her mantra was 'get an education and work hard,'" Olson said. "And all six of us kids got a college degree, all of us have worked hard and done well, and that was our way out of poverty. So it's critical for many people."
Despite being a freshman in the state House, Olson has landed key assignments in committees dealing with tax policy, transportation, banking and administrative rules.
"Obviously we've got a lot of issues we're working on and the No. 1 goal is to get this economy going again," he said. "And in the midst of that, we've got to balance a budget this year, so that's raised a lot of concern as well, because none of our choices are good."
Olson said he's "generally in line with" Snyder's overall budget proposal, but there are a few parts that may requiring some tweaking.
"I guess one of the things I sense is the pension tax may be reworded," he said. "There's an informal income threshold, but there's no firm income threshold. That's something we're going to be looking at. It all boils down to money in the end."
Olson said he's talked with Snyder about his pension tax proposal and it's not the governor's intention to tax the elderly poor.
"In talking with him, it's his belief in the proposal that most people would have to have something over $41,000 of income before they would be taxed," he said.
Olson said education is an issue he's zeroing in on. He has about seven years experience as a school business manager split between Adrian and Harper Woods, and his wife Linda last year became superintendent of Richmond Community Schools in Macomb County.
Olson said he's been in talks with the governor's administration and House Speaker Jase Bolger, and he believes Snyder's K-12 proposal may need some tweaking. He said an across-the-board cut for all school districts could spell disaster for some communities.
"I'm gathering case studies on some districts that have already done major cuts and who are at minimum foundation grants, and I'm asking them to assume even more cuts or make various assumptions and projections and to look at where would their budget be next year," he said.
Olson said he hasn't gotten those case studies back yet, but he's assuming some of them are going to come back with grim results. And if that's the case, he said, that's probably an indication that Snyder's budget proposal has gone too far.
"I suspect there's going to be some districts under water, and if that's the case, that just doesn't work," Olson said. "We can't intentionally put them under water."
In response to concerns Kearney raised about the elimination of the state's Earned Income Tax Credit, Olson said he wasn't sure whether that proposal was going to survive.
Kearney urged Olson not to go along with Snyder on cuts to schools, saying if Michigan doesn't invest in educating its youth, the state is going to be worse in the long run.
"The schools have been cutting the hell out of everything for a long time, as you well know," Kearney said. "I mean, they're probably down at the bottom, they're down to the bone."
Ryan J. Stanton covers government and politics for AnnArbor.com. Reach him at ryanstanton@annarbor.com or 734-623-2529. You also can follow him on Twitter or subscribe to AnnArbor.com's e-mail newsletters.