Posted on
Tue, Aug 3, 2010 : 9:58 p.m.
Ann Arbor's Rick Snyder wins Michigan's Republican nomination for governor
By Nathan Bomey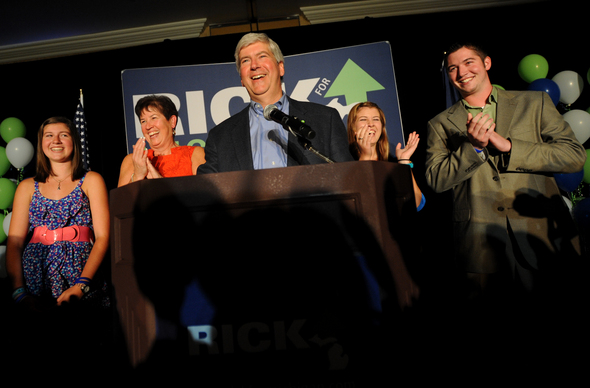 Melanie Maxwell | AnnArbor.com
Ann Arbor venture capitalist Rick Snyder, the former Gateway president who was virtually unknown to the political world just six months ago, won Michigan's Republican nomination for governor tonight.

Snyder, 51, who relentlessly labeled his four GOP opponents as "career politicians" and championed his own business experience, had 37 percent of the vote with 71 percent of precincts reporting. U.S. Rep. Pete Hoekstra had 26 percent, Michigan Attorney General Mike Cox had 23 percent, and Oakland County Sheriff Michael Bouchard had 12 percent.

Snyder told a crowd of several hundred supporters at the Marriott hotel in Ypsilanti that it was time for "someone from the real world showing Lansing" how to govern.

"This campaign is about creating a positive future for Michigan where all Michiganders can win together," he said. "Michigan is an economic disaster. We need to focus in on jobs and creating a place for our young people."
He added: "We have a broken culture. We've been beaten up for a lot of years. We have our heads down too much. But you are the catalyst for changing that and bringing that positive fire of entrepreneurship and innovation back to Michigan."

When Snyder launched his campaign in July 2009, he was essentially unknown in the political world, although his business ties and personal wealth distinguished him from his competitors. As recently as six months ago, he was polling in the single digits among likely GOP voters.
By early 2010, some 80 percent of GOP voters still hadn't heard of Snyder, which led the campaign to gamble by branding him as "one tough nerd" in a Super Bowl ad aired throughout Michigan. The ad sparked a "fabulous response," Snyder said Monday, and gave him a quick boost in the polls.
The campaign stuck to a message focused exclusively on revitalizing Michigan's economy by redesigning the state's business tax structure and reconfiguring its economic development strategy.
"We need to reform our regulatory environment and realize that the comeback of Michigan is going to be Michiganders creating and growing small businesses," he said.

Snyder, offering a preview of sorts to his general election strategy, said he would fight political bickering.

"We have a broken government," he said. "Special interests have far too much influence. We have far too much partisanship. And it's time for bureaucracy to go away."
Snyder, who spent more than $5.8 million of his own cash on the primary, consistently portrayed himself as a political outsider whose business experience can disentangle the legislative gridlock in Lansing.
"If you're happy with our current system, you should seriously look at those people," he said at a press conference last year kicking off his campaign."If you fundamentally believe we are a disaster and we lack leadership, I am the clear choice."
Chris Rizik, Snyder's venture capital business partner for the last 13 years, was jubilant tonight.
"I cannot express my feelings right now," he said. "It's that time with him that's made me more convinced than ever that he's the right man to lead this state."

As Michigan's economic crisis continues to loom, Snyder is likely to be considered the favorite to succeed Jennifer Granholm as Michigan's next governor.
Voters polled by Rasmussen Reports in June found that Snyder would have the support of 42 percent of voters in a general election race against Democratic gubernatorial nominee and Lansing Mayor Virg Bernero, who had 30 percent in the poll.
"Either Democrat will likely enter the general election at a disadvantage to the GOP's nominee," Politico reported today.
By winning the nomination, Snyder joins a chorus of political candidates throughout the U.S. who are finding success by highlighting their political inexperience and business experience.
Snyder's former colleagues in the technology sector are also have success with voters. In California, for example, former Hewlett-Packard CEO Carly Fiorina won the GOP nomination for U.S. Senate, and former eBay CEO Meg Whitman won the GOP nomination for governor.
During the campaign, Snyder was forced to fend off accusations that he "shipped jobs overseas" as an executive and board member at Gateway. But government records showed that the company grew from fewer than 1,000 employees to more than 10,000 in the U.S. during the Snyder was an executive from 1991 to 1997. It was only later, when Snyder was still serving on Gateway's board, that the company started to crumble.
But voters tired of Michigan's crumbled economy seemed to embrace Snyder's claim to be a "job creator." As a venture capitalist in Ann Arbor, his most successful investments included rapidly growing local companies like HandyLab and HealthMedia.
"I'm a software engineer and I'm a nerd, and I think this guy has the right answers," said Kevin McGinnis, a software engineer who drove from Grand Rapids to Ypsilanti for the party. "I was the victim of being downsized a year ago, and I think this is the guy to make it possible to get more jobs here."
Jeff Williams, CEO of local tech company Accuri Cytometers, said Michigan needs Snyder's leadership. Williams is former CEO of University of Michigan startup company and Snyder investment HandyLab, which is growing its Pittsfield Township operation after being sold for $275 million to Becton, Dickinson and Co. in 2009. He said Snyder isn't in it for the title.

"Rick does everything for the right reasons," Williams said. "He doesn't care if he's a one-term governor or a two-term governor. He just wants to get the state back on the right track."
Snyder supporter Bruce Heissenbuettel of Pittsfield Township said he was tired of traditional politicians.
"It really just felt like people were ready for a difference, not the same old thing," he said.

Contact AnnArbor.com's Nathan Bomey at (734) 623-2587 or nathanbomey@annarbor.com. You can also follow him on Twitter or subscribe to AnnArbor.com's newsletters.