Posted on
Mon, Apr 9, 2012 : 2:56 p.m.
Rick Snyder recall petition language approved in 2-1 vote by Washtenaw County panel
By Ryan J. Stanton
The Washtenaw County Election Commission voted 2-1 on Monday to approve recall petition language submitted by a group trying to oust Michigan Gov. Rick Snyder.
The commission's approval paves the way for a group called Michigan Rising to get started on a second attempt to recall Snyder following last year's failed signature drive.
The hearing on the petition lasted about 20 minutes with an attorney representing Snyder arguing the petition language is unclear.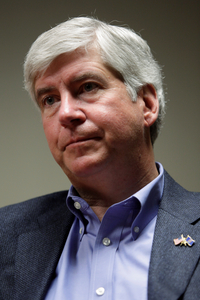 Chris Asadian | AnnArbor.com
Only one member of the commission, County Clerk
Larry Kestenbaum
, agreed with Snyder's attorney, while County Treasurer
Catherine McClary
and Washtenaw Circuit Court Judge
Donald Shelton
voted in favor of determining the language sufficiently clear.
McClary said the petition language is "clearly inflammatory" and Snyder probably finds it "clearly offensive" but it has clarity nonetheless.
Shelton agreed.
"It's a clear allegation to me," Shelton said, reading the first few sentences of the petition language that elaborate on how Snyder has "abused the children of Michigan."
There was some debate about that phrase and whether it was clear on a stand-alone basis. Shelton said it was clear based on the statements that followed it.
Kestenbaum said he didn't think the language was clear enough but that it would take very little change to make it clear.
Snyder opponents failed to collect the 800,000-plus signatures needed to put the question of recalling the governor on the ballot last year.
Dearborn resident Marion Townsend, a representative of Michigan Rising and the filer of the petition language, believes there's more support for recalling Snyder now.
"There has been a lot more that Gov. Snyder has done to basically alienate whole groups and communities of people since last year when we started our campaign," she said at Monday's hearing. "We've also got a year under our belt. We learned a lot over the past year about how this works, how to organize — we've got our grass roots going on."
Townsend said the group has no funding at this point other than small donations people have sent. She said the typical donation has been about $18.
"I think over the past year we have had maybe three $1,000 donations and the rest have all been $100 and below," she said. "Most of them are $3 to $25 and they're coming from people just like us — people who are watching these policies being enacted and are dissatisfied with the performance of Gov. Snyder."
Monday's hearing, held in Washtenaw County because that is the governor's county of residence, was only to determine whether the recall language is clear. The commission makes no judgment about whether the reasons stated justify a recall.
The approved petition language states:
"Governor Snyder has abused the children of Michigan. He cut thousands of children off food aid. He robbed $400 million from the School Aid Fund, then slashed school payments. This forced children into crowded classes. Then he signed more laws that privatize services, attack teachers and blame unions. Snyder raised taxes on retirees and low and middle income working people, to make them pay $2 billion a year. At the same time, he gave an 86% tax cut, $1.7 billion, to large corporations. Snyder signed Public Act 4 of 2011, the Emergency Manager Law. Snyder used the law to take over cities and school districts. Snyder removed officials elected by the citizens. Snyder's agents broke contracts and sold off public property cheaply to corporations.

"Richard Snyder has failed to pass a single law that helps Michigan citizens get jobs. He signed a law that cut state unemployment benefits from 26 to 20 weeks, and caused Michigan workers to lose 16 weeks of federal benefits."
Andrea Hansen, an attorney for Snyder, said a decision hasn't been made yet whether the governor will appeal the commission's ruling. He has 10 days to appeal.
Before leaving the hearing, Hansen expressed disappointment in the commission's approval of the petition language.
"I don't think the decision was correct," she said. "These are experienced, knowledgeable people used to looking at recall petitions, and if they had this much trouble deciding whether or not they understood it — or whether it was sufficiently clear — that tells me it's not sufficiently clear to the person standing on the porch."
Hansen acknowledged there are minimal standards for approval of recall petition language, but she said not even those were met.
"There are multiple statements in this petition that would fail the clarity standard," she said, questioning the first sentence that Snyder has "abused the children of Michigan."
Hansen said that statement is not only offensive and inflammatory, but it's also not understandable and could imply a lot of things. She also took issue with the statement that Snyder "robbed" schools of funding, which she said implies "some type of criminal conduct."
She also questioned the statement that Snyder has raised taxes on retirees and low- and middle-income working people. There have been no tax increases during Snyder's administration, she argued, only modifications of exemptions and credits.
Referencing the claim that Snyder is using the state's emergency manager law to take over cities and schools, Hansen noted the vast majority of emergency managers in place in Michigan were appointed under Gov. Jennifer Granholm.
Townsend, who identified herself as "nothing but a mom," said she has a 9-year-old daughter who is in a school that is "being hurt very badly by the policies that are being enacted by Gov. Snyder." Townsend was joined by Jan BenDor, election specialist for Michigan Rising, and an attorney. They recorded Monday's hearing using a tripod-mounted video camera.
Ryan J. Stanton covers government and politics for AnnArbor.com. Reach him at ryanstanton@annarbor.com or 734-623-2529. You also can follow him on Twitter or subscribe to AnnArbor.com's email newsletters.