Posted on
Wed, Nov 28, 2012 : 2:22 p.m.
Sidney Gilman, U-M medical professor in midst of insider trading scheme, retires
By Amy Biolchini
An 80-year-old University of Michigan neurology professor implicated in a federal investigation in an insider trading scheme has retired, U-M officials confirmed Wednesday.
U-M learned of the retirement of Dr. Sidney Gilman Tuesday, said Pete Barkey, public relations director for the U-M Health System. Gilman is accused of providing nonpublic information to a portfolio manager that led to massive, multimillion dollar trades.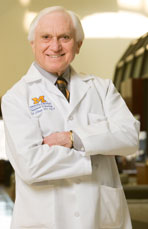 Courtesy U-M
Gilman is an Alzheimer's disease expert
and formerly served as the chairman of U-M's Department of Neurology from 1977 to 2004. Most recently, Gilman has been the associate director of the
Michigan Alzheimer's Disease Research Center
at U-M.
Barkey declined to discuss the details of Gilman's pension. He said the decision to retire was Gilman's.
Prior to the announcement of his retirement, Gilman was a full employee at U-M, Barkey said. Gilman made $258,019 in 2011-12, according to the U-M pay database.
The U.S. Securities and Exchange Commission filed a complaint against Gilman Nov. 20, accusing Gilman of providing Mathew Martoma, a former portfolio manager at CR Intrinsic Investors, with nonpublic information about the outcomes of an Elan Corporation and Wyeth clinical trial of an Alzheimer's drug that Gilman was overseeing between 2006 and 2008.
During the time that Gilman served as the chairman of the safety committee overseeing the clinical trial, he was employed as a $1,000-per-hour paid consultant for a New York expert networking firm that connected him with Martoma, according to the SEC complaint.
Gilman has entered into a non-prosecution agreement with the SEC and is cooperating with the federal investigation, according to his lawyer, Marc Mukasey.
Gilman has also agreed to pay $234,000 in disgorgement and prejudgment interest, and agreed to a permanent injunction against further violations of the federal securities act. The settlement agreement still has to be approved by the court.
U-M is conducting an internal review of Gilman's involvement in the matter, and has declined to comment on how Gilman's retirement affects the review process.
There is no date set for when U-M will make an announcement regarding the outcome of the internal review, Barkey said.
Saturday, U-M's Executive Vice President for Medical Affairs Dr. Ora Pescovitz sent an email to all UMHS employees reminding them to follow industry policies and standards of integrity when it comes to releasing information.
"In our teaching, patient care and research roles, we are entrusted with confidential information of many types, and we work hard to never betray that trust. We are proud of our rich legacy and disappointed when we fail," the email reads.
Gilman has published nearly 400 scientific papers, book chapters and abstracts, according to his biography on U-M's website, and is currently on the editorial board for a number of medical journals. His legacy at U-M was marked in 2003 with the establishment of an annual lecture series — the Sid Gilman and Carol Barbour Lecture in Neuroscience — and an annual Neurology Service of U-M hospitals, which was named The Gilman Service.
He has served on the U.S. Food and Drug Administration's Peripheral and Central Nervous System Drugs Advisory Committee and as a consultant for a number of major pharmaceutical companies.
According to the Michigan Department of Licensing and Regulatory Affairs, Gilman's license to practice as a medical doctor expires in 2015.
Amy Biolchini covers Washtenaw County, health and environmental issues for AnnArbor.com. Reach her at (734) 623-2552, amybiolchini@annarbor.com or on Twitter.