Posted on
Wed, Aug 1, 2012 : 5:59 a.m.
University of Michigan architect: Wall Street parking structure could be new neighborhood 'gateway'
By Kellie Woodhouse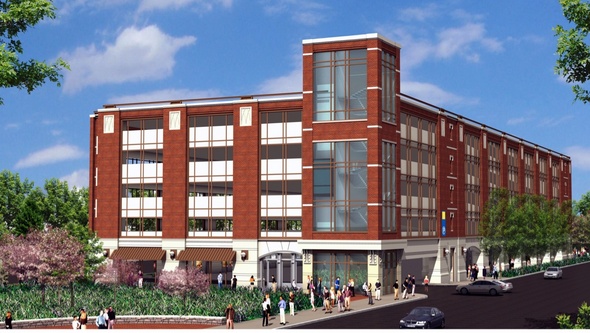 University of Michigan rendering
The University of Michigan envisions its planned six-story parking structure on Wall Street as a landmark that transitions drivers from downtown to Lower Town.
"Our parking structure is a gateway to this neighborhood," U-M architect Doug Koepsell told Ann Arbor residents who live near Wall Street. "We want it to look like a building, not like other parking structures.... We are trying to be a good neighbor."
For their part, the dozen-or-so Wall Street district residents that attended a meeting about the garage design Tuesday night would rather not see the proposed 'gateway' come to fruition.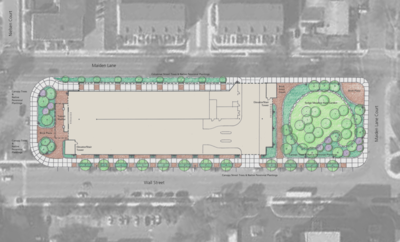 University of Michigan rendering
They're concerned about an increase in traffic
and a negative impact to environmental quality, pedestrian safety and serenity near the site.
Despite pleas and wishes otherwise, U-M is going forward with plans to build a structure on a Lower Town plot between Maiden Lane and Wall Street. Officials say that, due to the failure of the Fuller Road project and a growing parking shortage on campus, the structure is unavoidable.
U-M officials on Tuesday held their second public meeting seeking input on the structure's design from local residents. Responses from the first meeting, in April, partially influenced the schematic design for the structure, approved by the Board of Regents July 19.
Wall Street parking structure details:
Construction will likely begin in November.
U-M regents have approved the project budget at $34 million.
'Blue' U-M permit holders should be able to park in the structure by January 2014, the projected month of completion.
With roughly 725 spaces, the structure expands the lot's current capacity of 200.
Vehicle spaces will be 16.5 feet by 8.5 feet, smaller than most parking structure vehicle slots.
At six floors, the structure will be elevated roughly 70 feet above ground-level.
Exterior wall openings will be high enough to avoid headlights shining through the structure and bothering residents.
Kellie Woodhouse | AnnArbor.com
Traffic
A driveway located at the east end of the structure will allow cars to enter and exit the garage through either Wall Street or Maiden Lane. U-M buses shuttling remote parkers to and from the hospital will use a port at the west side of the structure.
According to U-M Department of Transportation director Steve Dolen, the school may use signage to control traffic flow into the garage to minimize roadway congestion.
"Based on the time of the day (the Maiden Lane entrance) might be only entrance in, but later in the day it could be in and out," he explained.
During Tuesday's meeting, some residents expressed concern that cars turning in and out of the garage could exacerbate traffic congestion during rush-hour.
Brick exterior
The structure's facade will be composed of light, dark and red bricks so it blends with the exteriors of surrounding buildings, Koepsell said Tuesday.
The exterior had previously been a concern among residents, who cautioned the university against building a facility that didn't integrate with the existing residences and hospital buildings nearby.
The mix allows the building to be "quite sympathetic to the neighborhood," according to U-M planner Sue Gott.
Timothy Mortimer, president of the nearby Riverside Park Place condominiums board of directors, said he was pleased with the brick.
"It generally looks great, it's really a good looking parking structure," he said.
Architects plan to plant trees along the lengths of the structure lining Maiden Lane and Wall Street. At the east end of the property architects will plant a sedge wetland meadow.
"We are trying to restore some of the river valley feeling that this neighborhood has had for a long time," said Koepsell.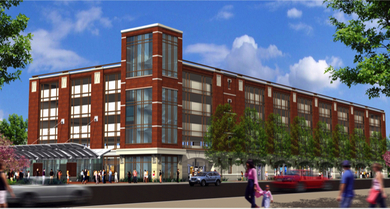 Photo courtesy of University of Michigan
Environmental impact
U-M plans to install a filtering system in the garage to improve the quality of stormwater inevitably caused by the structure. The garage "will have major features that retain some of the water... to minimize the first flow of stormwater," according to Koepsell.
Additionally, a charging station will be available for electric cars.
Some residents, however, expressed concern about the high level of cars concentrating near their residences on workdays.
"If you were to just encase that entire (structure) the exhaust from the cars would make it uninhabitable," said Eugene Daneshvar, who owns a condo in the Riverside complex. "And we live there."
Added nearby resident Rosemary Sarri: "You are presenting this as if it will [have] zero effect on the environment, and I do not think that that is the case."
Kellie Woodhouse covers higher education for AnnArbor.com. Reach her at kelliewoodhouse@annarbor.com or 734-623-4602 and follow her on twitter.