Posted on
Tue, Apr 16, 2013 : 5:58 a.m.
University of Michigan faculty call for greater focus on campus diversity
By Kellie Woodhouse
The University of Michigan faculty government is calling on the administration to improve student diversity at the school.
Faculty noted that there haven't been increases in minority enrollment over the past 18 years, and in the case of black students there has been a "precipitous drop."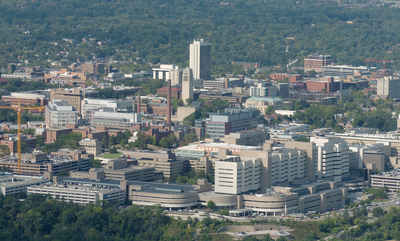 Underrepresented minorities make up 10 percent of the Ann Arbor school's freshman class, a decrease from last year, and faculty say they want to see U-M enroll a more diverse student body.
In a resolution passed by a 28-9 vote Monday , the faculty Senate Assembly called on administrators to pour more resources into achieving diversity and determine the cause of the lack of diversity on campus. They also encouraged U-M to broaden the scope of diversity beyond race to include sexual orientation, disabilities and marital status.
According to figures obtained by the faculty senate, 5 percent of U-M students enrolled in 2012-13 are black, 13.7 percent Asian, 0.2 percent Native American and 4.6 percent Latino.
In 2001, 8.8 percent of the student body was black, 13.8 percent were Asian, 0.7 percent were Native American and 4.7 percent were Latino.
U-M's legal team fought for affirmative action before the U.S. Supreme Court in 2003 in Grutter v. Bollinger, which upheld considering race in admissions as long as quotas aren't attached, but in 2006 Michigan voters passed a ban forbidding state universities from using affirmative action. Since then the school has not considered race in admissions.
Mary Sue Coleman, U-M president, has said she remains supportive of affirmative action. The legality of the 2006 voter-approved ban will be considered by the U.S. Supreme Court this year.
In passing its resolution, faculty government acknowledged U-M's legal efforts but said they were insufficient and the university needs to work harder to achieve greater diversity.
Gina Cervetti, a professor in the School of Education, said she supported the resolution because "there's a need for increased transparency" at U-M and the resolution is "a way to open up the conversation" about diversity.
Finn Larsen, a physics professor, voted against the resolution because he said the university's "heart is in the right place."
"It's a complex problem. There are no easy ways forward," he said. "They're doing what they can."
Below is the faculty resolution on diversity:
The University of Michigan is a great public institution. It is imperative that the university continue to work strenuously to create a learning community that reflects its aspirations to be a leader in public institution in our increasingly diverse twenty-first century society. Therefore, it is resolved that we request the administration to:

Seek to determine the causes of now decades-long lack of process in improving campus diversity.

Redirect university resources and strengthen leadership where necessary to achieve this goal of a more diverse and inclusive campus, supplementing any existing institutionalized programs and new creative approaches.

Broaden the scope of efforts to include modern definitions of diversity (not only race, color, and national origin, but also age, marital status, sex, sexual orientation, genes identity, gender expression, disability, religion, veteran status and economic class).

Support initiatives such as the U-M Alumni Association Leadership, Excellence, Accomplishment, Diversity (LEAD) scholarship program for out-of-state under-represented minority students, including, to the extent possible, making such programs a high priority in the next university capital campaign, within the limits defined by the state and federal Constitutions.
In a document explaining the resolution, the Assembly said the "situation is urgent" and the university's diversity strategy needs a "wholesale reassessment." Faculty suggested the university tackle its lack of diversity in part by recruiting students from high schools with high levels of underrepresented minorities, publicize financial aid for low-income families and offer summer programs and research programs targeted toward strengthening the experience of minority high schoolers.
While the Assembly offered these suggestions, it added that there are "no magic bullets that will immediately improve diversity on the Ann Arbor campus."
Kellie Woodhouse covers higher education for AnnArbor.com. Reach her at kelliewoodhouse@annarbor.com or 734-623-4602 and follow her on twitter.