Posted on
Tue, Dec 20, 2011 : 3:15 p.m.
University of Michigan's top 16 execs collect $6.85M in base pay
By Kellie Woodhouse
University of Michigan's top 16 executives make $6.85 million in base pay, according to 2011 salary figures released today.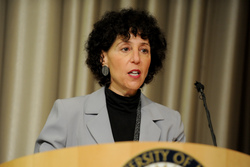 Angela J. Cesere | AnnArbor.com
Mlive.com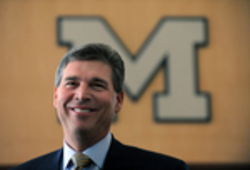 AnnArbor.com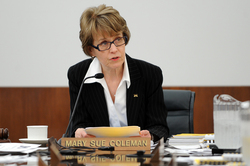 Melanie Maxwell | AnnArbor.com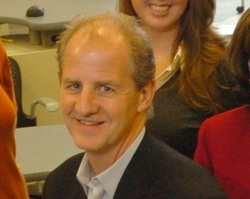 Booth file photo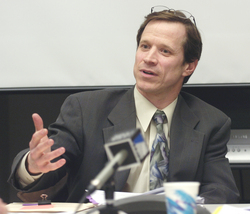 AnnArbor.com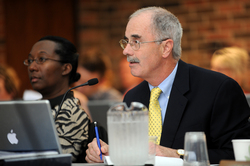 AnnArbor.com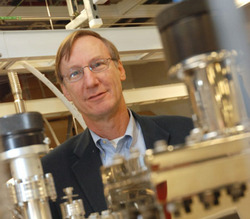 AnnArbor.com
The two ranking officials of the
U-M Health System
were paid the highest salaries this year.
Ora Pescovitz, executive vice president for medical affairs, topped the list at a base pay of $739,025, 2.5 percent above last year's $721,000. Douglas Strong, chief executive officer of U-M hospitals and health centers, is receiving a base of $612,000, up $12,000 from last year.
Pescovitz and Strong have led UMHS during the construction and opening of the $754 million C.S. Mott Children's Hospital and Von Voigtlander Women's Hospital and through tense contract negotiations with the U-M nurses union, which eventually resulted raising pay and benefits for nurses about 3.5 percent.
Pescovitz and Strong both receive deferred pay. Pescovitz gets $100,000 in annual deferred compensation. She also receives performance-based pay, which can reach $150,000 per year. Strong receives $60,000 in deferred compensation and is eligible for an additional sum based on his performance.
Athletic Director David Brandon is the third-highest paid official, making a base of $600,454, up about 4 percent from last year's $577,360 compensation. Brandon's compensation package also includes $100,000 in yearly deferred compensation. Brandon's contract allows him to earn additional compensation based on performance.
In his two years as director, Brandon hired football coach Brady Hoke (who makes about $3.25 million a year), orchestrated U-M's first-ever night game and restructured the marketing arm of the athletic department.
President Mary Sue Coleman comes in fourth, at $585,783, up 2.75 percent from last year's compensation of $570,105. Coleman donated her raise this year to a scholarship fund.
Coleman's total compensation package, however, exceeds $910,700. In addition to $175,000 in deferred compensation, a $100,000 yearly retention bonus and more than $50,000 in annual retirement pay, Coleman also gets the use of a car and U-M's 162-year-old president's house.
Coleman has also been reported to make about $230,000 for sitting on the board of Johnson & Johnson and another $137,000 for belonging to the board of Meredith Corporation, a media and marketing company.
Coleman has led the university since 2002. During that time the school's endowment has more than doubled. Recently, she launched a new program that will invest endowment funds in university start-ups and another initiative to promote sustainability on campus.
Erik Lundberg, the school's chief investment officer, ranks fifth in base pay at $575,000. Lundberg has received no raises in base pay during the past two years, but receives additional compensation based on the performance of university investments.
Lundberg manages the university's $7.8 billion endowment, which grew by a staggering $1.2 billion last year and is the seventh largest of any university endowment in the nation.
U-M Vice President of Research Stephen Forrest received the largest hike in base compensation. His salary grew 12.5 percent, rising from $324,826 last year to $365,348 this year.
That raise is due to a 2.3 percent merit increase and a contract change that adjusted his salary so that it is competitive with the market rate, according to the university.
Laurita Thomas. associate vice president for human resources, said top administrators saw increases this year that paralleled staff and faculty increases.
"In the general scheme of things, it's a modest increase," she said. "We wish we could do more but that would not be responsible."
For example, Coleman's 2.75 percent increase was her lowest in years (except in 2009 when she chose to freeze her pay, along with several other administrators). In previous years, Coleman's increases have been 3 or 4 percent.
Aside from Forrest, Strong, Brandon and Lundberg, the average salary increase among top administrators was 2.7 percent.
Faculty salary increases averaged 2.8 percent in 2011, up from the 2.6 increase seen in 2010. Merit increases for deans, which do not include contract adjustments, averaged 2.9 percent.
However university staff saw a slight dip in their increase, according to university figures. Last year, salaries rose 2.3 percent for staff. This year, they rose 2.2 percent.
Thomas said that paying administrators competitive rates is essential to keeping U-M competitive as a university.
"We're trying to maintain competitive salaries but keep costs as low as possible," she said, adding that salary increases represent a continuing "investment in our leadership, faculty and staff."
Meanwhile, tuition this year increased by 6.7 percent and state funding declined by more than $54 million.
Here's a list of top U-M executives ranked by their base pay:
Ora Pescovitz — executive VP for medical affairs — $739,025
Douglas Strong — CEO of U-M hospitals and health centers — $612,000
Dave Brandon — athletic director — $600,454
Mary Sue Coleman — president — $585,783
Erik Lundberg — chief investment officer — $575,000
Timothy P. Slottow — executive VP and chief financial officer— $551,668
Philip Hanlon — provost and executive VP of academic affairs — $485,040
Stephen Forrest — VP for research —$365,348
Jerry May— VP for development —$355,136
Suellyn Scarnecchia — VP and general counsel — $312,206
E. Royster Harper — VP for student affairs — $301,168
Daniel E. Little — U-M Dearborn chancellor — $290,388
Cynthia Wilbanks — VP of government relations — $278,641
Lisa Rudgers — VP for global communications and strategic initiatives — $270,000
Sally Jo Churchill — VP and secretary for the university — $262,642
Ruth J. Person — U-M Flint Chancellor —$261,375
Kellie Woodhouse covers higher education for AnnArbor.com. Reach her at kelliewoodhouse@annarbor.com or 734-623-4602 and follow her on twitter.