Posted on
Sun, Feb 6, 2011 : 9:34 a.m.
U.S. Census Bureau figures show population losses in Michigan, but Washtenaw County is an exception
By David Jesse
News from the U.S. Census Bureau has not been kind to Michigan, which saw a decline of 54,000 residents. That means the loss of one of the state's 15 seats in Congress, beginning in 2012.
But the Census Bureau's county and local population counts, slated for release in the coming weeks, may offer a more complex picture, and even a bit of encouragement — especially for Washtenaw County municipalities.
One of the biggest gain areas is expected to be in Washtenaw County, where the University of Michigan and related business start-ups have, to an extent, sheltered the economy and brought new people to town.
Michael Land, 37, is among those who moved to the Ann Arbor area in the last decade.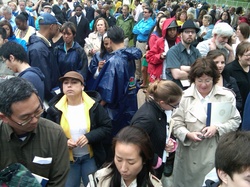 "I came for grad school, then got a job, then got laid off, then got a different job," he said. "I've got friends who live across Michigan who are having to move away in order to find a job. I've been lucky."
In December, the Census Bureau reported its 2010 counts for states and the nation as a whole. Those figures showed Michigan's population declined by about 0.6 percent, to just under 9.9 million people.
Local figures, intended for use in drawing new congressional and legislative districts, are to come out in February or March, though a precise time has not been announced.
In Washtenaw County, the city of Ann Arbor dropped about 1,700 residents, while surrounding townships — including Pittsfield, Scio and Ypsilanti Township[ — saw increases in population. Both Scio and Ypsilanti Township gained more than 3,500 residents apiece in the last decade, and Pittsfield gained almost 4,500.
At the county level, Census Bureau estimates predict the largest growth in residents will be in Macomb, Kent, Livingston, Washtenaw and Ottawa counties, each with an increase of 20,000 or more.
Read the Booth Newspapers special report on the U.S. Census and what it means for Michigan: