Posted on
Fri, Feb 10, 2012 : 11:40 a.m.
Washtenaw County, Humane Society reach tentative deal for animal control services
By Cindy Heflin
Washtenaw County will pay the Humane Society of Huron Valley $415,000 to continue providing animal control services this year under the terms of a tentative agreement announced Friday.
The agreement, which must still be approved by the county Board of Commissioners and the Humane Society, also establishes a process for determining the actual cost of providing animal control services.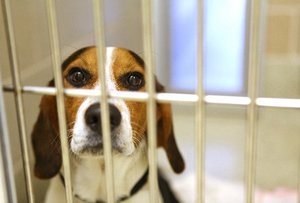 The agreement appears to
end a months-long dispute between the county and the Humane Society
over a fair price for animal control services.
The county said it would reduce its fund balance or rainy day fund to cover the cost, which is $165,000 more than the county included for animal control in its 2012 budget.
"I'm relieved that we were able to reach an agreement with HSHV that both honors their mission and recognizes our long-term budget constraints," said Conan Smith, chairman of the Washtenaw County Board of Commissioners in a press release, issued on Humane Society of Huron Valley letterhead stationery.
Mike Walsh, president of the HSHV Board of Directors, also praised the agreement. "Our collaboration is too important to let slip away over misunderstandings," Walsh said. "Both our institutions are under unusual pressures now, and the best way to serve Washtenaw is to continue our partnership."
Last fall, county and HSHV officials argued over the appropriate budget for animal control-related services, and the county ultimately reduced the annual allocation for HSHV from $500,000 to $250,000. HSHV officials responded that they would not be able to continue services for the county at that level. The county subsequently authorized a short-term appropriation to allow the organizations' leadership to investigate alternatives.
As part of the new agreement the county and Humane Society will participate in a process led by Sheriff Jerry Clayton to develop a cost model for an "animal service unit." The process will use Humane Society data to help determine that cost, the press release said.
The goal will be to develop a "mutually acceptable basis for estimating costs beyond 2012," the press release said. County and Humane Society obligations will be considered in the process.
The county is also considering creating an Animal Services Steering Committee to oversee the process and make a final recommendation on costs and budget to the Board of Commissioners, the release said.
The committee would include members of the commission and representatives of the county sheriff's, prosecutor and treasurer's offices, which each have statutory obligations for animal welfare.
"We've used a similar process successfully to build consensus on police services," Sheriff Jerry Clayton said in the release. "With dependable data and willing participants, we can negotiate a lasting solution that meets the needs of both the County and HSHV."