Posted on
Sun, Apr 1, 2012 : 5:59 a.m.
Winning Wolverine seasons bring an extra 1,200 donors, $3M to University of Michigan athletics
By Kellie Woodhouse
Melanie Maxwell | AnnArbor.com
More than $3 million and 1,200 additional donors. That's the difference between a mediocre sports season and a comeback one at the
University of Michigan
.
After three consecutive years of struggle and the hiring of a new coach, the Wolverine football team went 11-2 last year, while the basketball team just finished its winningest season in the Big Ten since 1994.
The wins elated fans as hundreds of donors either gave to Michigan for the first time or found the school again after a rocky, short-lived Rick Rodriguez era.
"When you have winning teams, things increase. The data that we are looking at right now is showing that," said Chrissi Rawak, senior associate athletic director for development. "A lot of giving has to do with people feeling good about the program."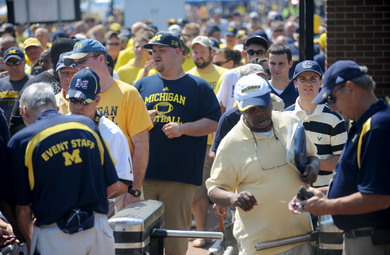 Angela J. Cesere
Between July 2011 and February 2012, the athletic department received $29.6 million in donations, up 12 percent from the $26.5 million collected during the same period a year earlier.
The number of donors also increased, rising from 15,280 during the first eight months of fiscal 2010-11 to 16,440 during the first eight months of fiscal 2011-12.
The uptick isn't a coincidence, according to Rawak. She says that there's "no question" that the string of Wolverine wins contributed to the extra cash.
"Conversation among alumni is that they are excited about the football team doing better, the basketball doing better. Athletics is always a big point of pride for them and something they respond to," said U-M Alumni Association representative Brad Whitehouse.
"There's more interest this year, but there's still that core group. There's always more interest when the team is doing well," Whitehouse said. "But it's not like a night-and-day thing."
Athletic department fundraising totaled $34 million in fiscal 2010-11, when the football team went 7-6 in 2010. Fundraising that year accounted for 28 percent of the athletic department's budget. Most of the department's other revenue comes from football, basketball and hockey. Those are also the sports that tend to excite donors the most, Rawak said.
That same year, Big Ten rival Ohio State University went 12-1 and raised $40.8 million, or 17 percent more than U-M. Ohio State football went 6-7 in 2011 and has raised $22.7 million since the fiscal year began in July. U-M athletics has a $3.8 million, 14 percent fundraising lead on Ohio State.
Although Rawak and a number of fundraising experts believe performance has an effect on fundraising, most say it's difficult to quantify.
"The research shows that it can have some impact, but it's not a huge impact and it can be short lived," said Rae Goldsmith, vice president of the Council of Advancement and Support of Education. "There are just so many factors beyond athletics that can be influencing fundraising, so it's really hard to tie a gift to (something specific)."
At U-M, for example, the athletic department development team, under second-year athletic director David Brandon, has restructured the way it operates in an effort to improve efficiency and donor connectivity.
Other influences can include the economy, facility improvements and events that generate donor interest, turnover in coaching positions and factors that raise or lower the profile of a university.
Fundraising at Ohio State, for example, may be dipping not only because of the school's field performance, but also because of the aftershocks of NCAA violations and veteran head coach Jim Tressel's 2011 resignation.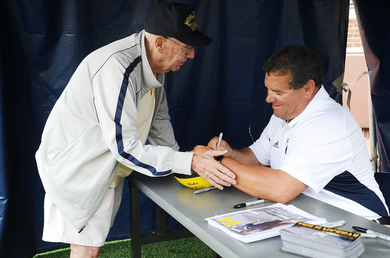 Melanie Maxwell | AnnArbor.com
Coaches —their likability, performance and ability to connect with donors— can have a significant impact on development, Rawak said.
"People give to people they connect with. If you have a special connection with a coach... that matters," Rawak says. "If you have constant turnover, it's challenging."
The Michigan football program received criticism and heavy scrutiny under Rodriguez, including eventual NCAA violations. In contrast, first-year coach Brady Hoke has received a generally positive reception at U-M.
"Alumni care a lot if the football team is not doing well. The three years when Rich Rod was coaching, it was hard on alumni. But I think in a lot of ways they're not really fair-weather fans either," Whitehouse said. "But it's not like people were as excited going to the bowl game that Rich Rod went to versus the Sugar Bowl."
Large donations, Goldsmith said, can also skew trends.
Goldsmith said a winning season itself isn't likely to change donation levels significantly unless a school's athletic department capitalizes on wins.
"They can use the visibility they gain to build engagement and repeat engagement over time does lead to growth in giving," she said. "You can't rely on a onetime athletics success. You have to keep engaging people even after the event and that's more likely to lead to long-term fundraising success."
That's the sentiment of Nikki Borges, director of development for Eastern Michigan University's athletic department.
"Good news makes people feel good about supporting a team," Borges said. "But that enthusiasm doesn't necessarily turn into dollars over night."
The EMU football team went 6-6 last season. While that may not constitute a winning season, it's the highest win average the Eagles have enjoyed since 1995.
The wins, however, haven't led to an immediate increase in donations to the athletic department. The school has actually seen a decrease in donors and donations this year, which Borges says is in part due to staffing changes at the development office.
Between July 1 and January 31, EMU athletics raised $321,000 from 791 donors. During that same period a year earlier, the school raised $577,000 from 932 donors.
EMU President Susan Martin said she doesn't think it will be long before Borges and her development team can begin capitalizing on recent successes.
"It's been many years since we've been competitive in men's basketball and football. We have 140,000 alumni and I think there's a real urge to see success in the programs that many people follow," she said. "It's something that will just bring attention to the university ... but I think we'll have to watch it over time because we're just beginning to be competitive."
Kellie Woodhouse covers higher education for AnnArbor.com. Reach her at kelliewoodhouse@annarbor.com or 734-623-4602 and follow her on twitter.