Posted on
Wed, Oct 3, 2012 : 5:59 a.m.
By the numbers: Washtenaw County charter schools boost enrollment by more than 28 percent
By Katrease Stafford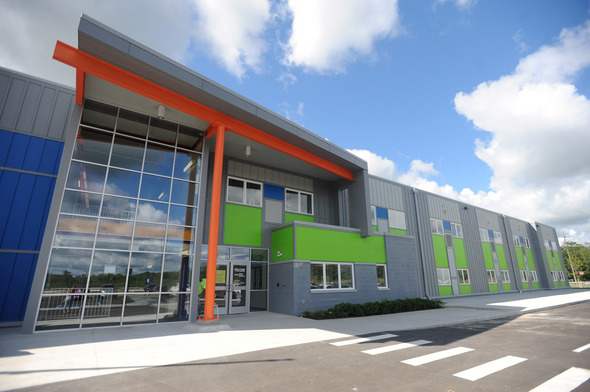 Angela Cesere | AnnArbor.com
Related story: Count Day 2012: Schools poised to make each student count
Early enrollment figures show an increase of more than 28 percent in the number of students attending Washtenaw County charter schools compared to last year.
The numbers, collected in advance of the state's official fall student count day on Wednesday, show charter schools in eastern Washtenaw County posting the biggest gains. In 2011, 3,900 students were enrolled in charter schools across the county, and that number increased to at least 5,003 for the 2012 school year.
The actual number enrolled is likely higher because one charter school, which opened this fall, declined to provide enrollment figures.
Enrollment is important because publicly funded charter schools get about $7,000 from the state per student enrolled. The state uses a formula that combines counts collected in the fall with those collected last spring to determine how much money each school gets.
One new school, South Point Scholars Charter Academy in Ypsilanti, has enrolled 571 students, school officials said. The school, which opened this fall, received 1,275 applications, school officials said previously. The academy turned away 670 applicants who were subsequently placed on a waiting list.
Among the biggest gainers was Arbor Preparatory High School in Ypsilanti Township, which in its second year of existence has grown from 161 students to 369 students, a 129 percent increase, preliminary figures show.
Part of the growth came from adding an 11th grade class this year. Last year, the school opened with only ninth and 10th grades.
But most of the growth occurred in the school's freshman class. Last year, the school had 130 freshmen enrolled. That number increased to 245 this year, said Principal Matt Hudson.
Another large uptick occurred at East Arbor Charter Academy also in Ypsilanti Township. Enrollment there increased 42.7 percent from 482 to 688 students.
Both South Pointe Scholars and East Arbor are managed by National Heritage Academies, a for-profit charter operator that also runs South Arbor and Fortis academies in Washtenaw County. National Heritage runs more than 40 schools in Michigan, and also operates in seven other states.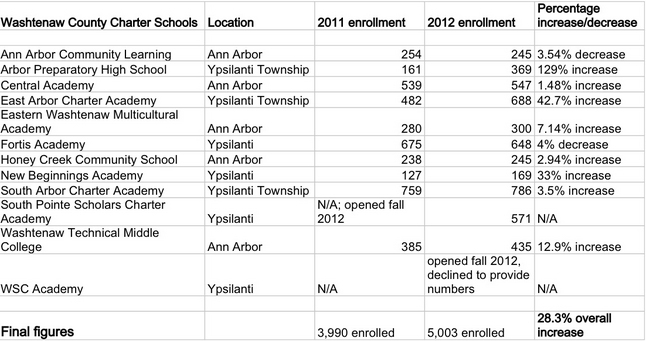 Katrease Stafford | AnnArbor.com
Hudson said his school is continuing to expand because of the number of of K-8 charter schools in the area. Two new charter schools opened this fall, bringing the total number of schools to 12 in the county.
"It was a huge outcry for students to continue their education at a charter school," Hudson said. "There are a lot of K-8 charter schools in the area ... . We're filling a need."
Besides Arbor Prep, only Washtenaw Technical Middle College and Eastern Washtenaw Multicultural Academy offer high school education among charter schools in Washtenaw County.
Buddy Moorehouse, vice president of communications for the Michigan Association of Public School Academies, said the trend of parents seeking out charter schools is not only occurring in Washtenaw County but across the state as well.
Moorehouse said 30 new charter schools across the state opened this fall, bringing the overall total to 275.
"About 116,000 students were in charter schools last year and that number will be higher," Moorehouse said. "It'll be up over 120,000 students in the state. We are seeing the patterns stay steady and we're seeing a lot more kids in charter schools. ... Almost 60 percent of the charters in the state have waiting lists."
Ypsilanti Township resident Christine Blossom enrolled her daughter, a ninth grader, at Arbor Preparatory after previously having her enrolled in the Lincoln School District.
"The program there is amazing," Blossom said. "They really do focus on getting kids to college and one of the graduation requirements is that you must be accepted into a four-year college. For us it was no brainer. She really likes it there."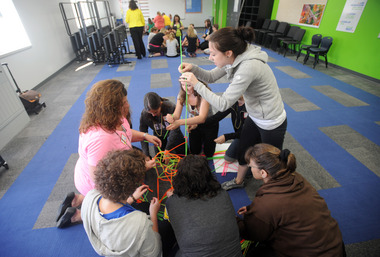 Angela Cesere | AnnArbor.com
Seven of the 12 charter schools in Washtenaw County are located in Ypsilanti and Ypsilanti Township, providing competition for the nearby school districts of Ypsilanti, Willow Run and Lincoln.
South Pointe Principal Nancy Kouba said about 30 percent of the school's students live in the Ypsilanti and Willow Run school districts, which, if voters approve in November, plan to merge and operate as one district next school year.
But Moorehouse said despite the increased enrollment in charter schools, many parents are still choosing to enroll their children in the traditional public school districts in the area.
"There are many parents still deciding that Ypsilanti and Willow Run are still the best choices," he said. It's not clear whether or how consolidation of the districts might affect those decisions, he said.
Bert Emerson, director of finance and operations for Willow Run, said Sept. 20 data shows the district has lost 119 students. Emerson said the district has 1,390 students enrolled this year compared to 1,509 last year. If the district loses those students, it will lose $869,890 in revenue from the state. The district receives $7,310 per student.
Ypsilanti Public Schools Superintendent Dedrick Martin said he expects his district to have a decrease in students as well, though the number of students enrolled has been increasing since the first day of school this year.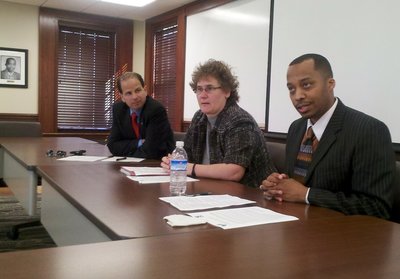 Danielle Arndt | AnnArbor.com
"The first day of school we were almost down a thousand, and by the end of that week we were down 500," Martin said. "Two weeks later we were down 353 students. While that sounds very strange, from my experience here, that has been a persistent troubling problem. We continue to see big shifts in the numbers as the weeks go by."
YPS receives $7,513 per pupil from the state and a drop of 353 students would result in a revenue loss of $2.6 million. Martin said while he won't be sure of the number until the after the official count is taken Wednesday, any loss of revenue will hurt the district.
"At this point any loss of revenue is going to be a problem as we move toward the issue of consolidation," he said. "We expect that we will probably have a loss of revenue and it has been a downward trend over the last nine years in Ypsilanti."
Martin said any time a charter school opens in the area, it has an effect on all of the surrounding districts. However, he said the severity of impact is still unknown.
"The community and the state, we're not having a huge population increase so it's just shifting kids from one place (to another)," Martin said. "As far as the exact impact, it's too early to tell. Up until the final count, we will continue to see a migration or trickle of kids coming in because they were at a charter school that didn't work or a number of reasons."
Martin said he is hopeful that soon Ypsilanti schools will be in position to not only provide students with a better education but to grow their enrollment again — much like the district's neighboring charter schools.
"Right now there are a lot of questions or concerns in the area just because we're considering consolidation."
Katrease Stafford covers Ypsilanti for AnnArbor.com.Reach her at katreasestafford@annarbor.com or 734-623-2548 and follow her on twitter.