Posted on
Sun, Jan 22, 2012 : 11:05 a.m.
Trial for Ypsilanti man accused in fatal shooting begins Monday
By Kyle Feldscher
The Ypsilanti man accused of shooting two men, killing one of them, on Nash Avenue in Ypsilanti Township in February will go to trial on Monday.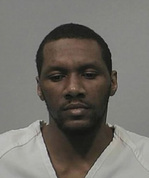 Police say Darnell Brown fatally shot Marcus Jones, 33, in the head and shot a 29-year-old Inkster man twice in the back at 2:30 a.m. Feb. 26 in the 1300 block of Nash Avenue in Ypsilanti Township. Brown had a longstanding feud with Jones and the Inkster man, according to police.
Brown's trial will start with jury selection at 8:30 a.m. Monday in Washtenaw County Trial Court Judge Archie Brown's courtroom. He is charged with an open count of murder, assault with intent to murder, assault with intent to do bodily harm less than murder, carrying a concealed weapon, being a felon in possession of a firearm and a felony firearms charge.
If convicted, Brown faces life in prison.
Police say, Brown showed up at the party at Jones' house and was confronted outside by Jones, who told Brown he wasn't welcome at the home. Brown responded by pulling a handgun from his waistband, shooting and killing him, police said.
Deputies said the Inkster man began to run away from the scene when Brown fired at him, striking him twice. An unidentified person then opened fire, striking Brown once in the stomach, police said.
Jones was pronounced dead at St. Joseph Mercy Hospital 35 minutes after the shooting, while a friend took the Inkster man to the hospital, police said.
A friend was driving Brown to the hospital when the car they were in crashed on Interstate 94. He eventually made it to the hospital by ambulance, police said.
Kyle Feldscher covers cops and courts for AnnArbor.com. He can be reached at kylefeldscher@annarbor.com or you can follow him on Twitter.